Pasta Shells With Ricotta-Spinach Filling and Fresh Basil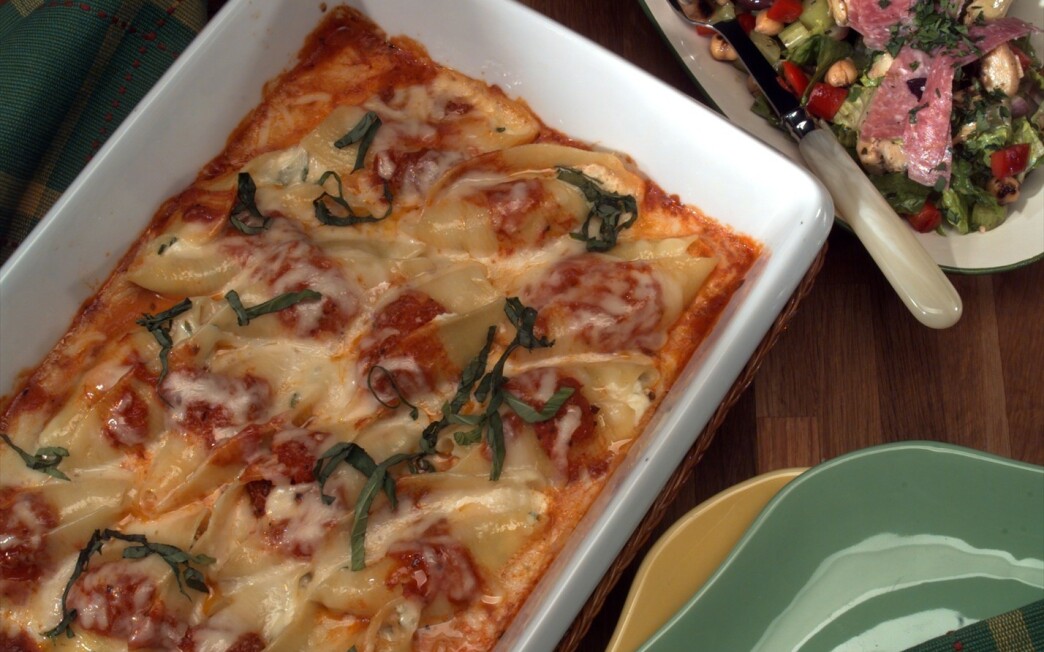 Print Recipe

Print Recipe
When friends come over and you find yourself the cook, you don't want to get stuck at the stove. You'd rather be chatting and enjoying the fun. Easy-to-serve do-ahead food that can be put out buffet-style is just the ticket.
Pasta shells filled with a ricotta-spinach mixture, sauced with marinara (a meat or mushroom sauce would work well, too) and sprinkled with cheese can be put together up to two days ahead, then baked while you're munching on appetizers.
Serve it with a chopped antipasto salad, a crunchy, robust mix of appealing ingredients that improves in taste when made in advance.
Chilled beer or a jug of Chianti works well with all of these flavors. Add a bowl of fresh strawberries with cookies for dessert, and you're all set for a great time.
1
Cook pasta shells in plenty of boiling salted water until tender but still firm to the bite, 12 to 15 minutes or according to package instructions. Drain.
2
Chop spinach in food processor. Transfer to bowl and stir in Romano cheese, garlic, egg, 1/2 teaspoon salt and red pepper flakes to taste. Add ricotta and mix well.
3
Gently toss pasta shells in oil. Put 2 slightly rounded tablespoons of cheese-spinach mixture in each of 16 pasta shells. Close shells, slightly overlapping 1 side of each.
4
Spread 1 1/2 cups pasta sauce evenly in bottom of 13x9-inch shallow baking dish. Arrange shells, rounded side down, in single layer over sauce. Spoon remaining 1/2 cup sauce evenly over shells. Sprinkle mozzarella and Parmesan over sauce. Cover with foil. (If made ahead, bring to room temperature before baking.)
5
Bake covered at 350 degrees until sizzling, about 35 minutes. Sprinkle with basil and serve hot.
The recipe can be easily doubled or tripled. Cook all 20 shells, even though you will be using only 16. Some inevitably fall apart during stuffing.
---
Get our new Cooking newsletter.
You may occasionally receive promotional content from the Los Angeles Times.