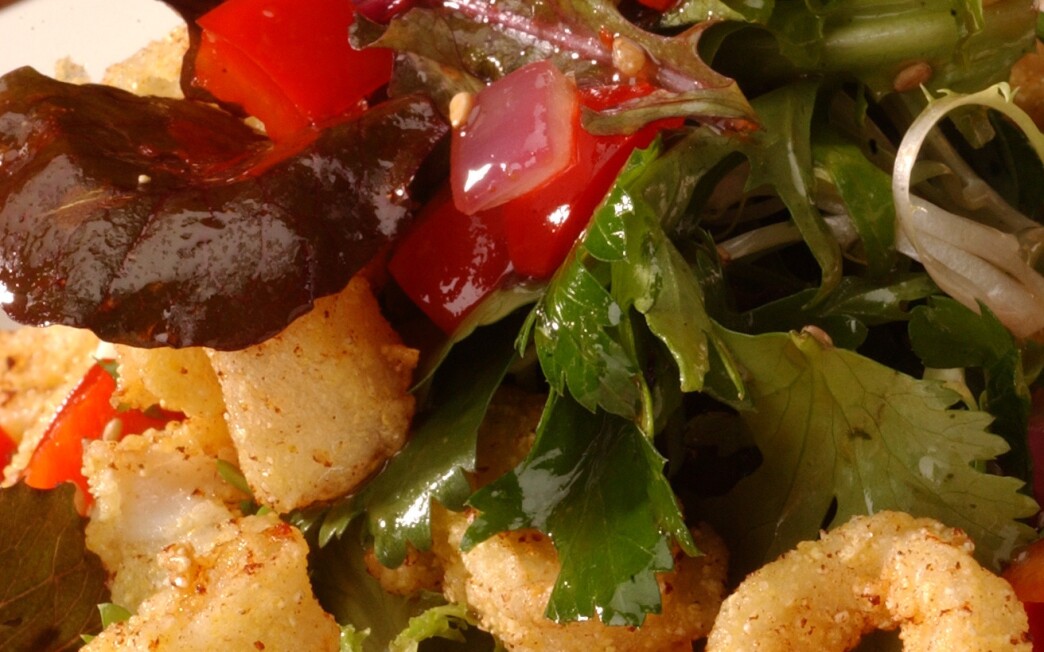 Print Recipe

Print Recipe
Dear SOS: Can you get the recipe for the calamari appetizer served at Mr. Pickwick's at Ye Olde England Inne in Stowe, Vt.? It's wonderful!
Christy Miller
Laguna Beach
Dear Christy: This recipe from chef Sam Pamasano has a few components but isn't difficult. Just have everything ready to go.
You could also try the orange-sesame glaze on grilled whitefish or shrimp, which could then be tossed with the pepper and onion mixture.
Orange-sesame glaze
1
Combine the marmalade, orange juice, vinegar, sesame oil, soy sauce, sesame seeds and pepper flakes in a mixing bowl, blending well. Refrigerate until needed.
1
Heat the oil in a skillet over high heat. Fry the red and green bell peppers, the onion and the jalapeno until barely tender, about 5 minutes. Season to taste with salt and pepper. Set aside. (This can be made a day before and refrigerated.)
Calamari
1
Soak the calamari in the buttermilk for 1 hour in the refrigerator.
2
Meanwhile, heat the oil in an 8-quart stockpot to 400 degrees. Mix the cornmeal and flour in a baking dish. Drain the calamari and coat well with the cornmeal mixture. Sift the excess cornmeal from the calamari and arrange on a rack to dry in the refrigerator, about 30 minutes. Fry in 4 batches until crisp, 1 to 1 1/2 minutes. Drain.
3
To assemble, heat the peppers and onions in a large skillet over medium heat, 1 to 2 minutes. Add the orange-sesame glaze and heat for 30 seconds. Toss most of the glaze with the greens, then divide among 4 plates. Arrange the calamari around the greens and drizzle any remaining glaze over the salad.
---
Get our new Cooking newsletter.
You may occasionally receive promotional content from the Los Angeles Times.