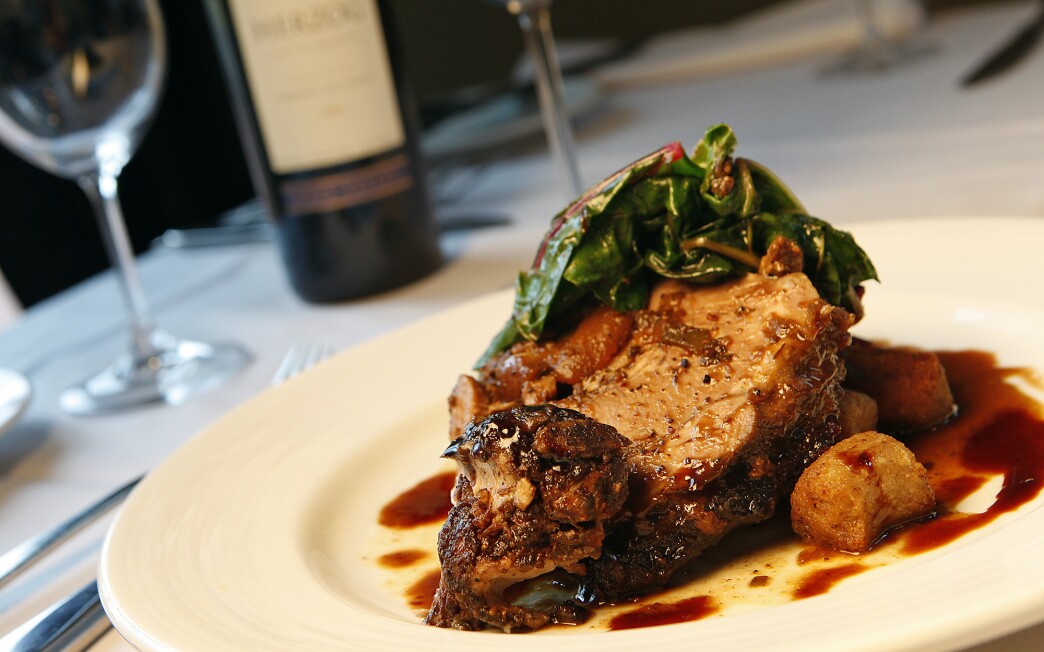 Print Recipe

Print Recipe
The braised lamb is redolent of pomegranates and cumin. The chicken dumpling soup is fragrant with Persian limes and cardamom. Pan-seared potato gnocchi are laced with dried porcini, mesquite-grilled salmon is sauced with harissa and a flourless chocolate cake is crowned with Gaviota strawberries, picked from a nearby field.
You can trace chef Todd Aarons' personal odyssey on every plate of his Passover feast.
The flavors intertwine, reflecting the steps he's taken -- a California childhood; culinary school; apprenticeship at San Francisco's Zuni Cafe; kitchen stints in New York, Tuscany and Israel; his own kosher restaurant, Mosaica, in New Jersey -- before arriving at Tierra Sur, the restaurant at Herzog Wine Cellars in Oxnard.
Aarons, 38, didn't grow up eating kosher, much less cooking it. As a kid in Cheviot Hills, he was more likely to eat Mexican street food than anything like the sophisticated cuisine, informed by Mediterranean and North African flavors, that he serves at Tierra Sur. But a lot has changed in Aarons' personal and his professional life.
Call it a conversion experience.
At Tierra Sur, a fine-dining kosher restaurant, you can read Aarons' cultural resume on his menu. The cooking is pan-Mediterranean, with not only Cal-Ital influences, but also Middle Eastern, Mexican and North African. Aarons, whose family is of Ashkenazi background, says he adopted his Israeli wife's Sephardic culinary tradition.
"Israel is a melting pot for North African, Eastern Mediterranean flavors. That's the way I've always eaten, the way I've always cooked."
"Before I became observant, I cooked Mediterranean; I grew up eating spicy Mexican food," Aarons says. The chef found the heat and spice of Yemeni and Moroccan food appealing, at once familiar and yet different enough to spark his creative interest.
Cooking and seeking
Aarons' life has always been oriented around food. His undergraduate degree, from Cal Poly San Luis Obispo, is in food science; his professional training was at California Culinary Academy. Even as an Eagle Scout, he would hike up into the Sierra equipped for cooking.
"We would pack a Dutch oven for a 70-mile trek, bring flour and yeast, make calzones at 11,000 feet, cook freshly caught trout with fennel seed."
He learned to cook market-driven food at Zuni Cafe and, firsthand, learned Zuni chef Judy Rodgers' philosophy that if you want the best, you often make it yourself. That approach was reaffirmed at New York City's Savoy restaurant, where he worked under chef Peter Hoffman for six years, and during a year in Tuscany.
It was a philosophy that would later become crucial.
While at Savoy, honing his skills and his knives, Aarons began attending yeshiva classes ("I searched Buddhism first") and then, when his best friend decided to go to Israel, Aarons went too.
It was the turning point, theologically, personally, professionally. Aarons learned more about the Judaism he'd grown up with but had not, he says, really examined. And he put what he found "into practice." He met and married his wife, Nava, whose father is Israeli and mother Yemenite. (Aarons and his wife now have four young daughters). And he began, as an Orthodox chef, to work within kosher dietary laws, developing menus for an Italian coffee company, Cremcaffe, which was opening cafes in Netanya and Tel Aviv.
"The Orthodox lifestyle really suited me," Aarons says. "I just had to fit it into my career."
Easier said than done. After a year and a half in Israel, Aarons moved back to the East Coast with his growing family. And he soon found that not being able to work Friday night or Saturday "put a damper in my sous chef possibilities."
He tried kosher catering but didn't like the mass-production aspect of it ("I wanted to put a bullet through my head"). In order to cook the way he wanted to, he decided, he would have to open his own place.
"There were restaurants cooking high-end kosher food, but I wanted to do what I trained for at Zuni." He opened Mosaica, a kosher Mediterranean-style bistro, in Vauxhall, N.J., in 2002.
California calling
Three years later, when the Herzog family was looking for a chef for the kosher restaurant they wanted to open in their new Oxnard winery, they recruited Aarons, whom they knew from events they'd held at Mosaica.
Aarons jumped at the chance. "If somebody asks you, do you want to open a restaurant in a winery, you're going to say yes."
At Tierra Sur, Aarons knew the biggest challenge in developing the kind of contemporary kosher menus he envisioned would be finding the ingredients. But he was ready.
"There weren't very many products we bought at Savoy or Zuni. What you couldn't find, you made." And thanks to his experience at Mosaica, Aarons knew the kosher-sourcing drill. At Tierra Sur, his olives come from Italy, his lamb from Colorado, and what bread he doesn't bake -- he makes flatbreads and focaccia -- from La Brea Bakery.
But most of what he puts on his tables he's made himself.
In Tierra Sur's tiny kitchen, Aarons makes his own bresaola (air-dried beef), venison terrine, boudin blanc (a sausage) and duck rillette; he cures his own lamb bacon, salts his own cod, ferments his own vinegars. When he couldn't find kosher sherry vinegar, he made it; Herzog now has plans to market the product. He makes mole from 99% cacao Scharffen Berger chocolate. The guy even makes his own masa for tortillas.
There's a lot of freedom in Aarons' cooking, as if, instead of feeling constrained by kosher rules, he's been energized by them.
"I don't think [cooking kosher] inhibits the style; maybe Mediterranean is more conducive to it," notes the chef. "Kosher is just another set of rules you live by."
When Aarons says this, he might be talking about the rules of making a good creme anglaise as much as the laws of kashrut.
For Passover, these requirements are especially stringent. No leavened bread, grains or flour; the Ashkenazic tradition also forbids kitniot, or legumes, corn, rice -- and their byproducts. But, characteristically, Aarons uses the rules as a jumping off point rather than a limitation.
Creatively kosher
He plays to his strengths as a creative chef, as well as to the strengths of the foods that become more central, such as eggs and potatoes.
Tender gnocchi, made from riced potatoes, are taken to a whole new level with the addition of dried porcini. And the matzo meal Aarons uses to bind the dough gives the rustic dumplings a terrific and surprising texture, slightly grainy, as if they've been made with cornmeal.
Aarons spins on the traditional chicken soup by using Middle Eastern flavors in a stunning broth, then poaching chicken dumplings in it. The rich stock is infused with dried Persian limes, nutmeg, allspice and cinnamon; the dumplings, also bound by matzo flour, are spiked with a generous dose of cardamom.
For the fish course, Aarons seasons a King salmon fillet -- or, considering this year's decimated salmon runs, a fillet of Barramundi -- with cracked black pepper, kosher salt, olive oil and cracked fennel seed.
It's a dish reminiscent of his camping days in the Sierra but shot through with flavors of the spice route. He sauces the fish, grilled ahead of time and cooled, with a coulis of grilledtomatoes, olive oil, red wine vinegar -- and a healthy dose of his own harissa. (The chef also adds a stunning garnish of local baby fennel fried, tempura style, in a batter made of only soda water and matzo meal.)
For the centerpiece of the Passover feast, Aarons' braised lamb is at once deeply traditional and utterly fresh.
The roast -- seared in olive oil, rubbed with a fragrant spice blend of cumin and allspice, mint and nutmeg -- is liberally doused in pomegranate molasses before a two-hour braise. The pan juices reduce to a luscious sauce shot through with spice, rich with flavor. To accompany the lamb, Aarons quickly sautes McGrath Family Farms chard and beet greens in Spanish olive oil.
For a luscious flourless chocolate cake, a not-uncommon Passover treat, Aarons uses high-quality kosher unsalted margarine and 62% cacao Scharffen Berger chocolate (the chef did go to school in San Francisco). The cake is dense, moist and furiously chocolaty.
For a subtle counterpoint to the richness, Aarons tops each slice with McGrath Gaviotas. The strawberries, picked from the fields you pass on the road to the restaurant, are sliced and macerated simply in a generous pour of late harvest Herzog Zinfandel.
"The strawberries come in perfect; our job is not to mess them up," Aarons says. The chef -- whose food, stamped by travel and built by ritual, is also deeply personal -- named the cake Gateau d'Ariel for his 7 1/2 -year-old daughter, Ariel.
1
Heat the oven to 325 degrees. Pat the roast dry with a paper towel, then season all over with 1 tablespoon salt.
2
Grind the peppercorns, allspice berries, cumin seeds, dried mint, cinnamon and nutmeg in a coffee grinder or with a mortar and pestle. Spread the spice mixture onto a baking sheet and roll the roast in the spices until it is covered.
3
Heat a large braising pan over medium heat, then add the olive oil and heat until hot. Add the roast and sear it on all sides until browned. Remove the roast to a plate and set aside.
4
Add the onion and garlic to the pan and saute until the onion is translucent. Add the lamb back to the pan, along with any juices that have accumulated. Add the broth and pomegranate molasses, so that the liquid comes halfway up the roast. Place a piece of parchment paper over the roast and cover the pan with the lid or a tightly fitted piece of foil.
5
Braise in the oven for 2 hours. Halfway through cooking, turn the roast over so that the uncovered portion is submerged in the braising liquid. The finished roast will be well-done but fork-tender. Remove the roast to a plate and allow to rest, covered, for 10 to 15 minutes.
6
Make the sauce: Skim and discard the fat from the top of the braising liquid. Strain the liquid into a medium saucepan and bring it to a boil over high heat. Reduce by one-fourth or until desired consistency is achieved. Season with salt to taste. Slice the roast and serve with the sauce spooned over it.
Adapted from a recipe by Todd Aarons. Have your butcher either net the roast or tie it to keep it together. Kosher vegetable broth is available at kosher markets and the ethnic foods section of select supermarkets. The roast can be served with a mint gremolata (equal parts minced garlic, mint and lemon zest) or quick-sauteed chard and beet greens. Pomegranate molasses is available at well-stocked supermarkets and gourmet stores. To make pomegranate molasses that is kosher for Passover, simmer pomegranate juice until syrupy (reduced by about half).
---
Get our new Cooking newsletter.
You may occasionally receive promotional content from the Los Angeles Times.