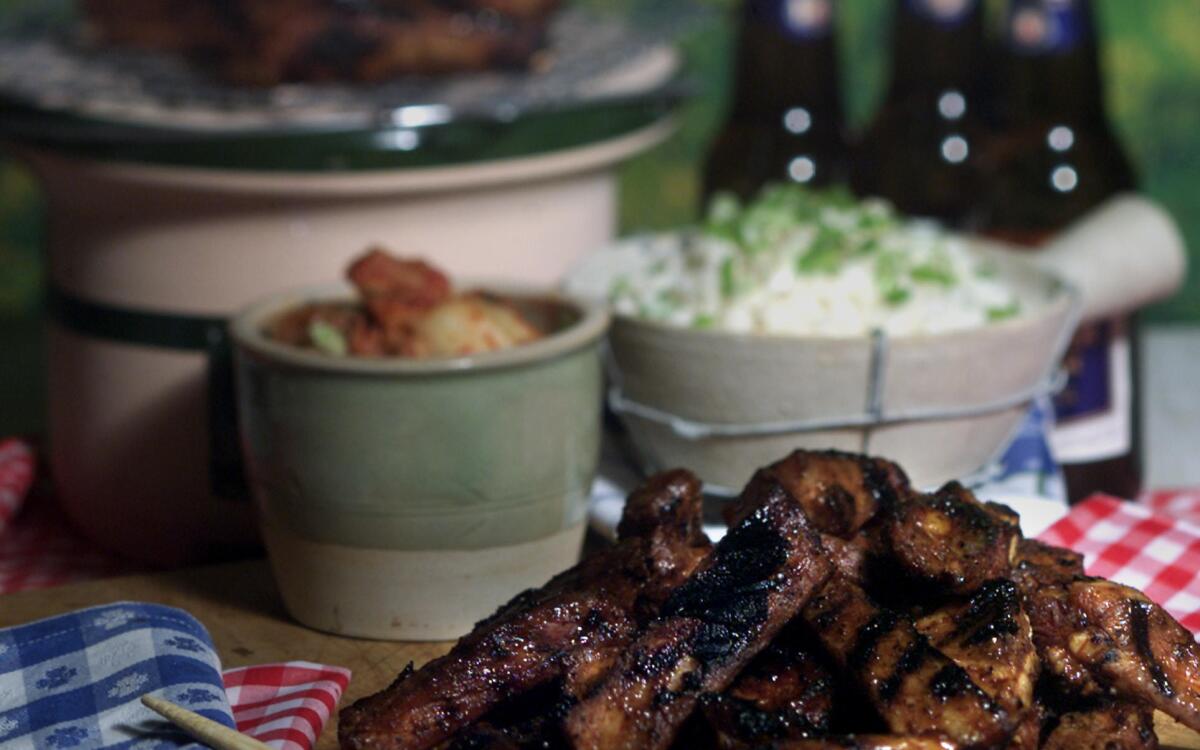 Print Recipe

Print Recipe
It was Sunday morning when I was awakened by the sound of pounding. Bang! Bang! Bang! It was my father, but he wasn't hammering nails into wood. He was tenderizing the meat for the barbecue.
I peered outside the window at the dawn-gray sky, moaned slightly and buried myself deeper under the covers. Even pulling the pillow over my head wasn't enough to muffle the noise.
The sound my dad was making was magnified by the clattering of dishes and my mother's voice listing all the things that needed to get done before we left. Soon, with my father yelling at us to get up and throwing the covers off our beds, sleep was no longer an option.
Although early morning wake-up calls were never welcome, I knew even in my drowsy state that this time these sounds signaled the beginning of summer--endless days in the sun, no homework and the great taste of Korean barbecue.
Soon, the house bustled with activity. Someone had to put on a pot of rice. Someone else had to marinate all the meats. Still another of us had to pack up the kimchi and other pickled things that would be the banchan to accompany our meal.
Once our friends arrived, things got even busier. Trunks needed to be loaded, blankets needed to be taken and kids needed to be sorted into their respective families' cars. Once everything and everyone was packed (with maybe a trip or two back for the icebox, the baby or some other essential-but-easily-forgotten thing), we were off to Griffith Park.
As we unpacked our kimchi, banchan, marinated meats, rice, soup, chopsticks, beer, soda and everything else, I became aware that we were attracting a lot of attention. There were so many of us, being noisy and speaking loudly in Korean, that passing joggers and bicyclists kept staring and glancing over their shoulders at us. But my self-consciousness didn't prevent my stomach from growling as we started preparing the grill.
Soon, a group of Mexican families set up at tables nearby. Their group was equal in number and din to ours. My embarrassment waned as I realized that we were no longer the only noisy crowd in the park.
We sized up their meal as they began unpacking and unwrapping their meat. They, in turn, took several glances at our containers of food.
An especially burly man in a white undershirt began preparing their coals. He looked over and gave a little nod to my dad, who was pouring lighter fluid all over his already roaring blaze.
As our kalbi started smoking and giving off a delicious aroma, we imagined they must be salivating with envy. And when their meat hit their grill, we knew their stuff smelled pretty good too.
My mom, being the open and generous person that she is, offered a plate of kalbi to our neighbors. They, in return, shared their carne asada with us. Of course, this made them instant friends with my dad, who couldn't turn down a plate of barbecued red meat to save his life.
The next thing I knew, my mom was holding someone's bonita baby, we were all eating kalbi and salsa, carne and kimchi, and we broke out in a not-so-unmelodic rendition of "De Colores."
Just another day at the park in L.A., with good eats for everyone.
Koreans plan an elaborate balance with any meal, even a picnic barbecue. The flavors of grilled meat complement the spicy coolness of the kimchi (providing the same counterpoint to the meat that salsa does). Of course, there is steamed rice with every Korean meal, but there have to be several types of banchan and some sort of soup to wash it all down.
The traditional way to eat Korean barbecue in a restaurant is to take a piece of red-leaf lettuce (sangchi), place in it a piece of smoking meat, a slice of garlic (grilled or raw), a small dollop of chile paste (kochujang) or fermented soy paste (dwenjang), wrap the whole thing up and shove it into your mouth.
In lieu of the kochujang or denjang, you can dip the "wrap" into a light sauce that the restaurant has provided for you. The vast array of banchan (ranging from spinach to tangy daikon) completes the meal.
Koreans have been barbecuing since time immemorial, but kalbi--a specific cut of beef ribs--originated in restaurants only in the 1950s.
Although kalbi is now served in homes, eating it in a restaurant is still a special treat. Not that the marinade is particularly complicated. Actually, it is really just a good blend of some basic ingredients.
But most of us aren't equipped with tabletop grills and ceiling vents at home, so we have to pack it up and take it outdoors.
Who knows who you'll run into?
1
If ribs are not separated, separate by cutting meat between the bones. Place in large bowl.
2
Combine ginger, garlic, chile paste, malt syrup, sugar, soy sauce, oil and pepper in large bowl. Rub marinade generously over meat. Cover and refrigerate 3 hours or preferably overnight.
3
Grill ribs over medium-high heat until done, about 5 to 6 minutes per side.
---
Get our new Cooking newsletter.
Your roundup of inspiring recipes and kitchen tricks.
You may occasionally receive promotional content from the Los Angeles Times.