Potato pancakes with fresh whipped lemon cream and salmon eggs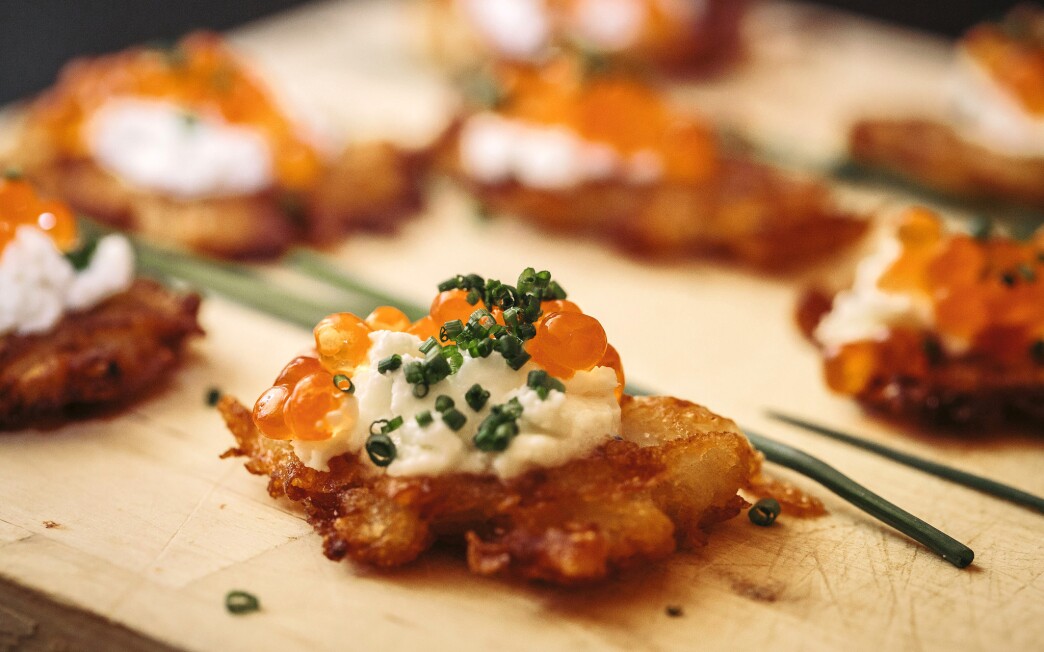 Print Recipe

Print Recipe
These potato pancakes made with rye flour and topped with lemon cream and salmon roe are terrific with champagne.
1
Grate the potatoes using a cheese grater or food processor attachment. Toss them in a large bowl with the juice of 1 lemon to prevent browning. Grate the onions. Add 4 cups grated onion to the bowl with the potatoes, tossing to combine (any leftover onion can be saved for another use).
2
Using cheesecloth or a kitchen towel, squeeze dry the grated potatoes and onions, discarding any excess liquid. Then transfer to a clean bowl, stir in the beaten eggs to coat, and stir in the pastry and rye flours until evenly combined. Season with 1 1/2 teaspoons each salt and pepper, or as desired (to test the mixture, fry a small pancake, taste and adjust seasoning if needed).
3
In the bowl of a stand mixer, or in a medium bowl, whip the cream and the juice of the remaining lemon until stiff peaks form, being careful not to over-whip. This makes about 2 cups whipped cream.
4
Heat a large frying pan with just enough oil to come up the sides by roughly one-eighth inch. Heat the oil over medium heat until hot. Drop approximately one tablespoonful of the potato mixture into the oil, gently flattening the mixture with the back of the spoon to form the pancake. The formed pancakes will be about 2 inches in diameter.
5
Cook each of the pancakes until the first side browns, about 3 minutes (time will vary depending on the diameter of the pancakes and heat of the oil), then carefully flip and cook the other side until browned and the inside is tender and cooked, 2 to 3 minutes. Adjust the heat of the oil if needed, decreasing if the pancakes brown too quickly before they are fully cooked, and increasing if the pancakes are taking too long to finish. Place the pancakes on paper towels to drain for 2 minutes. This makes about 5 dozen pancakes.
6
Over each pancake, place a spoonful or pipe a nice dollop of the whipped lemon cream and top with salmon eggs. Sprinkle over finely sliced chives, and serve immediately.
Adapted from Free Range LA owner and chef Jesse Furman.
---
Get our new Cooking newsletter.
You may occasionally receive promotional content from the Los Angeles Times.