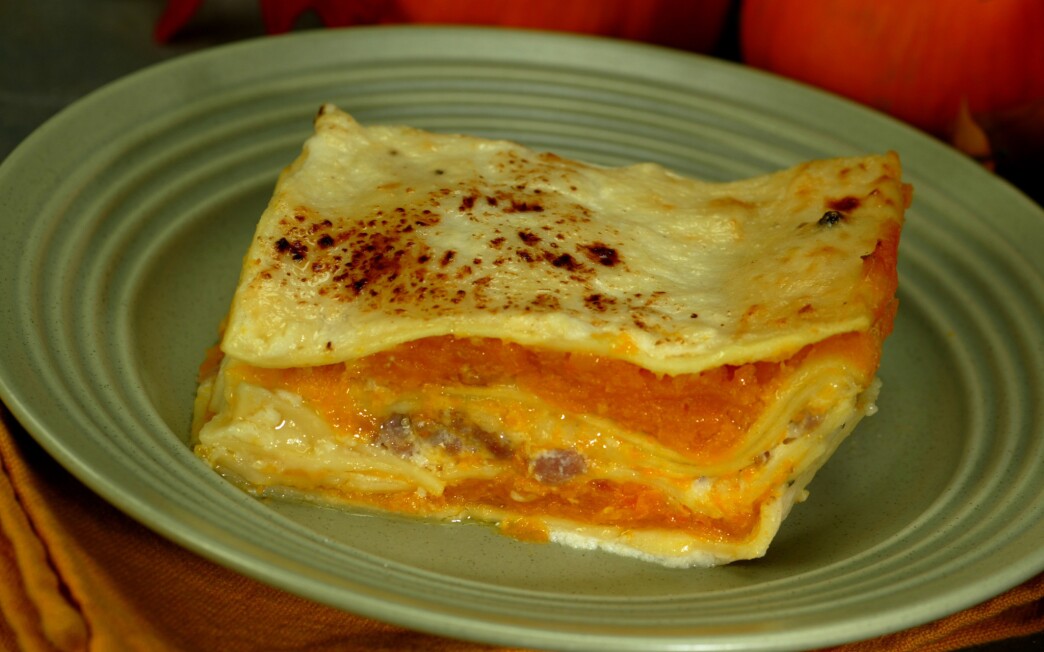 Print Recipe

Print Recipe
This lasagna is a prime example of how well pumpkin works with bechamel and lots of cheese. If you want to double the pumpkin flavor, toss the cut pumpkin with a little pumpkin seed oil before you sauté it. Once pumpkin season ends, you can substitute any other hard squash such as Buttercup, kabocha, Hokkaido, calabaza or even the humble butternut.
1
Heat the oven to 350 degrees. Cut the pumpkin in half and scrape out the seeds. Place the pumpkin cut-side down on a baking sheet and bake until soft, 45 minutes to 1 hour. Arrange the garlic cloves in a very small baking dish, add the olive oil and cover with foil. Bake until very soft, about 30 to 35 minutes.
2
When the pumpkin is cooked, drain it cut-side down in a colander, spoon out the meat, then mash it lightly. (It does not have to be smooth, but if it is too stringy, pulse it a few times in a food processor.) Season generously with salt and pepper to taste and a little cayenne. Set aside.
3
When the garlic is cooked, squeeze the pulp out of the skins and set it aside (reserve the oil for another use).
4
Bring a large pot of salted water to a rolling boil to cook the lasagna sheets.
5
Warm the milk in a saucepan with the bay leaf. Melt the butter in a second saucepan over medium heat. Whisk in the flour and cook, whisking, until bubbly and smooth. Discard the bay leaf and whisk in the milk. Cook until thick enough to coat the back of a wooden spoon. Add the garlic, mashing with a spoon to smooth into the sauce. Season with nutmeg, salt and pepper and stir in half the grated pecorino. Keep warm.
6
Cook the lasagna until just al dente, about 1 1/2 to 2 minutes. Drain well.
7
Spread one-quarter (about three-fourths cup) of the white sauce in the bottom of a 7- by 10-inch baking dish. Place a layer of lasagna sheets on top to cover, then spoon on half the pumpkin, spreading to cover completely. Top with another layer of lasagna sheets, one-quarter of the white sauce and all the prosciutto. Place a layer of lasagna sheets on top and arrange the Taleggio bits evenly over it. Top with another layer of lasagna sheets, then with the remaining pumpkin, and finally with a last layer of lasagna sheets, pressing down if necessary to fit into the pan. Spread the remaining white sauce over the top to cover completely. Sprinkle with the remaining pecorino. Place on a baking sheet to catch drips and bake until the top is browned and bubbly, 40 to 45 minutes.
Another Brie-like cheese may be substituted for Taleggio.
---
Get our new Cooking newsletter.
You may occasionally receive promotional content from the Los Angeles Times.