Rau Muong With Mam Tom (Charred Water Spinach With Shrimp Paste, Pork Belly and Garlic)
Yields
Serves 2 as a main dish or 4 as a side dish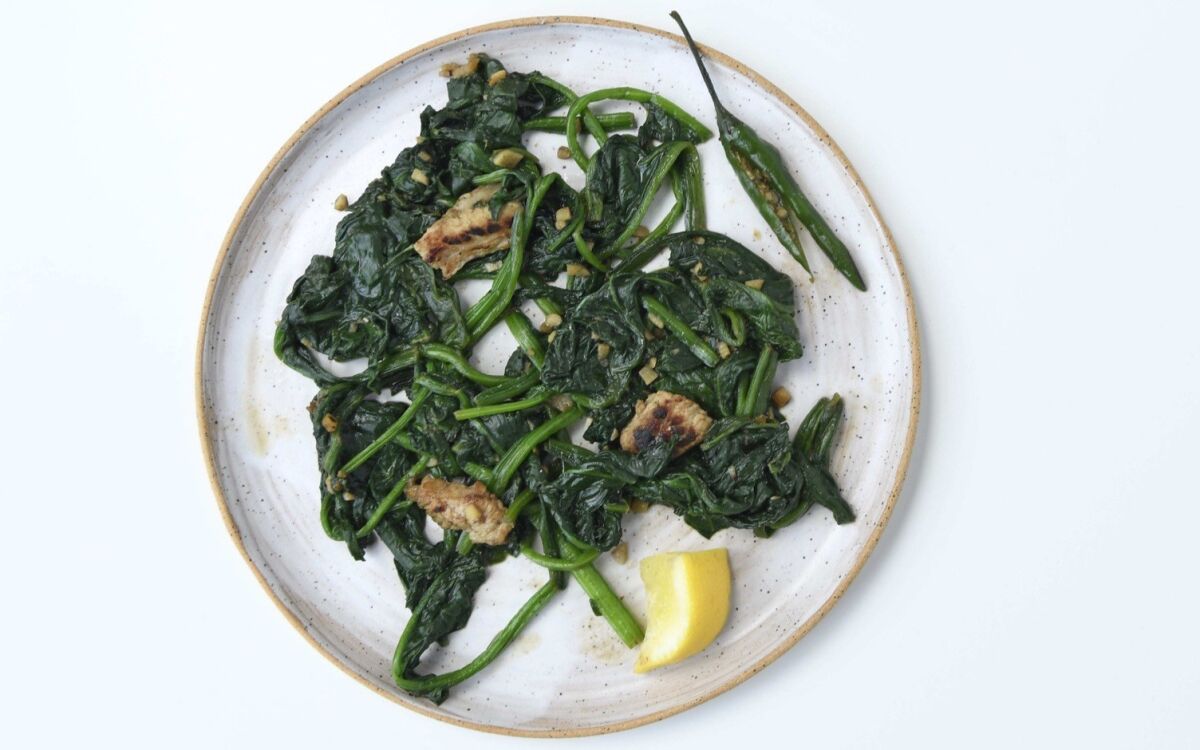 Print Recipe

Print Recipe
The grassy notes of rau muong are accentuated by the earthiness of briny mam tom in this 5-minute stir-fry from Diep Tran, chef and owner of the recently closed Good Girl Dinette in Highland Park. Mam tom definitely brings funk to the fresh greens but doesn't overpower them. The fat from pork belly mellows the mam tom, and the garlic, chile and lemon juice brighten the greens. Charring everything in a wickedly hot pan adds a smokiness that ties the dish together. The tangle of greens hooking bits of caramelized meat and toasted garlic weeps a savory jus. Scoop over steamed rice for an intensely satisfying bite.
1
Cut the pork belly into ¼-inch-thick slices, then cut each slice into ½-inch-wide pieces.
2
Pluck the leaves and tender thin stems from the water spinach in 3- to 4-inch lengths and put in a large bowl. You should have about 12 ounces. Discard the fibrous, thicker stems. Add cold water to the bowl to cover the leaves and swish to remove any grit. Lift out the leaves, shaking off excess water, and drain in a colander. Repeat if the greens still seem dirty.
3
Heat a large, deep skillet or wok over high heat until smoking. Add the pork belly and immediately stir with chopsticks or a wooden spoon while shaking the pan until the fat is translucent and the meat golden brown, about 45 seconds. (You want to keep the pork moving so it doesn't burn as it chars.) Add the garlic and chile and cook, stirring and shaking, until the garlic is golden brown at the edges, about 30 seconds.
4
Add the shrimp paste and cook, stirring and mashing the paste into the pan, until it loses its raw aroma, about 15 seconds. Add the water spinach all at once. (If you aren't using Thai shrimp paste, add the sugar.) Gently press and fold the greens into the pan to wilt them evenly and lift the garlic off the bottom of the pan so it doesn't burn. Keep stirring until the greens are all wilted but still bright in color and their juices have released, 1 to 2 minutes total.
5
Using tongs, lift the solids out of the pan into your serving dish. Taste the jus in the pan. If you want a more intense, concentrated flavor, simmer it a little longer. Pour the jus over the greens. Squeeze the lemon juice all over and serve immediately over rice.
Make Ahead:
You can prep all of the ingredients up to a day ahead, keeping them refrigerated in separate, airtight containers until ready to cook.
---
Get our new Cooking newsletter.
Your roundup of inspiring recipes and kitchen tricks.
You may occasionally receive promotional content from the Los Angeles Times.