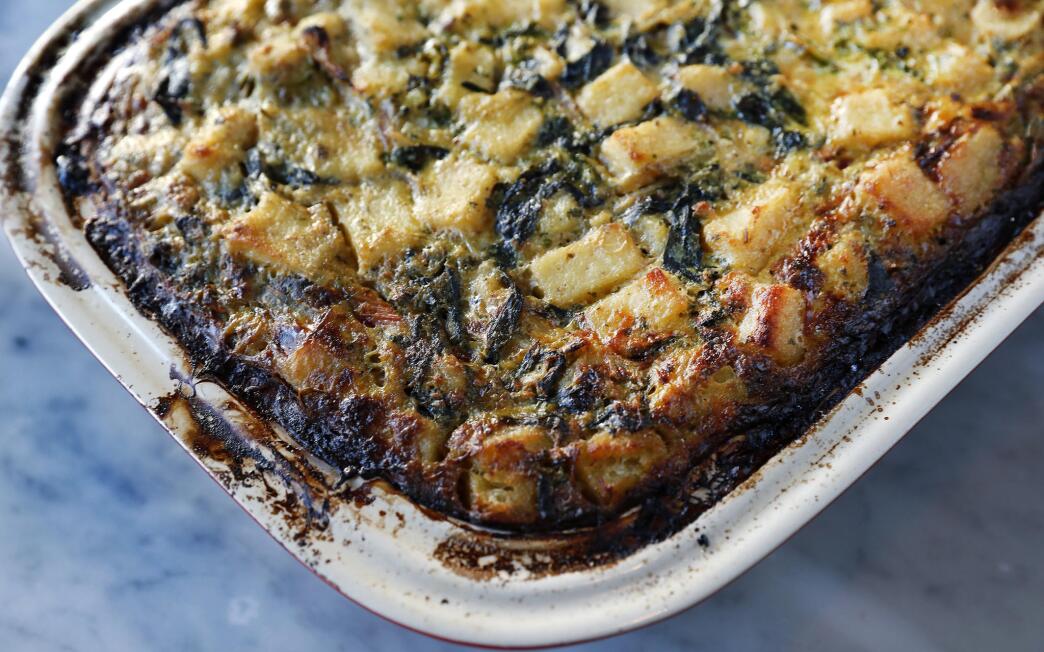 Print Recipe

Print Recipe
On a bright November afternoon in downtown Los Angeles, the kitchen engines at Broken Spanish, chef Ray Garcia's modernist Mexican restaurant, are in high holiday gear. Garcia has gathered his core crew, friends and family, for a holiday feast. Across the street, in the shadow of the Staples Center, there's an El Cholo, the '20s-era Mexican restaurant chain, and an antojitos cart set up on the sidewalk, a few men casually lined up beside it.
"Three different versions of Mexican food here," Garcia says as he moves around the long table in the light-filled dining room, setting down a ceramic dish of esquites, the chile-spiked sweet corn casserole topped with a pattern of pickled blueberries and vadouvan-spiced almonds.
Broken Spanish will be closed this Thanksgiving, its kitchen quiet. But cooking holiday dinners is something of a default for Garcia, 39, who spent more than a dozen years as a hotel chef, first at the Belvedere at the Peninsula in Beverly Hills, then at Fig, the restaurant at the Fairmont Miramar Hotel in Santa Monica.
"What do I do when I don't have to cook for thousands of people all at one time?" Garcia asks rhetorically. "Each year, serving Thanksgiving, you're constantly playing with the greatest hits, so it's not like, oh, turkey and stuffing again? Every year. You have to break it up a little."
The table is loaded not only with esquites but plates of hot buttermilk biscuits; a tray of Kumiai oysters from Baja paired with Mexican limes from Schaner Family Farms; a bowl of Ensalada Rusa (his late mother-in-law's recipe); chocolate and banana bread pudding; sweet corn tamales; stuffing built of masa, chard, chiles and bone marrow (yes, bone marrow); and the turkey, a gorgeous, deeply bronzed bird redolent of achiote and Mexican oregano, citrus and Tecate.
Cooking a family dinner in your own restaurant has its advantages: the long table in a sometimes-private dining room, a huge, open kitchen steps away from that table, dining companions who include a pastry chef, two chefs de cuisine, a sommelier.
"The restaurant and family life tend to blur," says Garcia, as his 4-year-old son, Grant, runs down the hall, trailed by his mother, Maeria Paez, whom Garcia met when they both worked at the Peninsula, and family friend, actress Kaliko Kauahi.
In the dining room, Broken Spanish chef de cuisine Jason Mattick attaches a high chair to the head of the table for his daughter, 1-year-old Rhye. Rhye's mother, Wendy, sets a sippy cup next to a kid's plate while Broken Spanish general manager Brian Lee decants a Spanish red and pops a bottle of Martinelli ("It's the good stuff"). Adrian Cerda, chef de cuisine at B.S. Taqueria, Garcia's taco shop a mile north, chats with Ivan Marquez, the Broken Spanish pastry chef. Manny Villagomez, who has just carved the turkey in the kitchen, lowers the deconstructed bird onto the table to a round of applause.
Recipe: Masa stuffing »
"I am truly thankful for everyone in this room," Garcia says as people raise their glasses — including one sippy cup and a chalice, one of Grant's prized souvenirs from a recent trip to Warwick Castle in England. "If you're not here cooking this food, you're making it possible."
A lot went into making Garcia's deft, technique-driven and deeply creative food possible.
"It wasn't my plan to become a professional chef," he says. "I was going to go to law school. I wanted to be in the FBI." Garcia graduated from UCLA with degrees in political science and business economics but put the FBI on hold after spending a summer in Washington, D.C., working at the Department of Justice. "I enjoyed it but met so many people who weren't happy and persuaded me to pump the brakes a little." Pumping the brakes meant going to cooking school at the then-CSCA (later the Cordon Bleu) in Pasadena.
As part of his culinary school externship, Garcia landed at the Belvedere — and stayed for seven years, ending up as executive sous chef. After stages at the French Laundry and Cyrus in Napa Valley, he returned to L.A. to open Fig. "I was young, I was arrogant; I thought, I don't want to go to a Sheraton and do that. But that was my challenge." He stayed for another seven years. But he was also doing events and experimenting with the Mexican food he grew up with and that he found himself gravitating toward. In 2014 he won Cochon 555, the nose-to-tail heritage breed pig festival, where he was crowned King of Porc while wearing a lucha libre outfit. Who says classically trained chefs don't have a sense of humor?
"And then it just grew," Garcia says about the shift from moonlighting to a more complete evolution of his cooking style. "It's like the voice in the back of your head that gets louder and louder."
He gave notice at Fig and waited ("You can't just smash your piggy bank and buy a restaurant"), until one day he got a call from the folks at Sprout LA, the restaurant group, about taking over the space that would become Broken Spanish. This was not just any location, but the former home of chef John Sedlar's pan-Latin restaurant Rivera.
"It's not just a restaurant," says Garcia now. "It's one of those epic places."
Epic would also describe this afternoon's holiday menu, a collaborative effort of Garcia and his chefs, who are alums of some of the best restaurants in the city and all of whom grew up in and around Los Angeles. Garcia is from Cypress Park, where he grew up with his parents and grandparents; his wife, now a comedian and a mother, is from Santa Monica.
The origins of the turkey are Garcia's piloncillo-brined holiday bird from Fig, hybridized with a Broken Spanish carne asada marinade. The esquites is the product of weeks of experimentation by Mattick, whose work history includes Lucques, the late Palate Food + Wine and République. The biscuits and bread pudding are from Marquez, an alum of Providence, Spago and the French Laundry. The stuffing is a result of Garcia's London trip, which included a pilgrimage to one of Fergus Henderson's restaurants. ("I think everyone's stuffing should have marrow in it, right?")
"That's not stuffing from a box," Paez notes, clinking her son's chalice again as the meal draws to a close. "The '80s in Santa Monica? Stuffing from a box."
The only box anyone's likely to need this Thanksgiving is one to take the leftovers home.
Broken Spanish, 1050 S. Flower St., Los Angeles, (213) 749-1460, brokenspanish.com.
1
Roast the potatoes: Heat the oven to 425 degrees. Prick the potatoes all over with a fork. Place on a foil-lined, rimmed baking sheet and roast until a knife easily pierces them, 40 minutes to 1 hour. Remove and set aside until cool enough to handle, then peel and run through a ricer to mash.
2
Roast the marrow: Once the potatoes are removed from the oven, place the marrow on a foil-lined, rimmed baking sheet and roast just until the bones begin to brown and the marrow softens, about 15 minutes. Remove and push the marrow out of the bones. Cut the marrow into small pieces and set aside. Discard or save the bones for another use. Reduce the oven temperature to 275 degrees.
3
Roast the poblanos: Place the chiles on a rack set over a gas stove-top burner heated over high heat. Roast until the skin on all sides of each chile is charred, about 5 minutes, turning frequently. (If you have an electric or ceramic stove top, roast the chiles in the oven using the broiler setting until charred on all sides.) Wrap each pepper in plastic wrap and set aside until the peppers are cool enough to handle, then peel the skin (the skin should stick to the plastic wrap). Rub the plastic wrap against the skin to loosen and remove it. Stem and seed each pepper, thinly slice. Set aside.
4
In a large bowl, gently mix together the masa with the mashed potatoes and garlic oil. Slowly add water until the mixture has the consistency of muffin batter, about 1/3 cup of water. Fold in the bone marrow.
5
Pour the mixture into an 8-inch square baking dish. Place the dish in a larger roasting pan. Place the pan into the 275-degree oven, and add boiling water to the roasting pan until it comes 2/3 up the side of the baking dish. Cook until the masa mixture is set, 1- to 1 ½ hours. Remove from heat and set aside until completely cool. Cut the cooked masa into 1-inch cubes.
6
Meanwhile, in a large skillet heated over medium-high heat, melt the butter. Add the onions and cook until softened, stirring frequently, about 5 minutes. Stir in the garlic and cook until fragrant, about 1 minute. Stir in the sliced chiles and chard stems and cook until tender, about 10 minutes. Stir in the oregano and cumin, and season with ¾ teaspoon salt and ½ teaspoon pepper, or to taste. Remove from heat and set aside to cool, then stir in the cilantro.
7
Heat the oven to 400 degrees. Butter a 13-inch by 9-inch baking dish.
8
In a large bowl, gently toss the vegetable mixture with the masa cubes. Stir in the Swiss chard leaves, along with the cheeses.
9
In a small bowl, whisk together the eggs and broth. Pour over the large bowl of stuffing and toss gently to moisten. Transfer the stuffing to the buttered dish and cover with foil. Bake for 30 minutes. Uncover and continue to bake until the top is golden-brown, about another 30 minutes.
Adapted from a recipe by Broken Spanish restaurant. Fresh corn masa and quesillo are available at well-stocked Mexican markets.
---
Get our new Cooking newsletter.
You may occasionally receive promotional content from the Los Angeles Times.