Roasted chicken curry sandwich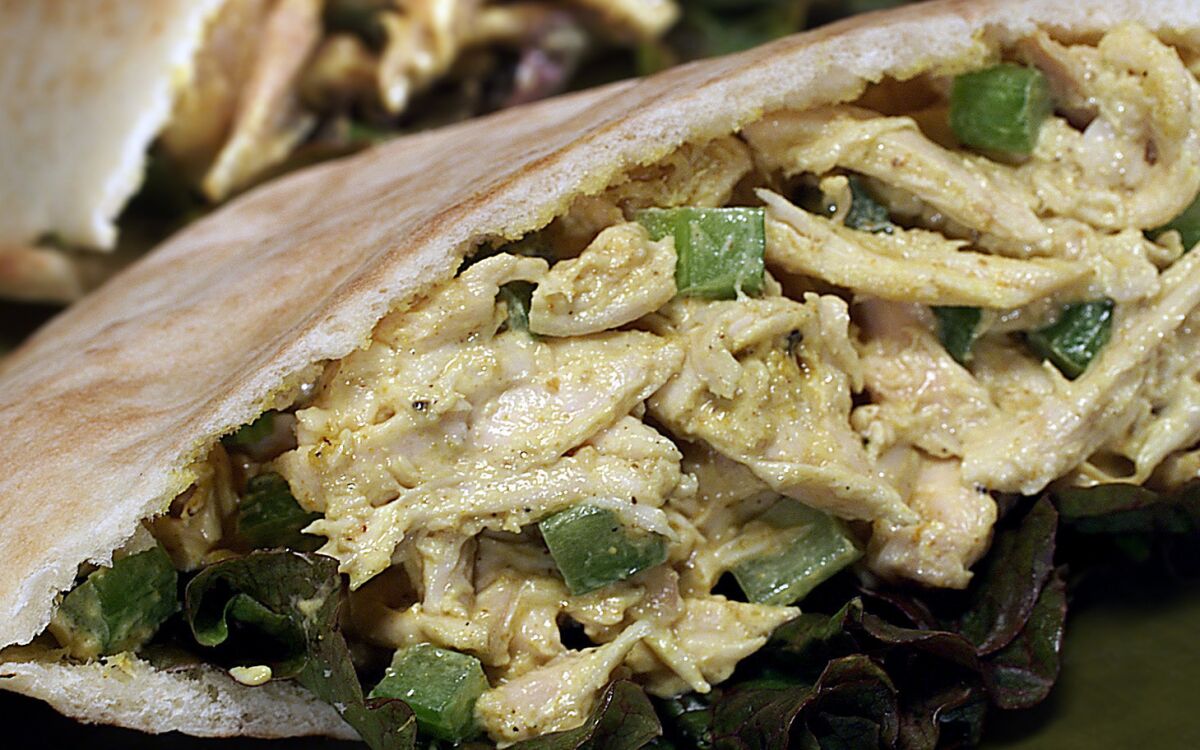 Print Recipe

Print Recipe
Roast one or two chickens, and you'll be surprised by how many meals you can make. After having roasted chicken for dinner, I clean the bones to use for a broth, then save the leftover meat to make this salad. Sometimes leftover chicken can be dry, but mixed here with yogurt and sour cream, it stays moist.
To roast a chicken, place it on a rack in a roasting pan and clip off the wings at the joints. Salt and pepper the bird inside and out, and place a lemon or lime wedge or two and a few sprigs of rosemary, thyme or sage in the cavity. Drizzle olive oil or rub butter over the skin. Roast the chicken at 450 degrees, and when you begin to hear sizzling, after about 10 minutes, reduce the heat to 350 degrees. Cook the chicken until it reaches an internal temperature of between 160 and 165 degrees (once you remove it from the oven, its temperature will rise a few more degrees before serving). Depending on the size of the chicken, roasting may take 1 to 1 1/2 hours.
To make broth, place the bones in a stockpot with chopped celery, carrots and onion, water and some herbs. Simmer until it tastes good, 1 to 1 1/2 hours, cool the broth, strain and store it.
1
Place the chicken and celery in a mixing bowl.
2
Mix together the yogurt, sour cream, lemon juice, curry powder and cumin in a small bowl, then add to the chicken and celery. Stir well, then season with salt and pepper to taste.
3
Cut the pita in half to form two pockets. Line each pocket with 2 lettuce leaves. Spoon the chicken mixture into the pita halves, dividing evenly.
You can also serve this as a salad over a bed of greens; add diced fruit or toasted nuts to the chicken mixture for different texture and flavor.
---
Get our new Cooking newsletter.
Your roundup of inspiring recipes and kitchen tricks.
You may occasionally receive promotional content from the Los Angeles Times.