Salt-and-pepper breadsticks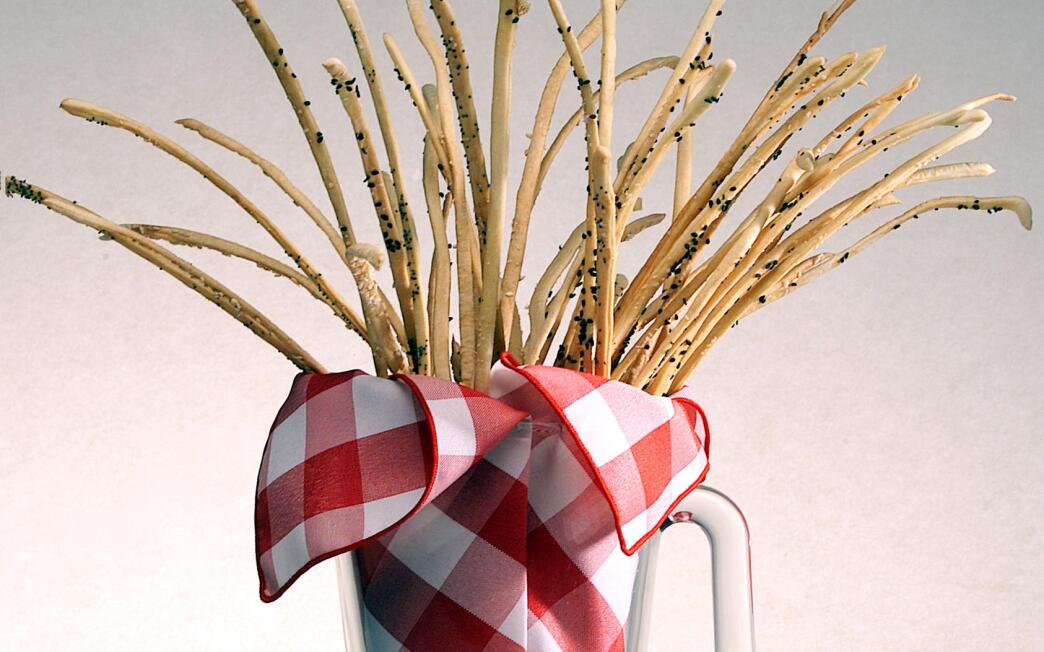 Print Recipe

Print Recipe
When you roll and cut them with a pasta machine, these come out wonderfully thin and crisp, more like bread spears than breadsticks. Sticking out of a juice glass, they look almost architectural. Season them to fit the meal and then twist them into a variety of shapes. Unleash your inner Martha.
From the story: The party starts here
1
Heat the oven to 350 degrees. Grind the peppercorns, allspice and salt in a spice grinder until fine.
2
Tear off a piece of pizza dough about the size of a golf ball. Pat it flat and dust with flour on both sides. Run the dough between the rollers of a pasta machine set on the widest setting. Repeat 2 more times, dusting with more flour only to keep dough from sticking. The dough should feel fairly smooth. If it doesn't, narrow the setting a notch and run it through once more. The dough sheet may seem short, but the breadsticks will stretch in the cutting and baking.
3
Cut the dough into thin strips by running it through the wide fettuccine cutter of the pasta maker. Arrange the strips on a nonstick baking sheet. The pasta machine might not cut the strips completely. Don't worry, this is a rustic presentation -- just pull off one strip at a time. Vary the way you arrange the strips -- straight, wavy, hooked or with a circle at the top.
4
Brush the strips lightly with the egg white; don't flatten them. Sprinkle generously with spice mixture.
5
Bake until the breadsticks are golden brown, 10 to 15 minutes. Because they are so thin, they will cook very irregularly. Turn the baking sheet to encourage more even baking.
6
Let the sticks cool 2 or 3 minutes. Arrange them standing straight up in a big juice glass.
This is based on a technique I learned from cookbook author Judy Zeidler. You'll use only a portion of the spicing mixture; store the rest in a tightly covered container and use it to season roasted or grilled meat. You can also use various seeds, such as sesame or cracked fennel.
---
Get our new Cooking newsletter.
You may occasionally receive promotional content from the Los Angeles Times.