Simmered Beef Goulash With Mushrooms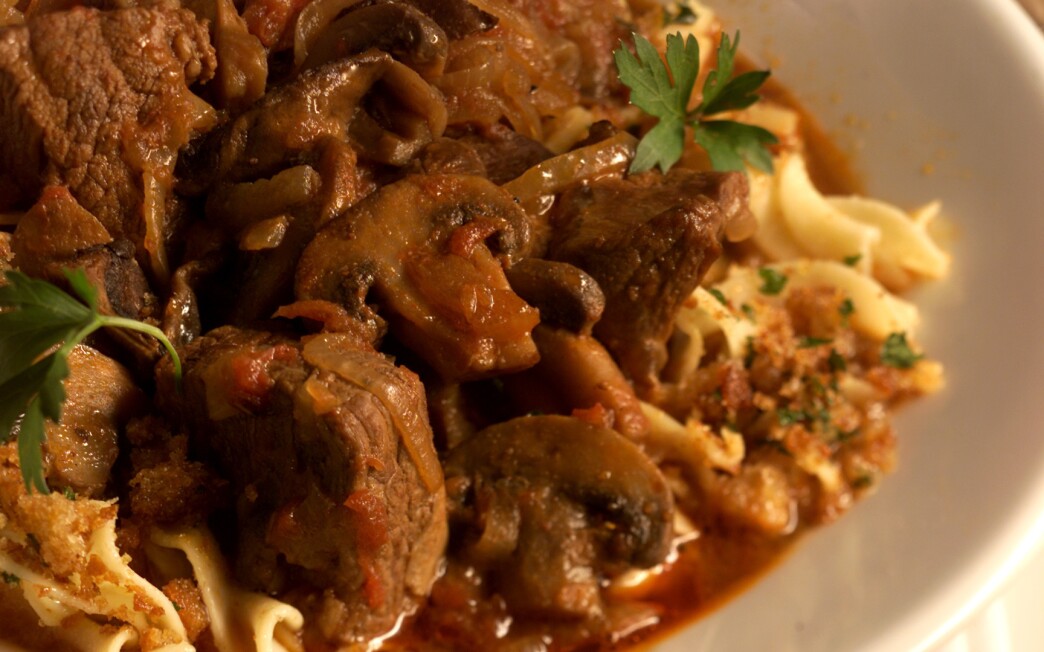 1
Soak porcini mushrooms in water 30 minutes.
2
Heat butter and oil in large (14-cup capacity) nonaluminum pot or casserole over medium-high heat. When hot, add onions; stir well to coat. Cook, stirring often, until softened, about 10 minutes. Add paprika, salt and pepper to taste. Stir well. Cook 2 minutes.
3
Drain porcini mushrooms through strainer lined with triple thickness of paper towels, reserving liquid. Chop on board or in mini-processor. Stem and halve white mushrooms (cut into quarters if large). Cut beef into 1 1/3-inch cubes. Add porcini and white mushrooms and meat to pot. Cook until heated through, stirring often, about 5 minutes. Puree tomatoes with liquid and add to pot with bell pepper, stock and reserved mushroom liquid. Stir well.
4
Bring to boil, then reduce heat and simmer, covered, stirring occasionally, about 1 1/2 hours. At this point, if there is too much liquid, simmer, uncovered, to cook down this liquid, stirring often to avoid any scorching, about 30 to 40 minutes more. Add a little beef stock or broth if goulash is too thick. Meat should be very tender. Remove from heat. Taste; adjust seasoning. (To store, cool on counter, then refrigerate at least overnight or up to 3 days. Can also be frozen up to 1 month. To serve, reheat, covered, in 350-degree oven for 1 hour. Stir; taste and adjust seasoning.) Serve hot over hot Buttered Noodles With Garlicky Bread Crumbs.