Summer Salad with Israeli Couscous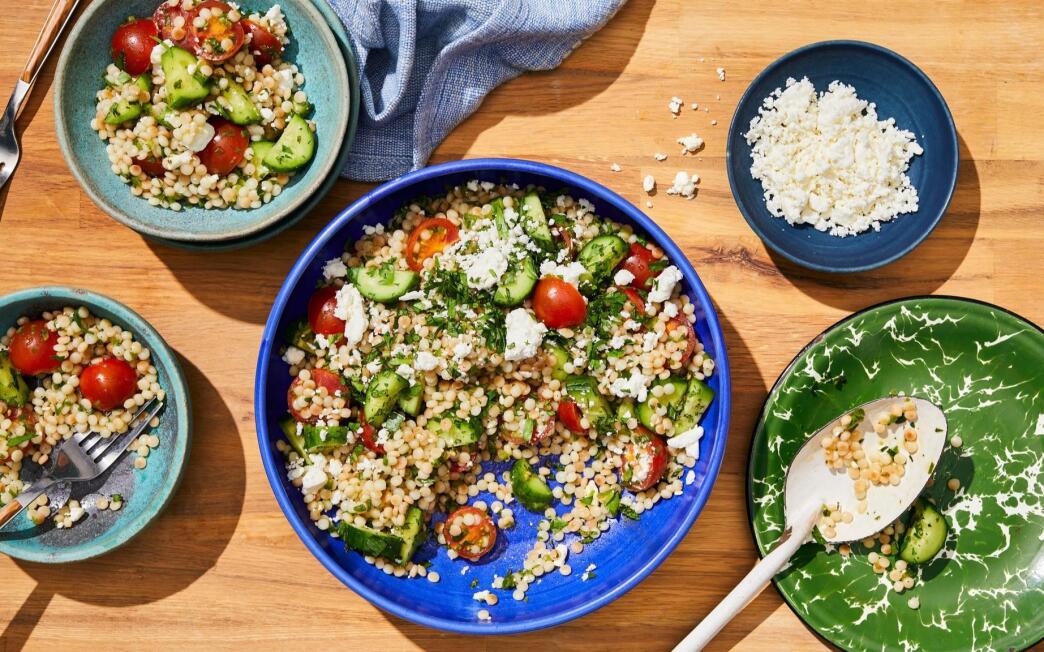 Print Recipe

Print Recipe
1
Slice the tomatoes in half lengthwise and place them in a medium mixing bowl. Add 1 teaspoon salt, the garlic, jalapeño, olive oil, lemon juice and scallions, and stir to combine. Let the vegetables macerate while you cook the couscous.
2
Heat a medium saucepan over medium-high heat. Add the couscous and cook, stirring, until it smells nutty, 3 to 5 minutes. Add 3 cups water and the remaining 1 teaspoon salt, and bring to a boil. Reduce the heat to maintain a steady simmer, and cook, partially covered, until the couscous is just tender but still a little chewy, 5 to 7 minutes. Drain the couscous in a sieve, rinse under cool running water and shake well to remove as much moisture as possible.
3
While the couscous is still slightly warm, add it to the tomato mixture and toss to coat. Let cool completely, tossing every few minutes. Add the cucumbers, feta, mint and parsley, and stir gently to combine. Season with black pepper and more salt before serving.
---
Get our new Cooking newsletter.
You may occasionally receive promotional content from the Los Angeles Times.