Super-Crisp Roasted Potatoes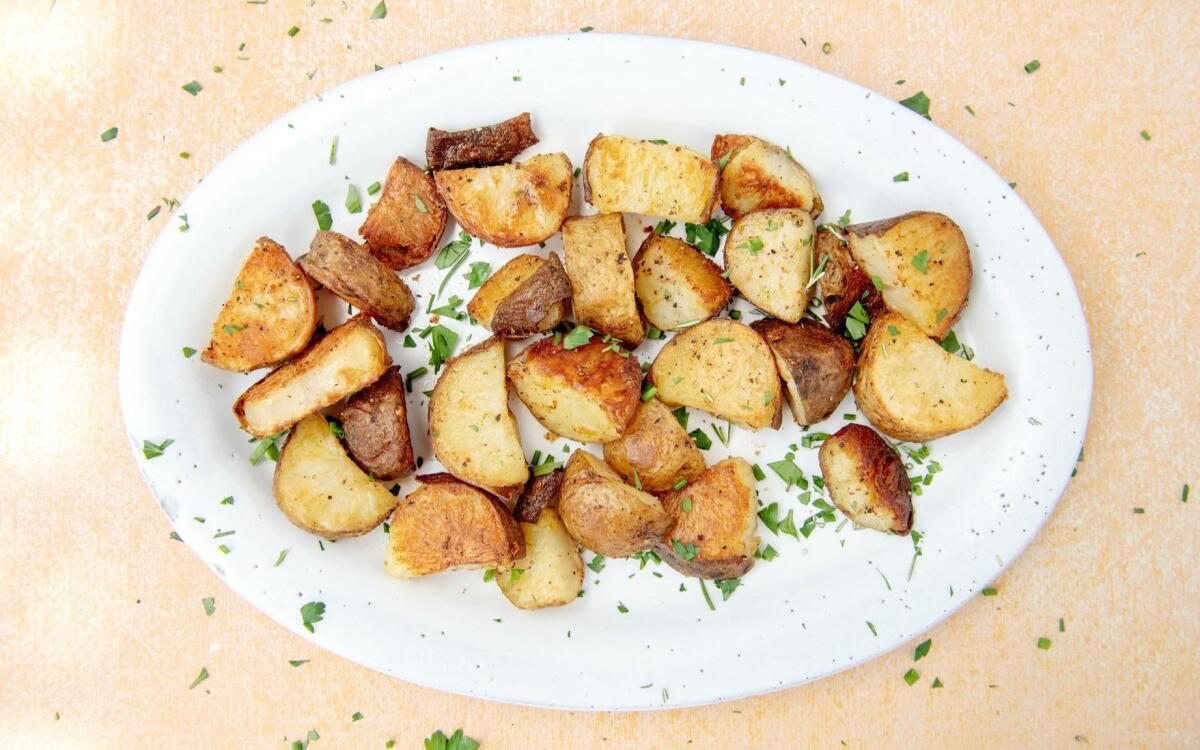 Print Recipe

Print Recipe
These were the crispest, lightest roasted potatoes I'd ever made. López-Alt uses bakers rather than boilers (the starch structure cooks up lighter), simmers them until they're almost tender, then tosses them in a pan with fat to coat and to rough up the cut edges (to set up the best crust) before roasting at 450 degrees for an hour.
These potatoes were seriously delicious.
From the story: In 'The Food Lab,' J. Kenji López-Alt turns kitchen scientist
1
Adjust the oven racks to the upper and lower-middle positions, and heat the oven to 450 degrees
2
Place the potatoes in a large saucepan and cover with cold water by 1 inch. Season generously with salt. Bring to a boil over high heat, reduce the heat to a simmer and cook until the potatoes are just barely cooked through, about 10 minutes (a knife or cake tester inserted into a potato should meet little resistance). Drain and transfer to a large bowl.
3
Add the fat and a few generous grinds of pepper to the hot potatoes and toss well; the potatoes should end up with a thin coating of potato-fat paste.
4
Spray two rimmed baking sheets with nonstick cooking spray (or coat with a thin layer of oil). Transfer the potatoes to the baking sheets and roast until the bottoms are crisp, rotating the pans halfway through cooking, about 25 minutes. Test the potatoes by trying to pry one or two pieces off the baking sheet with a stiff metal spatula. If they don't come off easily, roast for additional 3-minute increments until they do.
5
Flip the potatoes with the spatula, making sure to get all the crisped bits off the bottom, then continue to roast until golden brown and crisp all over, about 25 more minutes.
6
Transfer to a serving bowl, season to taste, and toss with chopped herbs.
Recipe adapted from J. Kenji López-Alt's book "The Food Lab" (W.W. Norton).
---
Get our new Cooking newsletter.
Your roundup of inspiring recipes and kitchen tricks.
You may occasionally receive promotional content from the Los Angeles Times.