Ultimate Overnight Waffles
Yields
Makes 1 to 2 dozen.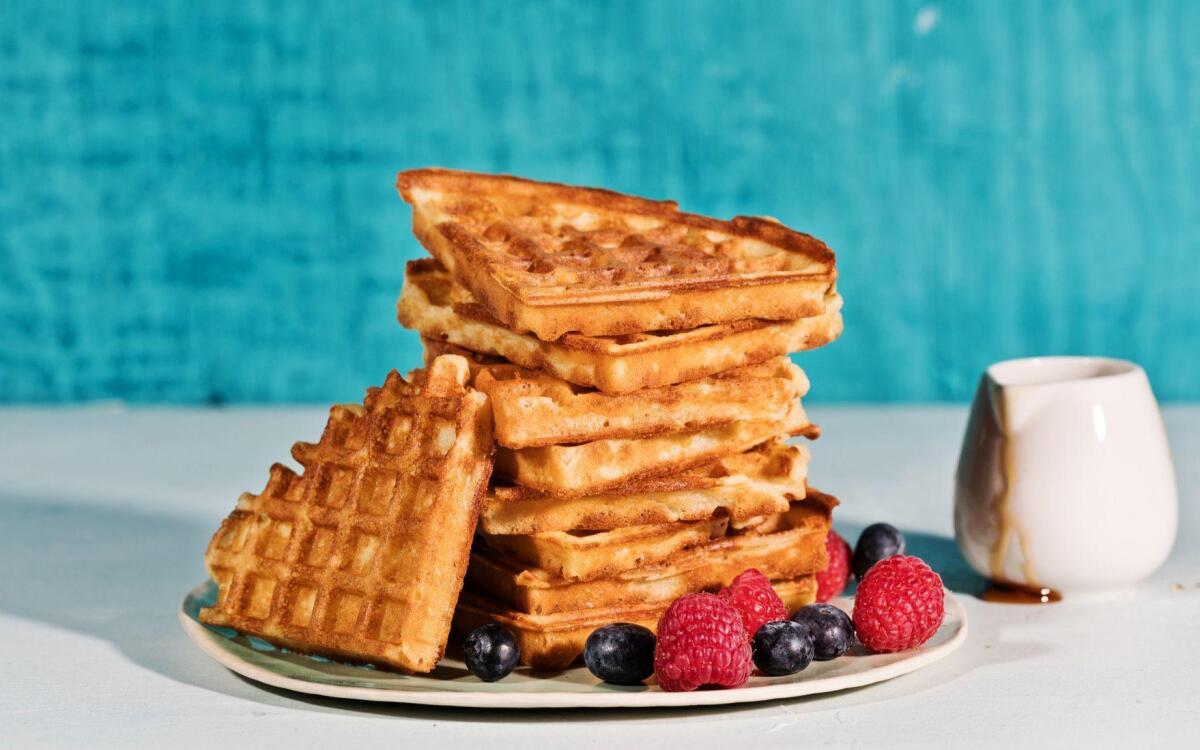 Print Recipe

Print Recipe
Folding whipped egg whites into a yeasted batter makes for the lightest, crispiest waffles. Yes, it's an extra step, but it's worth the effort. This makes a big batch. You can freeze extras for quick weekday breakfasts.
From the story: Make mom a brunch she'll actually like
1
Heat the milk to lukewarm (about 110 degrees) in a small saucepan over medium-low heat or by microwaving for 1 minute. Pour into a large bowl and stir in the sugar, then the yeast. Let stand until the top becomes bubbly, about 10 minutes.
2
Meanwhile, beat the egg whites using an electric mixer with the whisk attachment on medium speed or whisk by hand until medium peaks form.
3
Whisk the butter into yeast mixture, then whisk in the salt and egg yolks. While whisking, add the flour bit by bit. Whisk until smooth. Add one-third of the egg whites and fold gently until incorporated. Repeat two more times, folding just until no white streaks remain after each addition. Cover the bowl with plastic wrap and refrigerate for at least 1 hour and up to 12 hours.
4
Heat a waffle iron to medium heat. If the batter has rested more than 1 hour and has puffed a lot, gently fold it to deflate. Scoop and cook the batter according to your waffle iron's instructions. Serve hot with syrup, whipped cream, berries or other toppings of your choice.
Variations:
Pancake Puffs: Omit the waffle iron. Heat a nonstick skillet over medium-low heat. Coat the inside of a 3-inch-round (2-inch-high) metal biscuit cutter with nonstick cooking spray. Set in the skillet and lightly spray the pan inside the cutter. Add ⅓ cup batter, cover the skillet with a lid, and cook until the bottom is golden brown and the top is almost dry, about 5 minutes. Slide a very thin spatula under the pancake and cutter, then carefully flip both together. Cook until the other side is golden brown and the pancake bounces back when you poke its top, 3 to 5 minutes. Slide the spatula under the pancake and cutter and transfer to a plate. Using a kitchen towel or pot holders, gently wiggle the cutter off the pancake. Repeat with the remaining batter. Serve immediately.
Make Ahead: The waffles can be cooled completely and then frozen in resealable plastic freezer bags for up to 6 months. Reheat in a toaster or toaster oven before serving.
---
Get our new Cooking newsletter.
Your roundup of inspiring recipes and kitchen tricks.
You may occasionally receive promotional content from the Los Angeles Times.