Union's creamy polenta with mushrooms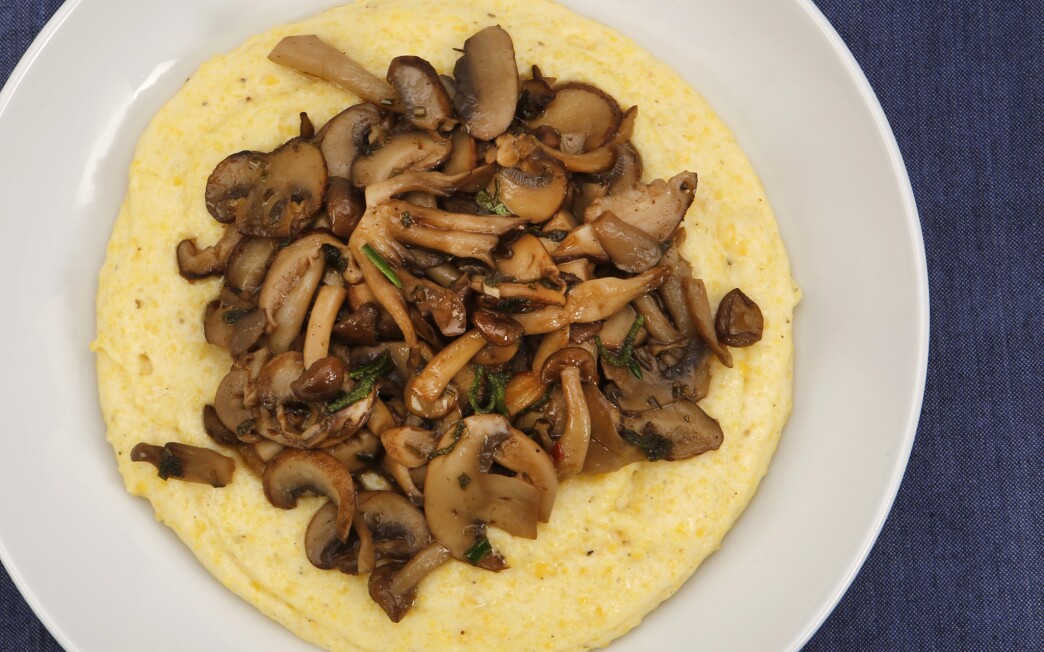 Print Recipe

Print Recipe
Sometimes, it's easy to predict the dishes that will achieve cult status on restaurant menus. They can be flashy, engineered around ingredients that have themselves achieved cult status — marrow bones, foie gras, kale — and often double as critic bait, those plates that seem purposefully designed as order-me magnets for restaurant critics. Then there are the dishes that come in under the radar, composed of humble ingredients or made with under-appreciated techniques, and operate more like a restaurant's secret handshake. This is what the polenta at Union, Bruce Kalman's restaurant in Pasadena, has become for locals. It's a simple bowl of polenta made with corn ground at Grist & Toll, a nearby mill and flour shop, and a satisfyingly large amount of milk, cream, butter and cheese. Kalman tops his polenta with sautéed wild mushrooms, to which he's added some herbs, garlic, wine and sherry vinegar; at the restaurant, he'll also add a bit of truffle butter. It is a comforting dish, a good prelude to Kalman's vast plate of porchetta, say, or good to order if you wander in after a movie for an ad hoc dinner at the counter, where everyone always seems to order the stuff, as if it's a neighborhood prerequisite. And maybe it is.
Polenta
1
In a medium, heavy-bottom saucepan, combine the cream and milk and bring to a simmer. Slowly whisk in the polenta and reduce the heat to low. Cook, stirring every few minutes or so, making sure to scrape the bottom of the pan so the polenta does not burn. Cook the polenta until it is creamy, about 30 minutes, adding additional milk if the polenta thickens too quickly before it is tender. Remove from heat, cover and set aside for 20 to 30 minutes.
2
Whisk in the butter and grated cheese, then taste and adjust the seasonings with salt and pepper.
Creamy polenta with wild mushrooms
1
In a large saute pan, heat the oil, butter and herbs over medium heat, cooking until the herbs are crisp and the butter begins to brown, 4 to 5 minutes.
2
Add the mushrooms and season with 1 teaspoon salt and a few grinds of pepper, or to taste. Toss, coating the mushrooms with the fat and increase the heat to high, cooking until the mushrooms brown a little, 3 to 4 minutes. Reduce the heat to medium.
3
Make a well in the center of the pan and add the garlic and chile flakes. Stir the garlic until it is cooked through, 1 to 2 minutes, then combine it with the mushrooms. Add the wine and broth, then remove from heat and add the vinegar. Taste, adjusting the seasonings as desired.
4
To serve, fill a serving dish with polenta, then top with the mushrooms.
Adapted from a recipe from Bruce Kalman of Union restaurant in Pasadena.
---
Get our new Cooking newsletter.
You may occasionally receive promotional content from the Los Angeles Times.