Vanilla fried shrimp with vanilla honey mustard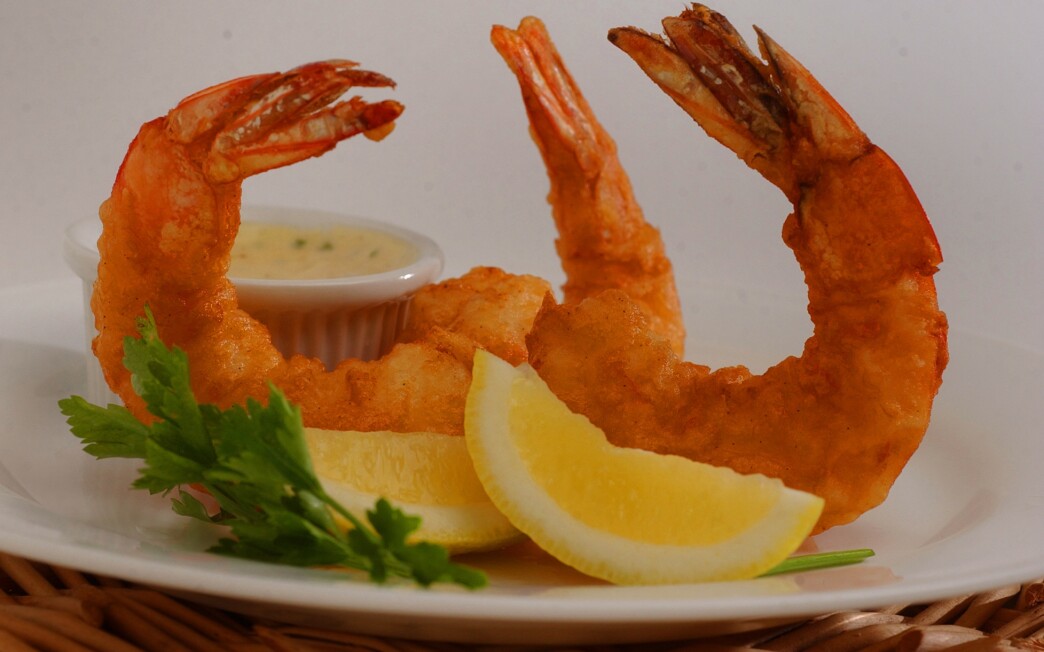 Print Recipe

Print Recipe
You know a restaurant is scorchingly hot when you dial 411 for the number and the operator says you're the fifth person that day who's asked for the same restaurant. So it was the week before last with Lincoln Steakhouse Americana, the hip new, Atkins-friendly, mock-retro, highly designed steakhouse in Santa Monica.
Lincoln is the latest venture from the team that brought us hip sushi at Tengu in Westwood, hip Cuban food at Paladar in Hollywood and the hip clubs Nacional and Ivar. Its opening party attracted a young Hollywood set, including Mischa Barton, Jason Biggs, Lindsay Lohan and Jared Leto -- and enough lithe, navel-baring twentysomething women to make you wonder where one would fit a 16-ounce porterhouse.
Sure, it seems every few months, some achingly trendy new restaurant opens its doors with the usual fanfare and paparazzi-posing throng, but this year, Lincoln is not the only one that's a steakhouse. There are more coming, and none of them plan to even vaguely resemble the traditional testosterone-fueled meat palaces of, say, your father's generation.
The Dolce Group (yes, Ashton's Dolce) is opening the Lodge this summer on La Cienega's restaurant row. The Dodd Mitchell-designed restaurant has been billed "ski lodge meets Frank Lloyd Wright." According to Adolfo Suaya, a partner in the Dolce Group and veteran nightclub impresario, it will come equipped with all the must-haves in a Hollywood hot spot: indoor-outdoor patio, three fireplaces, oversize martinis and music hipsters can relate to.
In the fall, the sleekly stylish Sunset Strip steakhouse Balboa will open a second branch, this one in Santa Monica, though both locations will be renamed Boa.
These days, it's cool to be a carnivore. The new steakhouses are heavy on design and light on carbs. And they're setting out to do something the older generation never would have dreamed of: cater to their female clientele.
What they all have in common is a clubby feel -- not like the cigar-smokingly masculine club, but the other kind of club, the kind with flattering lighting, cutting-edge decor, velvet ropes, throbbing music and, above all, a scene.
In many ways, says Suaya, restaurants are the new clubs for L.A.'s hipster elite. "The club scene gets old really fast," he explains. "There are some 30-year-olds, people even younger than 30, who make decent money and want to spend it. They want a restaurant that has a club atmosphere without the dancing."
And for young diners who haven't necessarily been schooled in the ways of oyster emulsion and foie gras, there's nothing like a steak: No special education or culinary initiation is required. At Lincoln, on a recent visit, the busboy sheepishly announced, on arriving at the table breadless, "We don't have a bread course." That seems to be about par for the course in terms of gastronomic sophistication.
This is more than a local phenomenon, though; it's shaping into a national trend. From New York City to Washington, D.C., from Las Vegas to Los Angeles, steakhouses are being reinvented.
Of course, the chophouses in each metropolis reflect the personality of their hometown.
In New York, it's about the food. Manhattan's BLT Steak has a highly acclaimed French chef (Laurent Tourondel) and a sophisticated bistro menu that includes sauteed hen-of-the-woods mushrooms and grilled ramps. Wolfgang Zweiner, a longtime headwaiter at the father of all steakhouses, Peter Luger, has just opened Wolfgang's Steakhouse, serving prime cuts that have been dry aged in the restaurant's basement for 28 days.
In Las Vegas, it's about flash. At Craftsteak, Tom Colicchio's menu boasts a $22 Kobe steak tartare and a $98 Kobe rib-eye for the high rollers.
In D.C., it's about power. To wash down the dry-aged rib-eye, Charlie Palmer Steak, the hangout for Capitol Hill types, has an American wine list with choices from 40 states so pols can stay loyal to constituents while making deals.
In L.A., it's about, well, scene.
It's not that Los Angeles has been short of places to get a great steak. From Pacific Dining Car to the Palm, Ruth's Chris or Morton's, Angelenos can feast on some of the choicest slabs of meat west of Williamsburg. But for a certain clientele, a great steak just isn't enough.
In fact, for a growing number of Angelenos, a great steak may not even be necessary; a merely good steak often does the trick. But they need some scene with their meat. Throw in great cocktails and brawny wine lists. Add a few compelling appetizers -- vanilla-battered fried shrimp, oysters Rockefeller, Maytag blue cheese onion tarts -- and a bunch of irresistible side dishes -- braised turnip greens, gooey potato gratins, creamed spinach (of course). Then add music, lighting, the right crowd and, voila, hip steakhouse.
*
Where cocktails are key
On a recent night at Lincoln, the place was positively heaving. It was work to squeeze through the doorway. Waiting for a table involved scrunching into a corner by the bar to avoid collision with bartenders who hurtled through carrying trays of Lincoln Lemonades (the signature cocktail: Knob Creek bourbon, Triple Sec, sugar, lemon juice and 7UP) and waiters delivering steaming plates of rib-eyes.
As co-owner Anton Posniak explains, the tight quarters are intentional. "At Tengu and Paladar it's a similar format," he says. "You sit right on people, and that's been part of the success there because we want you to intermingle. We want to force socializing." It works. No sooner were we seated than a man from a nearby table bounded over to chat us up and flirt for a few minutes before the first course.
Retro cocktails are big; Mastro's in Beverly Hills has a Mastro martini that spews dry-ice smoke. Windows, the steakhouse in the TransAmerica building downtown, has a whole menu of classics, along with silly spins on them such as the Viagratini, a blue rum drink spiked with Red Bull. At Lincoln, the Old-fashioned comes in a cut-glass old-fashioned glass that's so 1950s picture-perfect you can only imagine the designer squealing with delight when she found it.
Old school chophouse notions of heavy masculine design are passe, though many play off the theme, with tongue-in-cheek nods to studded leather chairs or hunting lodge decor. Lincoln's dining room, done by the Westside-chic designer Kelly Wearstler (Whist, Maison 140), features gigantic, tan suede pod-like spinoffs of traditional wing chairs and chandeliers adorned with curved wooden antlers.
But some established steakhouses, such as Taylor's Steak House and Buggy Whip, have become retro-cool. Pacific Dining Car downtown, which is open till 2 a.m., is a scene after midnight.
If the owners of new-style steakhouses are trying to attract women, it's working. Part of the draw is the mania for high-protein diets. Twenty-six million Americans are cutting carbs, and more than a few are women. In any case, in these places, women seem to outnumber men.
And this despite last year's mad cow disease scare. The beef business is booming, with demand outstripping supply. A beef shortage, the result of restrictions that came into place last year on imports from countries with mad cow scares, such as Argentina and Canada, has sent beef prices into the stratosphere, and that's painfully obvious when you peruse a steakhouse menu. At Balboa, the porterhouse is $39 -- without any side dishes. With expensive cocktails, pricey appetizers ($25 Dungeness crab cakes) and a very dear wine list, an evening at Mastro's can easily set you back as much as dinner at, say, Bastide.
Many of the new-wave steak parlors tout a version of Kobe beef that is actually so-called American Kobe, or Wagyu beef. Two servers at Lincoln recently insisted their flat-iron "Tokujo steak" special was actually Kobe from Japan, but they should have checked with chef James Grey, who says the real deal from Japan would be prohibitively expensive. No matter. Most diners are none the wiser, cheerfully paying $38 for it.
As with any trendy scene, everything depends on when you go. Balboa -- probably the most sophisticated of the new breed -- draws a packed house nearly every night, though the quality of the scene varies according to the night. Smack in the middle of the strip in the Grafton Hotel, it's too touristy to be cool on the weekends (except among wine aficionados, who go to take advantage of a Sunday wine bargain -- everything on the list is half price that night). But midweek, Balboa draws celebrities and savvy steak lovers who want the highest quality of beef they can find without sacrificing style. Balboa's steaks include a New York cut dry aged 40 days, along with others "wet aged" in Cryovac. Each comes with a choice of nine steak sauces, from a straightforward bearnaise to a tangy J1 sauce, their version of A1.
On a recent Tuesday night, the place was so packed that they had to turn people away at the door. The Tag Front-designed dining room incorporates a wall of twigs, lighting fixtures that hang almost to chest level, and banquettes in dreamy leather. (You'd kill for a handbag made of it.)
The aesthetic at Mastro's is decidedly Rat Pack chic, and the crowd is skewed slightly older. There's no shortage of silver foxes dining with their trophy wives (or girlfriends), who drip with enough diamonds to buy a cattle ranch, but it's an eclectic mix. On a recent Wednesday, three separate tables of twenty- and thirtysomethings celebrated birthdays, singing and flashing cameras in a giddy, anything-goes atmosphere. Dry ice smoke curls up out of house martinis and "atomic" shrimp cocktails. It's hard to believe a person can have so much fun in Beverly Hills in the middle of the week.
That's upstairs. Downstairs is hip in a very different way. This sedate dining room is where, according to general manager George Gilio, Larry King, Steven Spielberg and Jeffrey Katzenberg like to eat.
And the steaks? Well, they're big. OK, they're 21-day wet-aged prime, if you must. They might arrive overdone; they might arrive underdone. As in all these new-style steakhouses, the food is just another part of the show.
Steak is power, it's money; it's about showing off. It can express girl power just as well as machismo. It doesn't take an educated palate to know how you like your steak cooked, and it doesn't take a star chef to prepare it well.
At a steakhouse, everyone's equal. As long as you've got the cash, you're in. And right now, steak is very in.
Vanilla honey mustard
1
Place the mayonnaise, mustard, honey, vanilla extract, chives, vanilla bean seeds and salt in a bowl and whisk to combine. Cover and refrigerate until ready to serve.
Vanilla batter
1
Combine the tempura batter mix, beer and vanilla bean seeds in a bowl and whisk until blended. Make the batter immediately before dipping the shrimp; do not let it sit.
Shrimp
1
Combine the flour, salt, pepper, onion powder, garlic powder and paprika in a pie plate. Dredge the shrimp in the flour mixture and shake off the excess.
2
Heat 4 to 5 inches of oil in a large saucepan until a pinch of flour sizzles when dropped in. Dip the shrimp into the vanilla batter and let the excess drain off.
3
Carefully drop 2 shrimp at a time into the hot oil and fry until golden brown, 2 to 3 minutes. Drain on paper towels.
4
Place 3 shrimp on a salad plate and garnish with lemon wedges and parsley sprigs. Serve with the vanilla honey mustard on the side.
From chef Taylor Boudreaux of Mastro's Steakhouse, who serves the shrimp with both the vanilla honey mustard and cocktail sauce on each plate.
---
Get our new Cooking newsletter.
You may occasionally receive promotional content from the Los Angeles Times.