Watermelon salad with feta, mint and cumin-lime dressing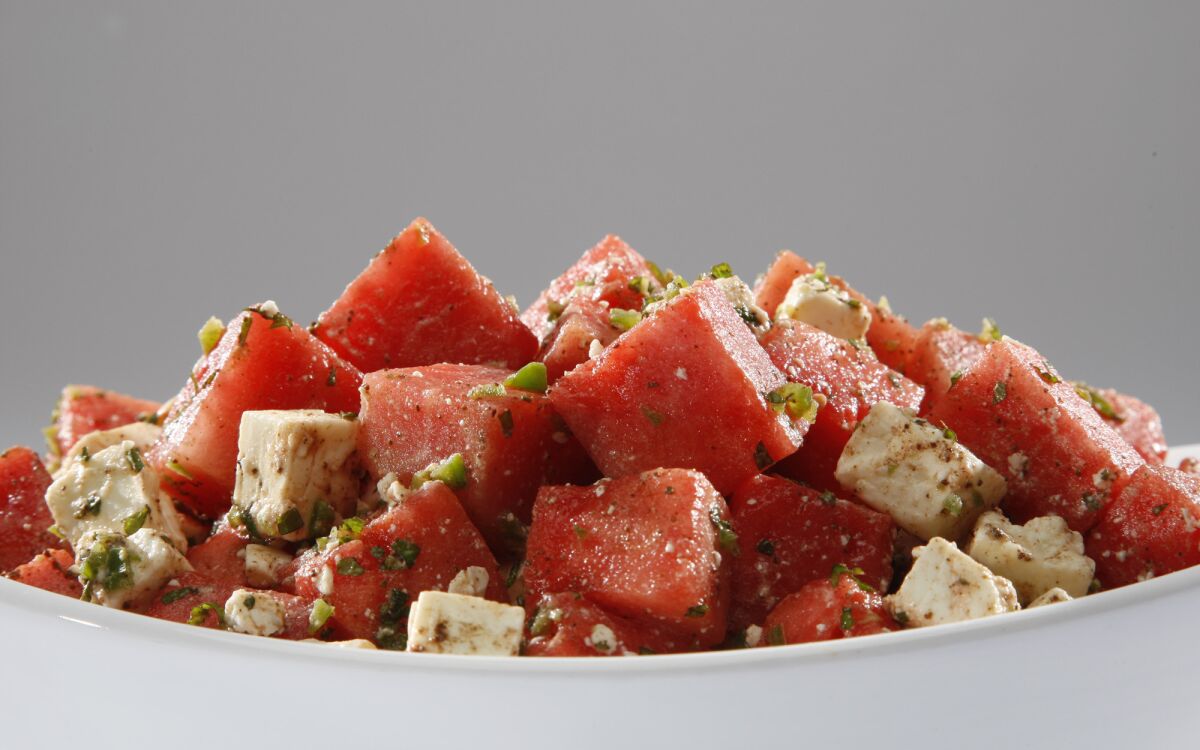 Print Recipe

Print Recipe
What really makes this dish work is the flavor pairing of power with power. The watermelon is so explosively juicy and sweet that you can add all kinds of big tastes -- not just salty feta but also jalapenos! toasted cumin! lime! fresh mint! -- without overwhelming it. In this watermelon salad, the whole is even greater than the sum of its parts, no matter how large they might be.
When choosing your watermelon, look for a vivid green color and check the couche, the pale spot where it rested on the ground: It should be pronounced and golden. And yes, give a watermelon a thump. It should sound like a hollow-core door.
From the story: Melons play more than sweet melodies
1
Combine watermelon, feta and jalapeno in serving bowl.
2
Toast the cumin seeds in a dry pan over medium heat until they become fragrant and begin to pop, about 2 minutes. If using a mortar and pestle, grind the cumin seeds to dust, add lime juice, salt to taste and oil and whisk to a smooth emulsion. If using a blender, combine the cumin seeds, lime juice, salt and oil and blend until smooth.
3
Just before serving, add half of the dressing to the watermelon mixture. Toss gently to keep everything whole and taste the salad. If desired, add more dressing. Add the chopped mint and toss gently.
---
Get our new Cooking newsletter.
Your roundup of inspiring recipes and kitchen tricks.
You may occasionally receive promotional content from the Los Angeles Times.