Winter roast pork with basil pomegranate sauce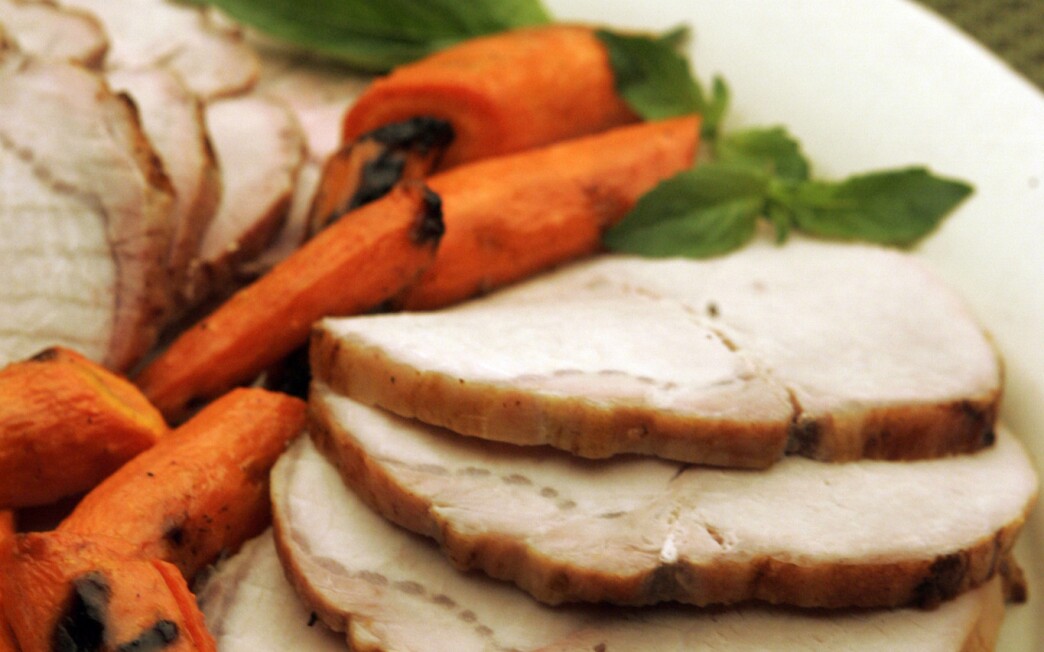 Print Recipe

Print Recipe
It's hard to beat a pork loin roast. Brine it overnight so it will be more juicy, and baste it with onion juice. If you were roasting it in the oven, you'd have juices for making gravy, but on the grill that's not an option. I like a simplified version of the pomegranate, herb and garlic sauces they make in Armenia and Georgia: just a jolt of sweet-sour flavor and bright fragrance.
From the story: Taste of the season: smoke and onion
Basil pomegranate sauce
1
Put the pomegranate molasses, one-fourth cup water, garlic and basil in a saucepan. Bring to a boil, then reduce the heat to low and simmer 5 minutes. Salt to taste. This can be made ahead of time and reheated for serving. Strain into a gravy boat.
Pork loin roast
1
To brine the roast, dissolve the salt and sugar in 1 gallon of water in a large bowl. Place the pork loin in a large plastic sealable (brining) bag, pour in the liquid and seal. Marinate for 12 to 14 hours in the refrigerator.
2
Cut the onion in eight pieces and puree in a food processor. Place the onion in a fine strainer or double layers of cheesecloth, press out the onion juice and discard the solids. Set the juice aside (to use for basting).
3
Remove the meat from the brine and pat dry. Allow to stand at room temperature for up to 30 minutes. Heat the grill. On a gas grill, heat up half the grill, as the meat should cook over indirect heat. For a charcoal grill, arrange hot coals to either side of the grill. When the grill is hot (400 degrees), oil the rack and place meat onto the rack, not directly above the heat. Cover the grill and cook until an instant-read thermometer reads 137 to 140 degrees, about 20 minutes per pound. (The temperature will rise about 10 degrees, to medium, after it's removed from heat.) Baste with onion juice every 15 minutes. If the outer part of the roast is done before the center comes to temperature, tent with foil to prevent from drying out.
4
Peel the carrots and cut them on the bias in large chunks (about 3 inches). Toss with 2 tablespoons olive oil and salt and pepper to taste. About an hour after the roast has been put on the grill, put the carrots on the grill around the roast.
5
When the meat is done, remove it to a serving dish, cover with foil and let rest 10 minutes. Serve with the carrots and warm pomegranate sauce.
Pomegranate molasses is available at Middle Eastern markets, well-stocked supermarkets and gourmet stores. Use a 2 1/2 -gallon or larger sealable plastic bag for brining.
---
Get our new Cooking newsletter.
You may occasionally receive promotional content from the Los Angeles Times.