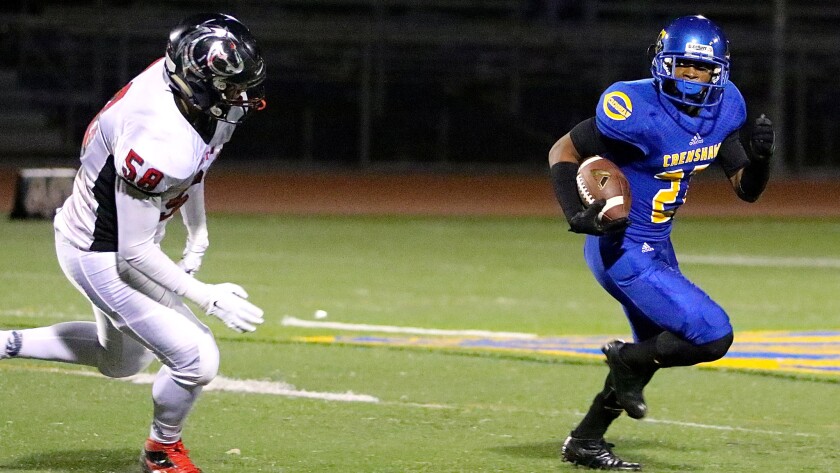 There's an old saying in football that speed kills.
Crenshaw running back Aundre Carter made a believer out of Arleta in Friday night's City Section Division I semifinal, catching a touchdown pass and running for another score as the host Cougars advanced to the finals for the third time in four years with a 26-17 victory.
Carter rushed 14 times for 94 yards and slithered out of three tackles along the sideline, changed directions and ran 36 yards to give the sixth-seeded Cougars (9-3) a 26-17 lead with 6:23 left.
With Crenshaw trailing, 17-14, Carter caught a pass from quarterback Daiyan Henley in the flat and weaved his way for a 48-yard touchdown on the final play of the third quarter that got the Cougars both the lead and the momentum back.
"We weren't nervous at all when we fell behind because we expected a tough game," Carter said. "We just stayed calm. Getting that TD going into the fourth quarter was very important."
Crenshaw had scored 54 points in each of its first two playoff games but got all it could handle from the seventh-seeded Mustangs (12-1), who made their deepest foray in the Division I playoffs since moving up from Division II in 2011.
Earlier in the week, second-year Arleta Coach Bill Coan called it "an honor" to be playing a program with the storied history of Crenshaw.
Afterward, he admitted speed was the difference.
"They were faster than us — especially in the secondary," said Coan, whose team upset second-seeded Birmingham in the quarterfinals and scored two touchdowns in the third quarter Friday to erase a 14-3 halftime deficit. "Their two previous games were blowouts, so it says a lot to be able come here and go toe to toe with a top team like Crenshaw. We can definitely build on this."
Isaiah Gable rushed for 104 yards in 20 carries and caught a 45-yard pass from Sergio Ayala, who scored on a one-yard quarterback sneak on the following play to give Arleta a 17-14 lead with 30 seconds left in the third quarter.
Justin Whitaker scored Crenshaw's first touchdown on a nine-yard run with 5:05 left in the first quarter and Rayshawn Williams put the Cougars ahead, 14-3, on a 12-yard scoring reception from Henley late in the first half.
Ayala sneaked over the goal line from two yards out to pull the East Valley League champions to within 14-10 early in the third quarter.
Gilbert Guardado made a 30-yard field goal for Arleta's first points midway through the second quarter.
Crenshaw will play top-seeded Harbor City Narbonne (11-2) for the championship next Saturday at 7 p.m. at Cerritos College. The Gauchos routed fourth-seeded Dorsey, 42-0, in Friday's other semifinal.
---