Gardena Serra's Maalik Murphy has college recruiters' attention without starting a game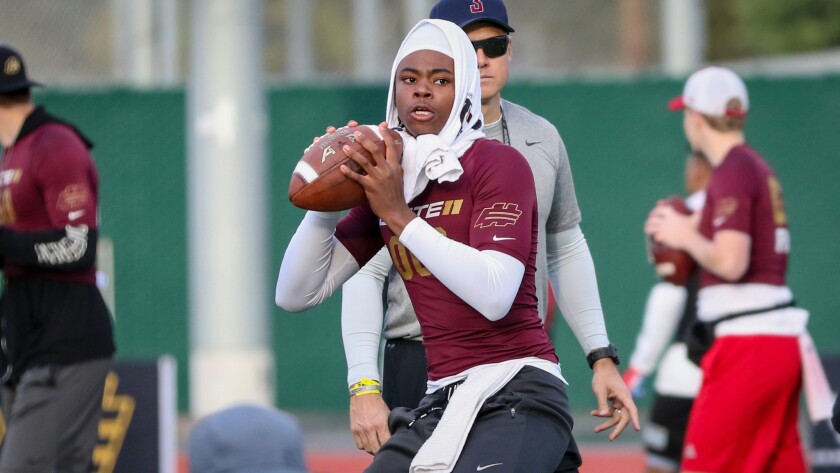 Maalik Murphy hasn't started a high school game and there's no guarantee he will this fall when he enters his sophomore season at Gardena Serra High. Yet, Murphy already has attracted the eye of college football recruiters.
Murphy has received eight scholarship offers, including from Michigan, Ohio State, Georgia and Florida State. He has prototypical quarterback size at 6 feet 4 and 205 pounds and the ball twirls off his fingertips.
"It means a lot," Murphy said of the attention from colleges, "but I have to stay focused. I let everything come to me. I don't really look for attention. I just want to stay on the low and everything can go."
Murphy is thankful for the offers he has received, but also uses them as motivation, knowing the consideration he gets attracts more eyeballs.
"You have to keep it in the back of your head," he said. "You work hard and remember that they're there and everyone is watching you, so it makes you work even harder."
He has been working on his speed and his pocket mobility in the offseason, trying to make himself a more dangerous threat when his first reads aren't available. Outsiders see his size and arm strength. Murphy wants them to know he has more than physical attributes.
"I have a very high football IQ," he said. "Before the game, after film, I'll picture everything in my head when we're going through walkthroughs and that helps me a lot during the games."
He hasn't had a full platform to showcase that at Serra because the Cavaliers also have 6-5 left-hander Doug Brumfield at quarterback. Brumfield, a three-star prospect per 247sports' composite rankings, threw for more than 3,000 yards with 20 touchdowns last year as a junior.
Brumfield is the incumbent, but Murphy said there is an open competition. The quarterbacks push each other to be better and to take the Cavaliers on a deep playoff run. Serra has won one Southern Section playoff game the last five seasons.
Ohio State, Oregon starting strong
Murphy has begun to do initial research on the schools that have offered scholarships. He is working to build relationships with coaching staffs. He wants to learn about each of the programs and see if he "fits their school and their offense."
Ohio State, Georgia and Oregon are three schools he has talked to the most. Murphy said Ohio State has the offense that best fits his skill-set. He feels he can follow in the mold of Dwayne Haskins, the Buckeyes star who will be one of the top quarterbacks taken in the NFL draft.
"I'm a big quarterback," Murphy said. "Love to sling it and that's what they've done the past few years and the past quarterbacks have been very successful, so I can see myself resembling that."
But Murphy said the Oregon offer was the most prominent for him. "It meant a lot since that's been my dream school," he said. "I've always wanted to be a Duck."
Phillips offered by USC
La Habra cornerback Clark Phillips III, ranked the No. 37 prospect in the 2020 class, picked up another scholarship offer Thursday. He has more than 35, but this one stood out. The offer didn't come from the other side of the country like so many of his have this spring. It came from USC.
"It's my hometown school. … This is a big one," Phillips said. "It's a wonderful program, so it makes this decision much tougher."
Phillips, who has offers from Alabama, Clemson and Ohio State among others, previously released his top 12 schools that he was going to focus on. It did not include USC or UCLA, but he said at the time he wasn't completely eliminating any schools.
---
Get the latest on L.A.'s teams in the daily Sports Report newsletter.
You may occasionally receive promotional content from the Los Angeles Times.