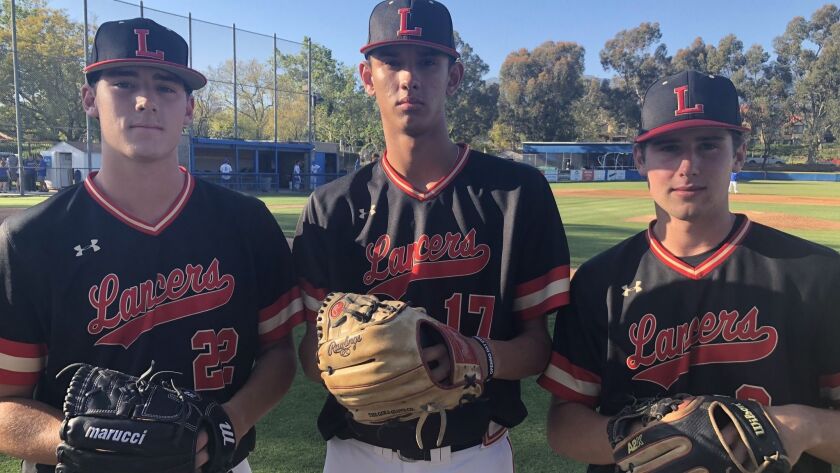 Orange Lutheran loves having a pitcher named Cole every 10 years.
In 2008, Gerrit Cole pitched the Lancers to the Trinity League championship. In 2018, Cole Winn pitched the Lancers to the Trinity League championship, recording an 0.25 earned-run average while stamping himself as the No. 1 pro pitching prospect in Southern California.
"He's the best I've ever seen," Coach Eric Borba said of the 6-foot-2, 205-pound right-hander who came from Colorado for his senior season.
With the Southern Section Division 1 playoffs beginning on Friday, No. 3-seeded Orange Lutheran (22-7) has arguably the most prolific three-man rotation in California. Winn is joined by sophomores Max Rajcic and Christian Rodriguez, who committed to UCLA and Miami, respectively.
"No question it's the best pitching staff I've had," said Borba, in his 10th season.
It's pretty clear you'll need a strong pitching performance to beat the Lancers. But here's the dirty little secret about Division 1: There are top pitchers everywhere. No one is going to be scared of Orange Lutheran.
"Anyone can win it," Borba said. "You have to get the breaks and play well at the right time. It's crazy to think it's one-game elimination. Everybody in Division 1 is going to have a pitcher that can throw up zeros just as good as ours. It's that one error or one bad call or not executing on a bunt that could cost you."
Orange Lutheran's pitching trio, though, is ready for the pressure ahead. Winn has been throwing fastballs up to 95 mph. He has walked only eight batters in 54 innings.
As for Rajcic, "He has an electric young arm," Borba said. "He'll sit in the low 90s with a slider — that hard, sharp-breaking slider."
Rodriguez is tall and lanky and improving with every outing. He's already proved capable of coming in from the bullpen to pitch in relief. His pitches never stop moving, so when a strikeout is needed, he can deliver. "The bigger the moment, the better he gets," Borba said.
One problem for the Lancers is that standout shortstop Zach Lew broke his hand, and so Rajcic will probably need to play second base to help the defense.
The No. 1 pitchers throughout Division 1 are poised to perform at their best, setting up one tough game after another.
From Bryce Collins of Newhall Hart to Josh Landry of Cypress; from Erik Tolman of Lake Forest El Toro to Marcus Johnson of Etiwanda; from Isaac Coffey of Goleta Dos Pueblos to Sam Hliboki of Studio City Harvard-Westlake, they're all peaking at the right time.
Who wants to take on the likes of Jonathan Cuevas of Palm Desert, Jared Jones and Emilio Morales of La Mirada, Christian Ciuffetelli of Anaheim Servite or Brandon Dieter of West Covina South Hills?
It all starts on Friday, and it helps make Division 1 the toughest tournament in California.
"I think the biggest difference for high school baseball, and specifically for the Southern Section, is we're one and done," Harvard-Westlake coach Jared Halpert said. "You've got to play three weeks in a row of really good baseball and can't falter."
Twitter: @latsondheimer
---