Windward's Devin Tillis hits game-winning shot in 68-65 victory over Loyola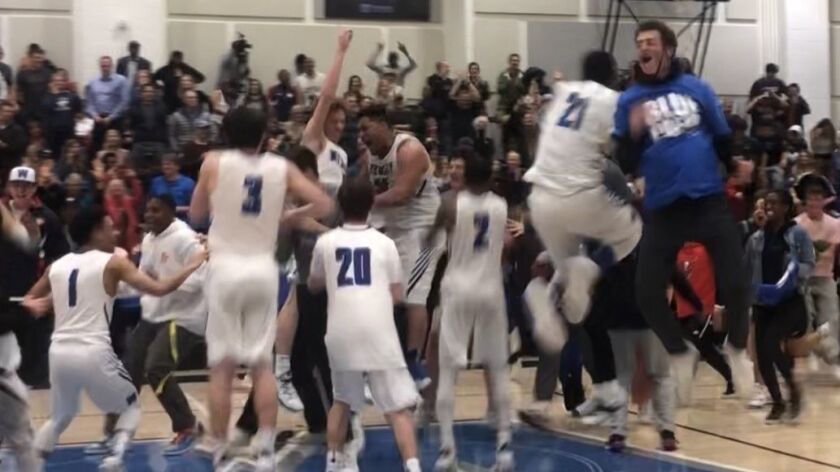 It was in the opening minutes of the opening high school basketball game of 2017 that Devin Tillis of L.A. Windward had his season end after tearing an anterior cruciate ligament in his knee.
"It was pretty sad," he said.
This season, a recuperated Tillis has gone from No. 1 cheerleader on the bench to No. 1 clutch player for the Wildcats. In a wild Southern Section Division 1 quarterfinal game Thursday night, Tillis delivered victory in the third overtime by making a three-point shot with 25 seconds left for a 68-65 win over Los Angeles Loyola.
"It feels great," Tillis said. "When I was open, I knew I was going to hit it."
Windward (25-5), which starts four underclassmen after standout Jules Bernard graduated and went to UCLA, is set to play top-seeded Chino Hills on Saturday night at home in the semifinals. Onyeka Okongwu scored 40 points in Chino Hills' 69-59 victory over Long Beach St. Anthony.
"He's a load," Tillis said.
Windward, the second-place finisher to Chatsworth Sierra Canyon in the Gold Coast League, lost talented freshman Dylan Andrews to a broken wrist a couple of weeks ago.
"Every time you think these kids can't climb a certain hurdle, they do it," Windward coach Colin Pfaff said.
Loyola (23-6) could never figure out what to do with Windward's 6-foot-4, 290-pound Marcus Joseph, a lineman for the eight-man football team. He scored 24 points, as the Wildcats repeatedly isolated him one-on-one inside.
"They couldn't stop me," he said.
James Keefe, who scored a tying basket with two seconds left in the first overtime, finished with 18 points for Loyola. Mason Butler led the Cubs with 21 points. Tillis had 12 points and Jaren Harris added 10 points and 10 rebounds.
Santa Margarita advanced to a semifinal against Studio City Harvard-Westlake with an 83-64 victory over La Verne Damien. Jake Kyman scored 30 points and Max Agbonkpolo had 23 points.
Harvard-Westlake defeated Brentwood 75-64. Johnny Juzang scored 23 points and Truman Gettings had 15.
The biggest upset Thursday night was Rancho Cucamonga eliminating No. 1-seeded Camarillo in Division 2-AA 86-83. CJ Stroud scored 26 points and Myles Jones 21. Jaime Jaquez ended his four-year career for Camarillo with 24 points.
Sign up for our daily sports newsletter »
Twitter: @latsondheimer
---
Get the latest on L.A.'s teams in the daily Sports Report newsletter.
You may occasionally receive promotional content from the Los Angeles Times.