Maranatha beats La Salle 4-2 for Southern Section Division 3 baseball title in battle of Pasadena schools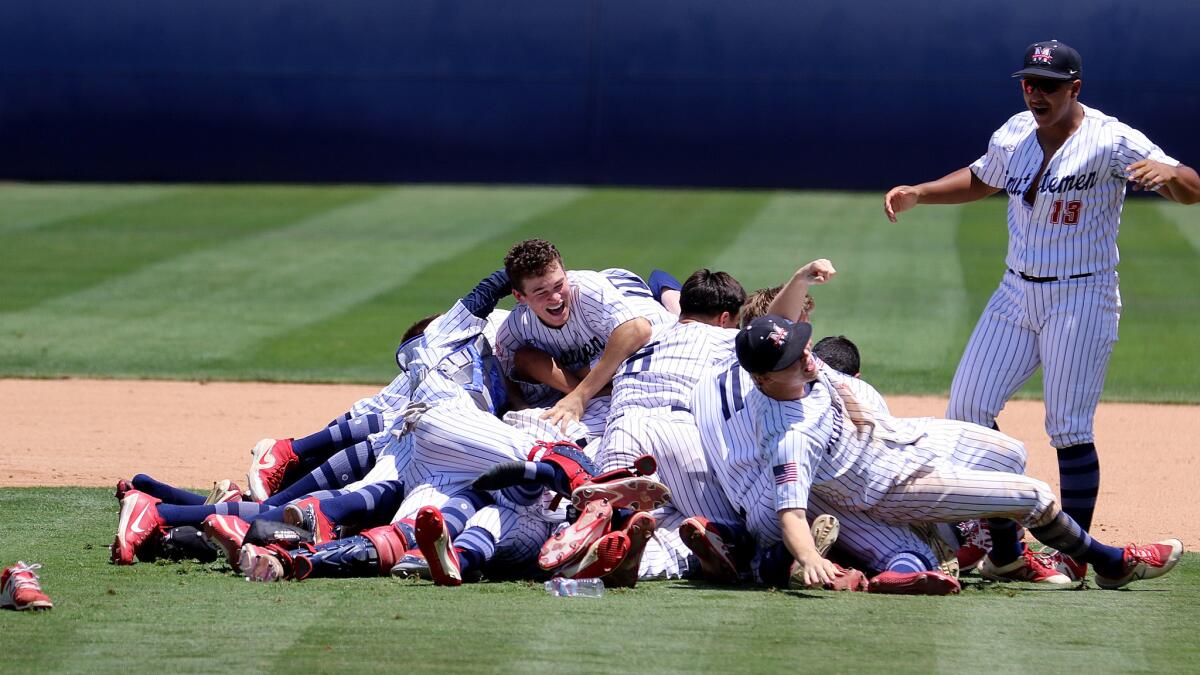 Max Blessinger put Maranatha in an early hole with his arm, then dug the Minutemen out with his bat in Saturday's Southern Section Division 3 baseball final at Cal State Fullerton.
Blessinger recorded only one out on the mound but had two hits, including a bases-clearing double that gave the Minutemen (27-4) the lead in the fourth inning and they went on to win their 20th consecutive game and city bragging rights with a 4-2 triumph over La Salle in the first title matchup between Pasadena schools.
"Obviously, giving up two runs in the first inning wasn't the start I wanted but I pride myself on mental toughness and I knew we had the whole game left to come back," said Blessinger, who ended the season with 52 hits and 26 runs batted in. "I didn't want to let my brothers down. That was my motivation."
A two-run double by Brennen Mace put La Salle on top in the first inning, but the Lancers (18-11) managed only one hit the rest of the way. Will Downing replaced Blessinger six batters into the game and pitched 3 2/3 innings with four strikeouts to earn the win.
Dawson Netz struck out the side in the seventh and retired nine of the 11 batters he faced in three innings, the exclamation point on a junior campaign in which he was 12-0 with seven shutouts, two no-hitters and a section-record 59 1/3 consecutive scoreless innings.
Casey Popham's single drove in Sal Tabullo to pull the Minutemen within 2-1 in the fourth inning and Ethan Firestone and Dante Campione followed with singles to load the bases for Blessinger.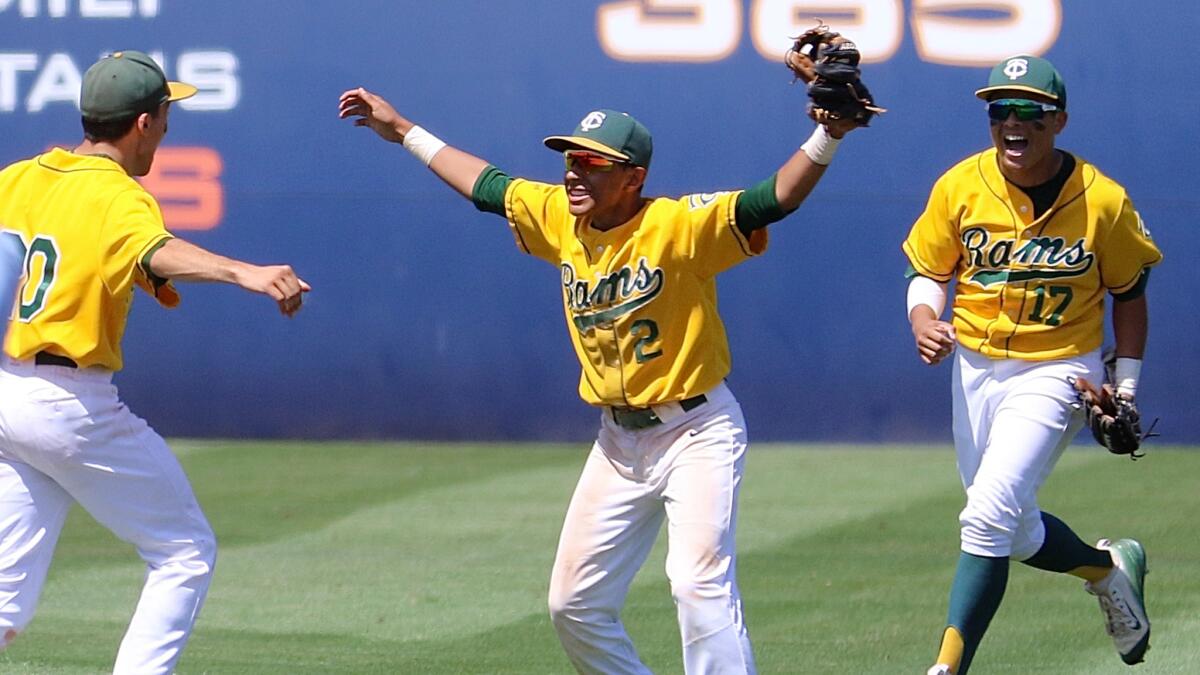 Division 5
Temple City coach and former major league first baseman Rob Nelson told his players before the Division 5 game that if they scored they would win. His words proved to be prophetic as the Rams came from behind twice to beat Malibu 4-2 at Fullerton.
Eric Lewis singled to tie the score in the bottom of the fifth inning and Justin Bowman followed with a two-run single up the middle to give Temple City a lead it would never relinquish courtesy of sophomore reliever Nicco Day, who did not give up a hit in 2 2/3 innings.
"It was a 1-1 count and I try to concentrate to pick up the ball out of the pitcher's hand," Bowman said. "I had a good feeling against the guy on the hill [reliever Tanner Gottlieb] and the rest is history. I made contact and it was inches away from a glove but I have to admit I took a peak to see if the ball got through."
The third time was a charm for Temple City (17-10-2), which had been blanked in two finals under Nelson — 4-0 against Palm Desert in 2012 and 2-0 against Hemet in 2015.
Louie Thrall hit a run-scoring single in the second inning and William Tamkin pitched the first four innings and hit a sacrifice fly in the fifth to put the Sharks (14-13) ahead 2-1. The Rams broke through on Jacob Trabbie's sacrifice fly to tie it 1-1 in the fourth.
Division 2
It took awhile for Yucaipa's offense to awaken but once it did there was no stopping the Thunderbirds, who sent 13 batters to the plate and had seven runs and six hits in the fifth inning en route to an 8-1 victory over Irvine Beckman in the Division 2 final at Fullerton.
Senior Tyson Heaton pitched a six-hitter with three strikeouts and had three hits, and Michael Carpentier had two hits and two RBIs for Yucaipa (28-5), which won the title in its first season under coach Ralph Grajeda.
"I missed a few pitches early and didn't locate as much as I should, but you have to be able to shake it off," Heaton said. "After we got the big lead my approach didn't change. I still had to go at them. They're a good hitting team and I knew if I didn't do my job they can could come back."
The word "Family" was stitched on the back of the Yucaipa players' caps and indeed the Thunderbirds played like a close-knit unit even after committing three errors in the first two innings, one of which led to a run when Jake Groves singled to drive in Connor McGuire.
Beckman starter Justin Goldstein struck out four batters through four innings and his defense turned double plays to escape danger in the second and third innings, but it fell apart in the fifth inning for the Patriots (26-4-1), making their first finals appearance since 2011.
Division 6
Matt Queen gave up four hits and struck out five batters in six innings, and Cameron McFarlane had one hit and drove in three runs for Pasadena Poly (27-3), which scored four runs in the sixth inning to for a 6-1 victory over Moreno Valley (22-8) in the Division 6 final at UC Riverside.
Get our high school sports newsletter
Prep Rally is devoted to the SoCal high school sports experience, bringing you scores, stories and a behind-the-scenes look at what makes prep sports so popular.
You may occasionally receive promotional content from the Los Angeles Times.