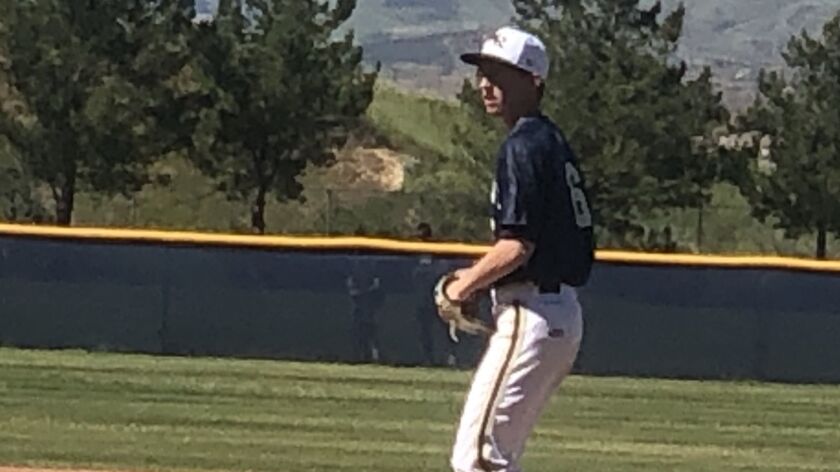 Cade Nicol is on a roll. In his last start, the senior right-hander at West Ranch struck out nine with no walks in helping the Wildcats win the National Classic.
Then came an even more important start on Friday in a Foothill League game against rival Hart. The Wildcats (20-4, 9-2) are trying to keep pace with first-place Valencia. Nicol came through again, allowing four hits in a complete-game performance to lift the Wildcats past Hart 3-1.
He struck out five and walked two.
Valencia stayed one game ahead with a 10-1 record after a 4-1 win over Saugus. Davis Cop, a UC Santa Barbara commit, finished with three hits.
El Camino Real 4, Cleveland 2: The Conquistadores came back from a 2-0 deficit. Harrison Liang's two-run single in the bottom of the sixth broke a 2-2 tie. Andy Ambriz followed with a grand slam. Adam Christopher threw a complete game.
Granada Hills 5, Chatsworth 2: Isaiah Velazco delivered a three-run double in the sixth inning to break a 2-2 tie. Freshman Drew Gustafson threw a complete game in the West Valley League victory.
Birmingham 6, Taft 0: Gavino Rosales threw a four-hit shutout. Johnny Tincher had a triple and single.
Poly 10, Monroe 0: Arthur Rivera threw a five-inning shutout in an East Valley League game.
Rancho Cucamonga 4, Damien 2: The Spartans' 15-game win streak came to an end in a Baseline League game.
Upland 5, Etiwanda 3: Jared Bujanda had three hits and three RBIs, including a home run, in Upland's victory.
Huntington Beach 5, Fountain Valley 1: Jeremy Wiegman allowed one run in five innings and Nick Upstill and Blake Penso had two hits apiece.
Villa Park 7, Esperanza 4: Alex Pimental contributed three hits, including two doubles, to lead Villa Park.
Aliso Niguel 11, Laguna Hills 2: Michael Davinni hit a home run and had three RBIs and Evan Fitterer went three for three. Fitterer also struck out seven in five innings.
Moorpark 3, Agoura 0: Kieran struck out eight and threw a three-hit shutout and Robbie Ayers hit a home run to pace Moorpark.
Simi Valley 9, Oak Park 2: Justin Campbell struck out 12 in six innings and also had two hits.
Capistrano Valley 3, Tesoro 2: Lance Gardiner, Nathan Benefeito, Garrett Broussard and Danny Tiotuico each had two hits for Capistrano Valley.
Cypress 9, Placentia Valencia 2: Cameron Repetti contributed a single, triple and three RBIs for Cypress. Brett Wozniak threw a complete game, striking out six and walking one.
Mira Costa 12, Leuzinger 0: Kyle Karros had three RBIs and Christian Bodlovich struck out seven in four innings.
Redondo 2, Palos Verdes 1: Jake Thau threw 6 1/3 innings and Drew Dalquist got the save for Redondo. Dalquist and Christian Dicochea each had two hits.
Maranatha 8, Whittier Christian 2: Owen Hackman struck out eight in six innings.
La Mirada 13, Mayfair 2: Alex Garcia had a three-run home run to help La Mirada stay unbeaten in the Suburban League.
Temecula Valley 8, Vista Murrieta 2: Chris McKinney finished with four RBIs for Temecula Valley.
Great Oak 4, Murrieta Valley 0: Jacob Fisher had three RBIs and two pitchers combined on a five-hitter.
El Toro 6, Dana Hills 1: Shayne Simpson threw three innings of shutout relief and Paul Skenes had two RBIs.
Santa Margarita 4, Servite 3: Jack Collins had the walk-off single in the eighth inning to give the Eagles a three-game Trinity League sweep. Collins finished with two hits and three RBIs.
Orange Lutheran 4, JSerra 2: The No. 1-ranked Lancers rallied for three runs in the top of the seventh to come away with a three-game Trinity League sweep of No. 2 JSerra. Caden Connor had a two-run single in the seventh to break a 2-2 tie. Gage Jump struck out six and gave up one run in six innings. Christian Rodriguez struck out eight for Orange Lutheran.
Mater Dei 2, St. John Bosco 1: The Monarchs won in 11 innings. Sebastian Guzman had the walk-off single.
Arcadia 12, Burroughs 0: Dustin Allen had a triple, double and five RBIs in the Pacific League victory. Chris Wilson struck out seven in five innings.
Pasadena 2, Glendale 0: Justin Gutierrez threw a no-hitter for Pasadena.
Crescenta Valley 5, Muir 0: Noah Maddox and Chad Ruf combined on the shutout.
Chaminade 4, Loyola 3: The Eagles scored three runs in the bottom of the seventh to win the Mission League game. Carter Graham hit the walk-off two-run home run.
Harvard-Westlake 16, St. Francis 1: The Wolverines completed a three-game sweep to remain atop the Mission League standings. Jacob Galloway and Drew Bowser each had three RBIs.
Sherman Oaks Notre Dame 5, Alemany 4: The Knights rallied for five runs in the bottom of the sixth, with a Chris Aldrich two-run single the key hit. Caden Miller and Ethan Hagen hit home runs for Alemany. Jack Snyder picked up the pitching victory with five strikeouts.
Bonita 6, Ayala 5: The Bearcats (17-6, 9-1) took over first place in the Palomares League with a two-game sweep of Ayala. Marcellus Pearson hit a two-run home run.
Beckman 13, Woodbridge 5: Ricky Teel went three for three and Connor McGuire contributed three RBIs for Beckman.
Long Beach Poly 4, Long Beach Millikan 1: Daniel Mariscal had two doubles for the Jackrabbits, who are in first place in the Moore League.
Schurr 3, Alhambra 0: Matthew Herguera pitched six scoreless innings to hand Alhambra only its second loss of the season. Kellen Gewecke had three hits for Alhambra.
Newport Harbor 7, Foothill 6: John Olmstead had two hits and two RBIs for Newport Harbor.
Sign up for our daily sports newsletter »
Huge W for the Bearcats today at Ayala in a back and forth battle. Steven Vazquez threw 110 pitches thru 6 inn before 22' class Luke Mistone closed the door 7th. Marcellus Pearson clutched up again with a HUGE 2 run bomb 💣 ⚾️ to put the cats up!!! #gobearcats #letsroll #allin pic.twitter.com/Ga3Z6hfNbC

— Bonita Baseball (@bonita_baseball) April 13, 2019
---