Are synthetic playing surfaces hazardous to athletes' health? The debate over 'crumb rubber' and cancer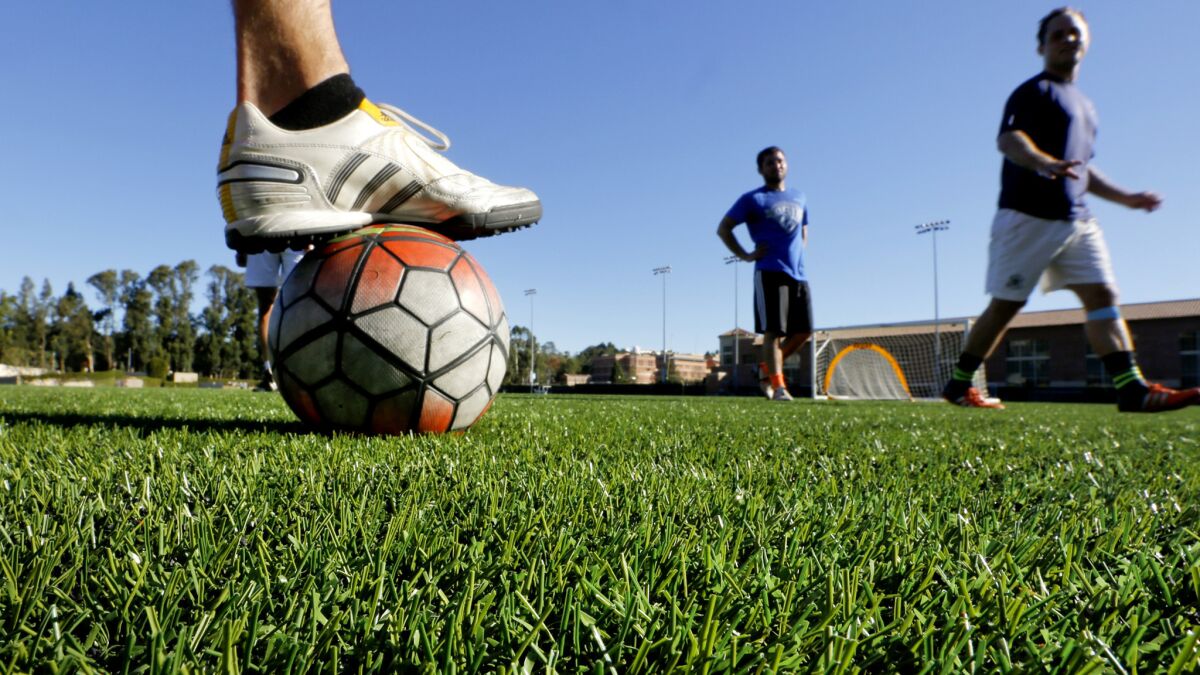 When doctors found Stage 2 Hodgkin's lymphoma in her lungs, Emily Prince had questions.
The college biology major wanted to know why cancer would strike someone so young and healthy. She found little help in existing research, which has yet to clearly identify a cause for the disease.
"I was obviously looking for any type of answer," she said.
It was her golf coach at Vassar College in New York who mentioned the debate over synthetic turf and, in particular, the crumb rubber often used as infill on artificial fields.
Prince recalled playing soccer as a girl and coming home with tiny black granules stuck to her skin and caught in her hair.
"When I heard about this," she said, "it made sense to me."
More than 11,000 playgrounds and athletic fields across the country employ pulverized tires — sprinkled between the blades of artificial grass — to create a surface that feels soft and natural. There are dozens of such fields at Los Angeles schools, parks and colleges.
Synthetic turf manufacturers say more than 60 studies over the past two decades have shown no elevated health risks associated with their products, but not everyone is convinced.
Environmental health advocates worry about a complex brew of chemicals, metals and suspected carcinogens that may be found in crumb rubber. They characterize past research as incomplete.
It's absolutely fair to ask questions. As long as people produce substantive, scientific answers.
— Al Garver, president of the Synthetic Turf Council, a national trade association
With legislators asking for more information, the federal government recently announced a multi-agency study and plans to issue a draft report by year's end.
Athletes, parents, school administrators and parks officials remain caught in the middle, wondering about artificial fields that can be so beneficial because they use less water and are more durable than grass.
"I know that when these things pop up without scientific evidence, it's hard to believe at first," Prince said. "This is an issue that needs to be addressed."
::
Synthetic fields have been popular since the mid-1960s and the debut of "AstroTurf" at the Houston Astrodome.
In those days, artificial turf wasn't much more than carpet laid over concrete. Manufacturers introduced a gentler surface using crumb rubber in the 1990s.
Athletes took fewer hard falls and, as a side benefit, millions of tires were diverted from landfills.
"This is bio-friendly," said Al Garver, president of the Synthetic Turf Council, a national trade association. "You don't need any pesticides or herbicides."
But the list of potentially harmful elements that have been found in tires includes benzene, mercury and arsenic, according to the Environmental Protection Agency. Ingredients vary by manufacturer and the recycling process blends different brands into the same batch, so it is difficult to predict what will end up on a specific field.
Some older types of synthetic turf have been found to contain relatively high levels of lead. In 2009, the California Attorney General's office sued three manufacturers for violating state law by failing to provide "clear and reasonable warnings" about lead content in turf fibers and crumb rubber.
The following year, the companies agreed to pay more than $650,000 in fines and reduce the lead in their products.
At the federal level, the EPA and U.S. Consumer Product Safety Commission have examined crumb rubber and found no elevated health risks. But in a statement this month, the EPA acknowledged "existing studies do not comprehensively evaluate" all concerns.
U.S. Senators Richard Blumenthal (D-Conn.) and Bill Nelson (D-Fla.) have pointed to a recent analysis by a Yale University professor that found 96 chemicals, including probable carcinogens, in tire rubber.
The new "Federal Research Action Plan," which pairs the EPA with the CPSC and the Centers for Disease Control, will examine how players on synthetic fields might be exposed through skin contact, inhalation and accidental ingestion.
::
It was seven years ago that Amy Griffin, an associate soccer coach at the University of Washington, heard about two players she knew who were battling cancer. Both were goalkeepers.
"I really didn't think anything of it at first," Griffin recalled. "Then I kept bumping into other goalkeepers who had lymphoma."
The position involves frequent diving, which makes goalies more likely to get crumb rubber on their skin and in their mouths. They are also susceptible to inhaling vapors or gases emitted from volitive organic compounds in crumb rubber.
Griffin began an informal list of athletes who had cancer, about 90% of them soccer players, with lacrosse goalies and football players included. As the total grew toward 200, she spoke out in the media.
Though some people dismissed her unscientific tally, word spread and she heard from more afflicted players across the country.
"I know it's 100% anecdotal," she said. "But if you were in my shoes, listening to these stories, you would say this is too coincidental."
Washington state health officials recently asked for her data so it can be compared to the official cancer registry and, perhaps, used to find correlations or patterns. Griffin welcomes a methodical approach, though officials caution the study might not be conclusive.
"An increased rate of a specific cancer among soccer players wouldn't show us what caused the increase, only if one exists," the Washington health department said in a statement. "Historically, even when increased rates for certain cancers have been identified, a common cause or environmental contaminant has rarely been shown."
::
If you had to pick two people at polar ends of this issue, they would probably be Garver and Nancy Alderman.
Garver's trade association represents more than 200 turf manufacturers, architects and builders. Alderman heads a nonprofit health advocacy group in Connecticut. Both have become major voices in the crumb rubber debate.
"It's absolutely fair to ask questions," Garver said. "As long as people produce substantive, scientific answers."
Join the conversation on the L.A. Times' Facebook page
The Synthetic Turf Council believes potentially harmful chemicals in old tires are rendered inert through processes that extract steel and fiber, then break the remaining rubber into bits. The council says no link to cancer has been found by researchers at the Connecticut Department of Public Health, the New York State Department of Environmental Conservation and numerous universities. It also cites studies conducted in France and Norway.
"All the information is there if you look at it rationally, logically, reasonably," Garver said.
Alderman views the current literature in a different way.
The Yale-educated woman and her small organization — Environment and Human Health, Inc. — began focusing on crumb rubber a decade ago when parents complained about synthetic fields in two Connecticut communities.
"We had only a small amount of money," she recalled. "We took a few samples and took them to a laboratory and found some bad chemicals."
In addition to questioning the scope of past studies, Alderman considers some unreliable because they were funded by the industry. She mentions an oft-cited report produced by CalRecycle, a state agency that promotes recycling.
"It is not a great system and it has not worked," she said.
Some agencies share her doubts. In 2008, the New York City parks department stopped using crumb rubber in new fields. The Los Angeles Unified School District followed suit the next year, switching to non-recycled infills.
We had to stop and have a thorough discussion.
— Rich Mylin, the director of UCLA recreation venues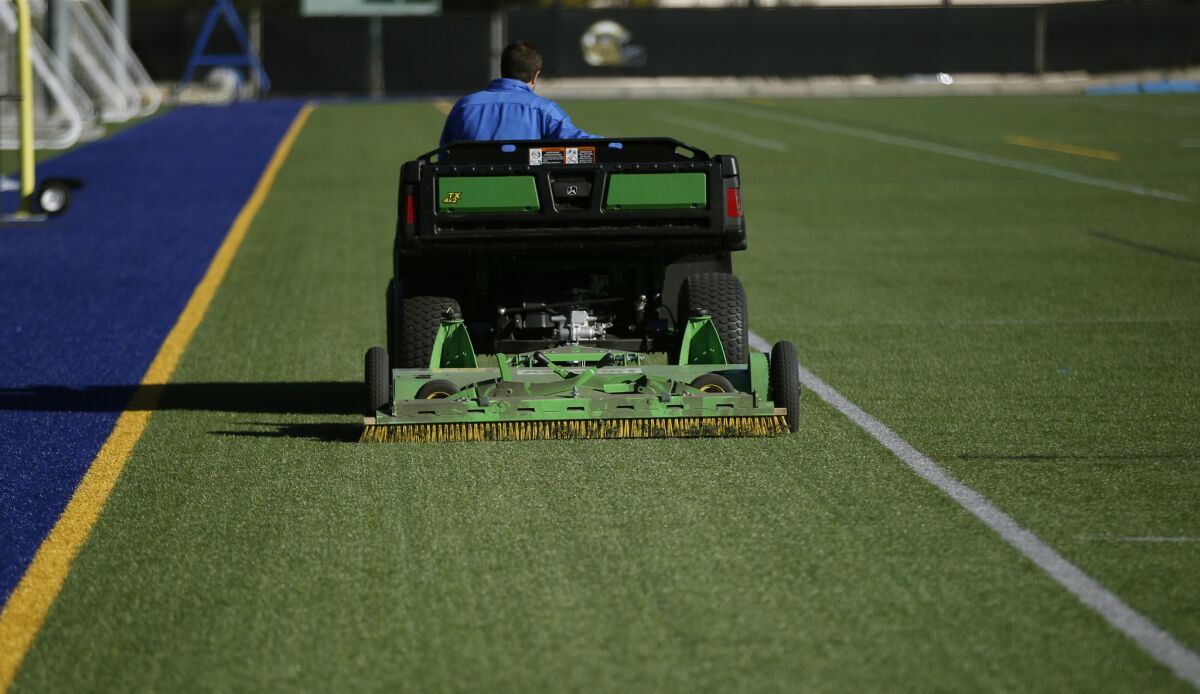 Athletic fields are only part of the concern — Alderman and others worry about crumb rubber in playgrounds for small children.
LAUSD removed crumb rubber from early education centers but left pre-existing fields for older students intact, noting the Los Angeles County Department of Public Health had placed no warnings or restrictions on crumb rubber.
Alderman sees momentum growing toward what she hopes will be a moratorium on all types of infill, including non-recycled alternatives such as coconut husk and cork.
"Now there are lawyers hovering around this," she said. "Eventually there will be class-action suits."
Such talk clearly frustrates Garver. The industry representative said his members are confident future tests will confirm their products are safe, though he isn't sure that will do any good.
"It's never enough," he said. "There's no way to satisfy the alarmists."
::
The 11-acre recreation field at UCLA, just behind Pauley Pavilion, had become a problem. It required too much water and needed to be shut down for four months each year to let the grass recover from constant use.
When university administrators explored synthetic turf as an alternative, they became aware of the crumb-rubber controversy.
"We had to stop and have a thorough discussion," said Rich Mylin, the director of recreation venues.
Non-recycled infill was not considered a viable option; they represent only a small percentage of fields in the U.S. because they can be costly to maintain and might be more likely to harbor bacteria from sweat and blood.
Choosing to proceed with crumb rubber, administrators say they worried about reports of lead levels in some foreign-made tires.
"We made sure our crumb rubber was sourced through the U.S.," Mylin said, adding: "We felt comfortable."
I don't see this cabal of rubber manufacturers sitting around with sacks of money wondering how they can kill people.
— Paul Bahou, former college soccer player and cancer patient
The new field, which opened last spring, will save an estimated six million gallons of water annually — even with regular washings — and never need a rest.
Still, Mylin suspects not everyone will be pleased. "To me, it falls into that environmental sphere, like climate change," he said. "People can be very passionate about that."
::
Like a growing number of athletes stricken by cancer in their youth, Paul Bahou had suspicions about crumb rubber.
When the Temecula man was diagnosed with Stage 4 Hodgkin's lymphoma after college, he thought back to his childhood days playing soccer.
"I was a goalie," he said. "And I remember playing on lots of synthetic fields."
But something kept Bahou from rushing to a conclusion: His family owns a company that transforms used plastic bottles into food packaging. He knows the recycling business.
"People think the evil oligarchs are poisoning our children for profit," he said. "I don't see this cabal of rubber manufacturers sitting around with sacks of money wondering how they can kill people."
Bahou does not believe an immediate moratorium on crumb-rubber infill is warranted, but he would like to see more research.
In addition to the federal effort, California officials are conducting their third study of crumb rubber, with the state Office of Environmental Health Hazard Assessment seeking to close "data gaps" — things not yet known about the subject.
The state will look at inhalation, skin contact and the effect weather has on deterioration of the material. With a final report expected in mid-2018, there will be no quick answers.
Bahou, who is 33 and has been cancer-free for years, does not mind waiting.
"We have to be realistic," he said. "And patient."
Follow David Wharton on Twitter: @LATimesWharton
MORE SPORTS NEWS
Lakers' Byron Scott says D'Angelo Russell is getting comfortable in role
Corey Perry and the Ducks are flying high because they refused to give up on themselves
Dave Roberts' first call: Clayton Kershaw will be Dodgers' opening-day starter
Get our high school sports newsletter
Prep Rally is devoted to the SoCal high school sports experience, bringing you scores, stories and a behind-the-scenes look at what makes prep sports so popular.
You may occasionally receive promotional content from the Los Angeles Times.