Column: Jake Fisher holds the line for Oregon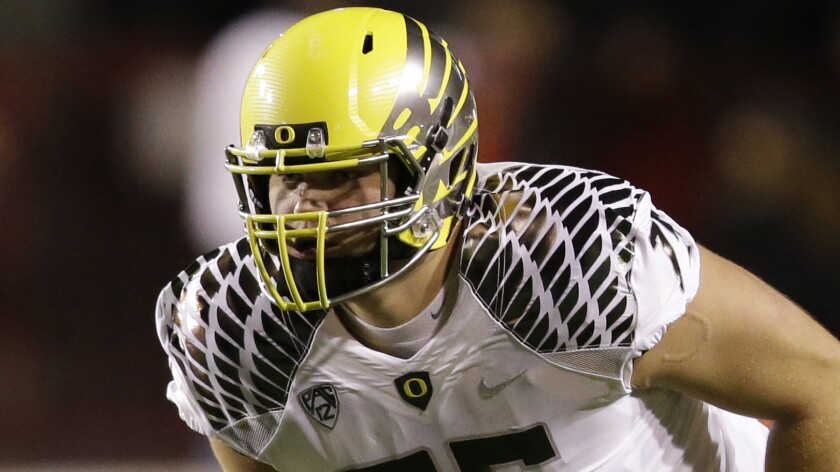 No one is suggesting the wrong Oregon Duck won the Heisman Trophy. Quarterback Marcus Mariota had a fabulous season and was the nation's best player.
However, it could be reasonably argued that Oregon's season was actually saved by offensive tackle Jake Fisher.
Mariota received 788 first-place Heisman votes and 2,534 points. Fisher will receive a Rose Bowl gift bag for participating in Thursday's national semifinal game against Florida State.
Fisher scoffs at the notion he deserves more attention. You know the old saw: people only care about tackles when they're called for holding.
Accolades for offensive linemen usually flow from two sources: their position coaches and their mothers.
Fisher also doesn't buy the running joke that, considering Mariota won the Heisman, he should have at least been invited as a finalist.
"I don't deserve any of that," Fisher said this week.
If Oregon goes on to win the national title, maybe the school should at least mark Fisher's return to the lineup against UCLA on Oct. 11 with a plaque.
That was the day Fisher returned to left tackle and everything changed.
It is not an exaggeration to say Oregon's offensive line, in Fisher's absence, was in a shambles. Its slide started before the first game, when left tackle Tyler Johnstone, who made 26 starts, suffered a season-ending injury.
Fisher, a senior, stopped that gap by jumping from right tackle to left. Then another lineman, Andre Yruretagoyena, got carted away during Oregon's victory over Michigan State on Sept. 6.
A week later, against Wyoming, Fisher suffered strained knee ligaments, which kept him out of the lineup for two games.
Then came two games that nearly wrecked Oregon's national title hopes.
The first was a near-miss victory at Washington State, where only Mariota's athletic brilliance prevented a loss. Mariota was sacked seven times, with the offensive line looking like the Keystone Cops as they gazed at each other after missed blocks and said "What, me?"
Oregon didn't survive the next week, losing at home to Arizona in a game in which Mariota was sacked five times.
Fisher fumed as he watched both games from the sideline.
"It helped show you how fast it could be taken away," he said. "How fast it could get out of your hands. Maybe I needed that."
Then, almost like a movie, the clouds parted and the sun peeked through. Fisher returned to the lineup against UCLA and helped Oregon to a dominating victory. The Ducks didn't give up any sacks against the Bruins and have given up only 14 in eight victories since Fisher returned to left tackle.
Fisher brought stability to a unit that had been playing freshmen and former walk-ons.
"He gave us our mojo back," said center Hroniss Grasu, who is hoping to play Thursday after sitting out three games because of an injury.
The technical explanations for why Oregon suddenly gelled are more difficult to explain than the emotional reasons.
Fisher said Oregon's breakdowns were mostly because of a lack of communication along the line. Grasu is the quarterback of the line, but Fisher also helps with blitz recognition.
"When he came back, things just clicked," said Johnstone, who has been helping coach since his season-ending injury. "Marcus was also more confident his blind side was protected. I think it's just a trust thing."
Just as important was the snarl Fisher unleashed behind his facemask. He is not only big, 6 feet 6 and 300 pounds, he is ornery. Fisher was a little rusty in his return against UCLA, but he led the team in barking at the Bruins.
"Jake is a dog. ... I like it when he's mad," running back Byron Marshall said.
Said Johnstone: "He's not a win-one-for-the-Gipper guy. He doesn't give speeches. He's just a mean guy. He wants to go out there and mess people up, obviously in a legal way. He's not going to do anything cheap."
One of the best matchups Thursday will be Fisher against Florida State defensive end Mario Edwards Jr., who is very much looking forward to the challenge.
"He's an athletic guy, I've watched film on him," Edwards said of Fisher. "He's pretty good."
It's kind of funny that it took a series of injuries to bring attention to Oregon's offensive line. Fisher just happened to catch some of the positive runoff.
"I'm very humbled to be recognized in that way," he said.
But now it's back to work — grunt work.
Fisher describes his attributes as "confidence, a streak of meanness and an attitude that we're going to smash heads and we're going to have fun doing it."
Wouldn't that make a fine inscription on a plaque?
---
Get the latest on L.A.'s teams in the daily Sports Report newsletter.
You may occasionally receive promotional content from the Los Angeles Times.