The Sports Report: Maybe the Lakers know what they are doing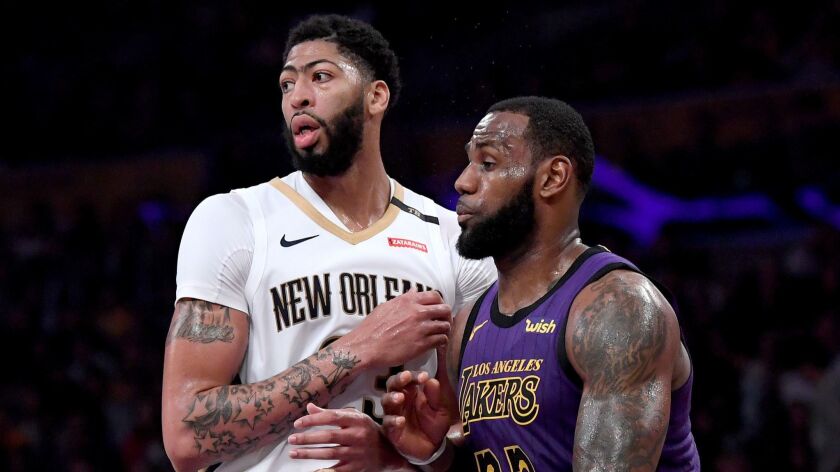 Howdy, my name is Houston Mitchell and today is the big day…… another episode of "Marvel's Agents of SHIELD."
Lakers
After a few days of criticism for bungling the Anthony Davis trade by not making sure it left them with enough cap space to sign a big-name free agent, the Lakers did something strange: They made things better.
The team reworked the terms of the Anthony Davis trade to send Moe Wagner, Isaac Bonga and Jemerrio Jones to the Washington Wizards and have received a commitment from Davis to waive his $4-million trade kicker. The Wizards also will receive the Lakers' 2022 second-round draft pick.
The moves will earn the Lakers an extra $8 million dollars in salary cap space that was not negotiated into the original deal to which the New Orleans Pelicans agreed on June 15.
According to our Tania Ganguli, "The Lakers are expected to have about $32 million to spend in free agency, which should be enough to sign a player on a maximum contract. It also gives them more cash to spread among lower-tier free agents, should they fail to receive a commitment from one of the top players in this year's free-agent class. Free agency officially opens on Sunday, June 30 at 3 p.m. Pacific time, while teams can begin to schedule meetings at 3 p.m. on June 29.
"According to reports, Kawhi Leonard is planning to meet with the Lakers but will reserve his final meeting for the Toronto Raptors. Charlotte Hornets point guard Kemba Walker and Boston Celtics point guard Kyrie Irving are also in line for maximum contracts. Walker is unlikely to consider the Lakers according to a person familiar with his thinking, while Irving has been connected to the Brooklyn Nets for weeks."
Or, as Bill Plaschke put it, "You dust off those Laker car flags, I'll stop ripping Rob Pelinka for two seconds, and let's examine Thursday's bit of Laker news that could change the franchise forever.
"Less than two weeks after making a trade that joined Anthony Davis with LeBron James, the Lakers have remarkably created enough salary cap space to potentially add a third superstar to the group.
"It wasn't supposed to be possible after Pelinka didn't prioritize the salary cap ramifications into the original deal and was initially unable to fix his mistakes.
"But in one purple-and-gold streak that lit up the NBA sky Thursday morning, the space appeared when Davis stunningly waived his $4 million trade bonus while Pelinka was finding more room by trading Moe Wagner, Isaac Bonga and Jemerrio Jones to the Washington Wizards.
"Boom, done, room cleared to spend $32 million on a max-level superstar, and suddenly basketball's most glamorous franchise has another chance to parlay glitz into title gold."
---
Back to your host here. So, maybe the Lakers had a master plan all along. Maybe they just didn't want to share every detail of that master plan with the media. Maybe they were more concerned with executing that plan than holding news conferences and patting themselves on the back.
Or maybe they got lucky. We'll find out in the rest of the offseason. It will be fun to watch.
Women's World Cup
Kevin Baxter is in Paris to cover the World Cup for us. Here's another look at today's loser leaves the World Cup matchup between the U.S. and France.
"France, whose women's team has never finished better than fourth in a major international event, is bidding to become the first country to own the men's and women's World Cups at the same time. And they're doing it at home.
"Yet in this story they're David, taking nothing more than a slingshot and a rock into a fight with a giant.
"The U.S. women are the giant. They haven't lost a game in this tournament since 2011, have played in the last two World Cup finals and have won the tournament three times. With the exception of a six-month spell in 2015, they've been ranked No. 1 in the world for more than a decade.
"And like Goliath, the Americans sometimes come off as both cocky and confident, which could prove fatal.
"Earlier in the tournament U.S. defender Ali Krieger said she thought the U.S. had both the best- and second-best team in the World Cup, suggesting the U.S. substitutes would finish second. It was a belief several teammates echoed, and one that now has a prominent place on the French team's bulletin board.
"If there's one area I don't really need to work on, it's motivation," French coach Corinne Diacre said through an interpreter.
"Or confidence.
"The U.S. has lost just one of its last 42 matches, but that was to France in a friendly last January. And France hasn't lost to the U.S. in nearly three years, allowing just four goals in their last five meetings.
"We are aware of their strengths but they also have shortcomings," French captain Amandine Henry said. "And we're going to try to make the most of them."
Quarterfinal results/schedule (PDT)
Thursday's result
England 3, Norway 0
Today
France vs. United States, noon, Fox
Saturday
Italy vs. Netherlands, 6 a.m., FS1
Germany vs. Sweden, 9:30 a.m., FS1
The rest of the schedule (PDT)
Semifinal game, England vs. U.S./France winner, July 2, noon, Fox
Semifinal game, July 3, noon, FS1
Third-place game, July 6, 8 a.m., Fox
Final, July 7, 8 a.m., Fox
Baseball
Angels center fielder Mike Trout and Dodgers right fielder Cody Bellinger were elected as starters for the All-Star game. It is the eighth straight All-Star selection and seventh consecutive start for Trout.
"It's an honor," the 27-year-old Trout said, "and a humbling honor to do it seven times."
Will any other Dodgers make the team?
"I think that Max Muncy deserves to be an All-Star, for me, and not only for me," Roberts said. "I think he deserves to be an All-Star period. And I think Justin Turner should be in the conversation, no doubt."
2019 Major League Baseball All-Star game starting position players (comments by Jorge Castillo)
CATCHER
AL: Gary Sanchez, Yankees: Sanchez is second in the AL with 23 home runs and he has six more than any other catcher.
NL: Willson Contreras, Cubs: Contreras' .300 batting average, .395 on-base percentage, .586 slugging and .981 OPS are career bests.
FIRST BASE
AL: Carlos Santana, Indians: Santana is an All-Star for the first time in his 10-year career. He received 93% of the vote from the Cleveland market.
NL: Freddie Freeman, Braves: Freeman had the smallest margin of victory of any All-Star, but with 100 hits and 22 home runs, he is deserving.
SECOND BASE
AL: DJ LeMahieu, Yankees: An All-Star starter with the Rockies in 2015, LeMahieu now will start in his first season as a Yankee. He's leading the AL with a .336 batting average.
NL: Ketel Marte, Diamondbacks: Marte's 20 homers are as many as he hit in the previous three seasons, and he is tied with Freeman with 100 hits.
THIRD BASE
AL: Alex Bregman, Astros: Bregman's 10th-inning home run helped the AL to victory in last year's All-Star game. His 22 homers lead all third basemen.
NL: Nolan Arenado, Rockies: Arenado will start a third straight All-Star game, and he earned the highest vote share of any finalist. He's posting a career-best .953 OPS.
SHORTSTOP
AL: Jorge Polanco, Twins: Polanco got 93% of the vote from Minnesota, as high a share as any All-Star candidate got from a hometown.
NL: Javier Baez, Cubs: Baez, whose 19 homers leads NL shortstops, was an All-Star starter last year at second base.
OUTFIELD
AMERICAN LEAGUE
Mike Trout, Angels: Trout's seven years in a row as an All-Star starter is a record for an Angels player. He received 993,857 votes, the most of any finalist. Trout was All-Star game MVP in 2014 and 2015.
George Springer, Astros: Springer, an All-Star starter in 2017, has 18 home runs in 51 games, and no one has more leadoff home runs than Springer's 29 since 2016.
Michael Brantley, Astros: Brantley was an All-Star three times in Cleveland, and he will return to Progressive Field as an All-Star starter for Houston.
NATIONAL LEAGUE
Christian Yelich, Brewers: Yelich leads baseball with 29 homers and has 54 since last year's All-Star game. He also leads baseball in slugging percentage (.719) and his 930,577 votes led all NL finalists.
Cody Bellinger, Dodgers: Bellinger, a second-time All-Star at age 23, leads the majors with a .354 batting average and 1.163 OPS. His 26 home runs are second only to Yelich.
Ronald Acuña Jr., Braves: Last year's NL Rookie of the Year will become the first player to start an All-Star game at age 21 or younger since Trout and Bryce Harper in 2013.
DESIGNATED HITTER
AL: Hunter Pence, Rangers: Pence, 36, holds career highs in slugging (.608) and OPS (.962), and his 15 home runs are his most in five years. He has been out with a groin injury since June 17.
What is your favorite sports moment?
Something new to open up this newsletter and make it more reader interactive: What is your favorite all-time L.A. sports moment? Click here to tell me what it is and why, and I'll start running them in future newsletters. And yes, if your favorite moment is about the Angels or Ducks or a team just outside of L.A., I'll count that too. And the moment doesn't have to have happened in L.A., just needs to involve an area team.
We have received several great stories from you and will start sharing them on Monday.
Odds and ends
Breeders' Cup board agrees to keep this year's event at Santa Anita…. Make California sports betting legal? Lawmakers propose measure to go on 2020 ballot…. Bookkeeper, former USC coach plead guilty in admissions scandal, promise to help investigators…. Angels activate Andrelton Simmons in time for series against Athletics…. For Rasmus Kupari and the Kings, the future could be now…. Dodgers pull away in the ninth to win slugfest against the Rockies…. Angels defeat the A's, 8-3…. Sparks defeat Las Vegas, 86-74.
Other newsletters
We also have other newsletters you can subscribe to for free. They are emailed to you and we don't sell your name to other companies, so no spam from us. They are:
Our Dodgers newsletter, written by me. Subscribe here.
Lakers newsletter, written by Tania Ganguli. Subscribe here.
Horse racing newsletter, written by John Cherwa. Subscribe here.
Soccer newsletter, written by Kevin Baxter. Subscribe here.
Monday's local sports schedule
Dodgers at Colorado, 5:30 p.m., Sportsnet LA, AM 570
Oakland at Angels, 7 p.m., FSW, KLAA 830
LAFC at Colorado, 7 p.m., 710 ESPN
Born on this date
1931: Race car driver Junior Johnson
1937: Umpire Ron Luciano
1941: Former Dodger Al Downing
1949: Former Angel Don Baylor
1960: NFL player John Elway
1961: NFL player Jay Schroeder
1961: NBA player Jeff Malone
1967: NFL player Abdul-Karim al-Jabbar
2006: Snowboarder Seth Wescott
Died on this date
1962: Baseball player Mickey Cochrane, 59
1963: Baseball player Home Run Baker, 77
1981: Runner Terry Fox, 22, cancer
2016: College basketball coach Pat Summitt, 61
2016: NFL coach Buddy Ryan, 85
And finally
Don Baylor has five RBIs in Angels' Game 1 victory in 1982 ALCS. Watch it here.
That concludes the newsletter for today. If you have any feedback, ideas for improvement or things you'd like to see, please email us here. If you want to subscribe, click here.
---
All things Lakers, all the time.
Get all the Lakers news you need in Tania Ganguli's weekly newsletter.
You may occasionally receive promotional content from the Los Angeles Times.