The Sports Report: Patrick Mahomes and Chiefs triumph in Super Bowl LVII
Howdy, I'm your host, Austin Knoblauch, filling in for newsletter host extraordinaire Houston Mitchell. Let's get right to the news.
From Bill Plaschke: He was screaming. He was grimacing. This was bad.
Patrick Mahomes lay sprawled across the grass for a few agonizing moments, then picked himself up and limped to the sideline.
He dropped on the bench. He closed his eyes. He lowered his head between his knees in frustration before resting it on a trainer's shoulder in resignation.
With 1:33 left in the first half of Super Bowl LVII on Sunday at State Farm Stadium, the most-valuable-player season of the Kansas City Chiefs quarterback seemingly had collapsed into an ugly ending when his badly sprained right ankle was twisted at the end of a tackle by Philadelphia linebacker T.J. Edwards.
Get the latest on L.A.'s teams in the daily Sports Report newsletter.
You may occasionally receive promotional content from the Los Angeles Times.
The Eagles would take a 10-point halftime lead. The Eagles would plan on facing backup Chad Henne in the second half. The Eagles' fans were singing about flying.
Mahomes was done.
Then, improbably, unimaginably, stunningly, he wasn't.
Then, with his tongue wagging like Michael Jordan and his fist thrust in the air like Tom Brady, he was just getting started.
In arguably the most brilliantly resilient 90 minutes of football in Super Bowl history, Mahomes staggered out for the second half and proceeded to beat the Eagles with one leg tied behind his back.
He limped around the backfield long enough to lead the Chiefs to three touchdowns, then somehow sprinted up the middle to set up a game-winning field goal in the final seconds of the Chiefs' dramatic 38-35 victory.
After which he once again screamed, this time in joy.
Enjoying this newsletter? Consider subscribing to the Los Angeles Times
Your support helps us deliver the news that matters most. Become a subscriber.
"I told you all this week, there's nothing that is going to keep me off this football field," he told a bellowing Chiefs crowd during a Lombardi Trophy presentation filled with shocked smiles and swirling confetti.
With a second Super Bowl championship in his six-season career, there also is nothing that can keep Mahomes from being ranked at the top of his field.
He is the NFL's greatest quarterback and the 27-year-old heir to the throne of the retiring Brady. He's the best active football player alive and is on a fast path to one day supplanting Brady as the new GOAT.
More Super Bowl LVII coverage
From Sam Farmer: Patrick Mahomes was as slick as a Philadelphia lamp post — injured ankle and all.
The Kansas City quarterback, who hobbled into the halftime locker room wincing in pain, emerged a hero in the second half, hoisting the Chiefs out of a 10-point hole and leading them to a 38-35 victory over the mighty Philadelphia Eagles in Super Bowl LVII at State Farm Stadium on Sunday.
In the days leading up to the game, Philadelphia authorities had greased the lamp posts around that city to keep revelers from scaling them in what was sure to be a victory celebration.
But the Chiefs had other plans.
Mahomes, the NFL's reigning most valuable player, showed little evidence in the second half of the high ankle sprain that was aggravated near the end of the second quarter. He ran and threw with the intensity and precision that has made him the face of the NFL. He had been battling the insidious injury since the divisional win over Jacksonville.
"I told y'all this week, there's nothing that's going to keep me off the football field, and I just want to shout out my teammates, man," Mahomes said amid a tsunami of red and gold confetti. "We challenged each other. It took everybody to win this football game. So, shoutout my teammates, baby! We're Super Bowl champs! Let's go!"
Kansas City had Andy Reid and — in Mahomes — a new-age Willis Reed.
Reed, you might recall, was the New York Knicks star who, in a legendary performance, limped onto the court with a severe leg injury and guided his team to an NBA title.
What Mahomes did Sunday also will be cemented in sports lore. He was selected the game's MVP.
---
From Jeff Miller: He led the game in passing yards and his team in rushing yards and scored more touchdowns than anyone else.
Jalen Hurts carried the Eagles — and the rest of the city of Philadelphia — to everything Sunday but the one thing that really mattered: a victory in Super Bowl LVII.
Afterward, he continued to shine.
"The beautiful part is we experience different agony in life," Hurts said following the Eagles' 38-35, last-second loss to Kansas City. "We decide how we want to move forward ... My only direction is to rise."
Hurts tied a Super Bowl record with three rushing touchdowns and finished 27 for 38 for 304 yards and another score. His effort on the ground included a two-point conversion that tied the score 35-35 with 5:15 left.
He capped just his second NFL season as a full-time starter with a performance that matched — and at times bettered — that of Patrick Mahomes, who was named the game's most valuable player.
"Jalen played the best game I've seen him play in the two years we've been together," Eagles coach Nick Sirianni said. "He was outstanding. I thought he was in complete control … made some unbelievable throws, some unbelievable reads."
---
From Gary Klein and Jeff Miller: Kadarius Toney did not require a large window of time to etch a place for himself in Super Bowl lore.
The Kansas City Chiefs receiver made two huge plays in a short span of the fourth quarter on Sunday to help the Chiefs defeat the Philadelphia Eagles 38-35 in Super Bowl LVII at State Farm Stadium.
Toney caught a five-yard touchdown pass from Patrick Mahomes with just more than 12 minutes left to pull his team ahead 28-27. Less than three minutes later, he returned a punt 65 yards to the five-yard line to set up another touchdown that galvanized the Chiefs on their way to their second Super Bowl title in four years.
"It's the biggest game of my life," Toney said when asked about the plays. "It was surreal, but it's all about finishing the job."
Toney's heroics, and receiver JuJu Smith-Schuster's performance in the fourth quarter, once again showed that the Chiefs could win despite the departure of star receiver Tyreek Hill, who was traded to the Miami Dolphins during the offseason.
LAKERS
From Broderick Turner: Lakers forward LeBron James has been listed as questionable for Monday night's game against the Portland Trail Blazers because of left ankle soreness.
James, who was listed as questionable for the Golden State game Saturday before he was downgraded to out, has sat out the last two games. He last played against New Orleans on Tuesday night, when he broke Kareem Abdul-Jabbar's NBA scoring record to become the league's all-time leader with 38,390 points.
The Lakers also listed Anthony Davis (right foot stress) as probable.
Lakers center Mo Bamba, who was acquired in a trade from the Orlando Magic for Patrick Beverley last Thursday, is out while serving a league suspension. Bamba was suspended for four games without pay for his role in an on-court altercation with Minnesota guard Austin Rivers.
UCLA
From the Associated Press: Emily Bessoir hit four three-pointers and finished with 20 points, Londynn Jones scored 17 points and No. 18 UCLA held on to beat Oregon 67-57 on Sunday, handing the Ducks their fifth consecutive loss.
Oregon (14-11, 5-9 Pac-12) has lost six of its last seven games and is in the midst of its longest skid since the 2015-16 campaign — coach Kelly Graves' second season with the program.
UCLA (19-6, 8-5) has won three games in a row after a three-game skid.
Charisma Osborne added 13 points, six assists, five rebounds and three steals for the Bruins.
DUCKS
From the Associated Press: Seven Vegas players had two points and the Golden Knights scored five times in the third period Sunday to break open a one-goal game and best the Ducks 7-2, extending their winning streak to three games.
Michael Amadio, William Carrier, Jack Eichel, Phil Kessel and Shea Theodore each had a goal and an assist. Paul Cotter and Brett Howden added goal for Vegas. Reilly Smith and William Karlsson each had two assists.
Isac Lundestrom had a goal and an assist, and Frank Vatrano also scored for the Ducks. John Gibson finished with 32 saves.
HIGH SCHOOL SPORTS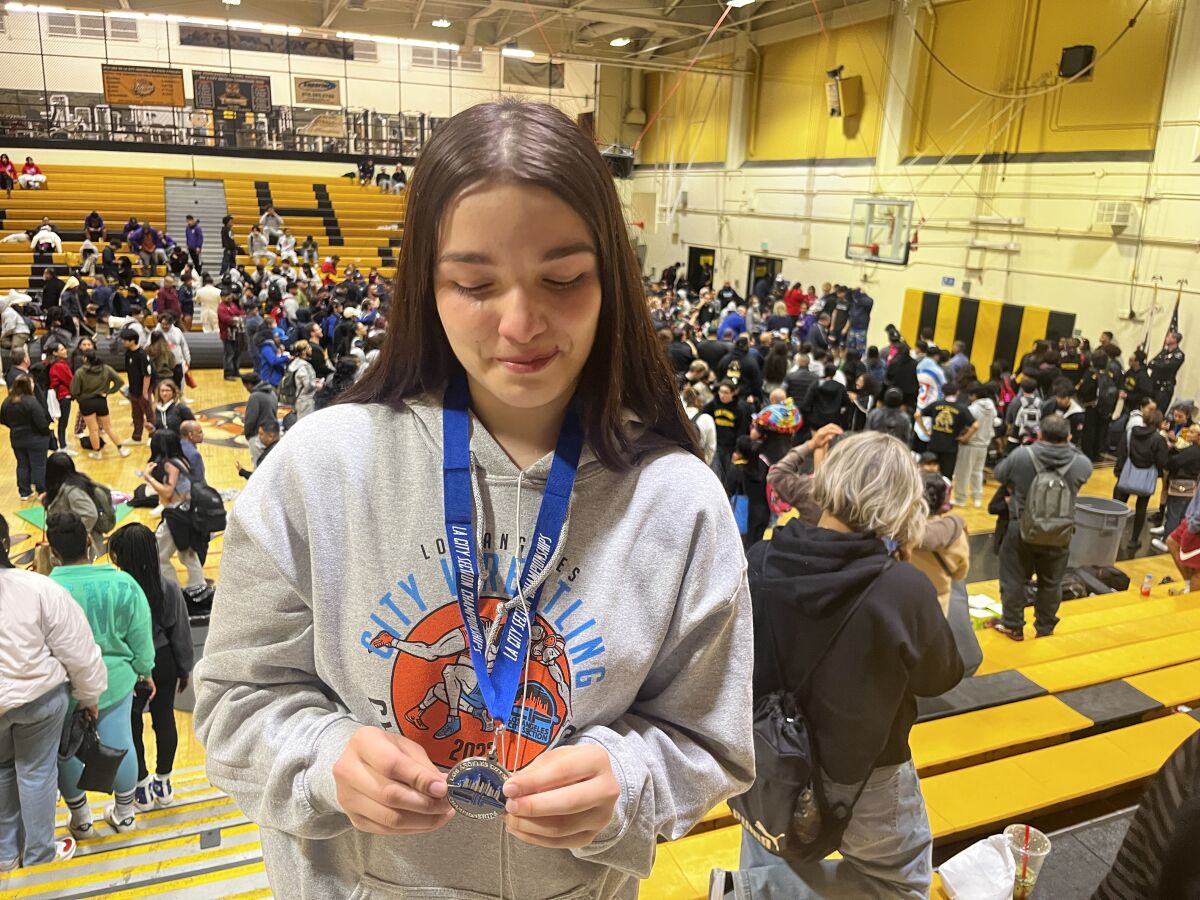 From Luca Evans: "I don't feel pretty."
It was the simplest expression of the turmoil Banning High junior Melissa Guerrero-Brown felt back then, always encasing herself in a hoodie, never looking in the mirror. She weighed 190 pounds the first time she walked into the Pilots' wrestling room as a sophomore. Never wore tights. Always baggy clothes.
That girl, coming out of COVID-19, was searching for something to grab on to, drawing that hoodie tight. Her parents able to tell something was bugging her. But Guerrero-Brown would shut down, her mother Melissa just remembering her saying that one thing.
"I don't feel pretty."
But this girl standing outside San Fernando High on Saturday afternoon, eagerly anticipating her next bout in the City Section individual wrestling championships, spoke with a glint in her eye. Guerrero-Brown had zero concept of what wrestling even was — let alone touched a mat — that first time she decided to come into Banning tryouts out of sheer curiosity.
A year later, wrestling has led her down a path of dedication. Weight loss. Self-love. A year later, she's lost 40 pounds, is one of the most self-assured teenagers you'll ever meet, and advanced to the City Section girls' finals on Saturday.
THIS DATE IN SPORTS
1923 — The New York Renaissance, the first all-black pro basketball team, is organized. Rens become one of the dominant basketball team of the 1920s and 1930s.
1937 — Maribel Vinson wins her ninth and final U.S. figure skating singles championship. Robin Lee wins his third straight men's title.
1937 — The NFL Redskins move from Boston to Washington.
1948 — Dick Button, the Olympic gold medalist, beats Hans Gerschwiler again to win the men's World Figure Skating championship in Davos, Switzerland.
1954 — Furman's Frank Selvey scores 100 points in a 149-95 victory over Newberry. Selvey breaks the record of 73 points, set by Temple's Bill Mlkvy in 1951, with 41 field goals and 18 free throws.
1973 — Frank Mahovlich of the Montreal Canadiens scores his 1,000th career point with an assist in a 7-6 loss to the Philadelphia Flyers.
1975 — Boston's Bobby Orr gets an assist in the Boston Bruins in a 3-1 loss to the Buffalo Sabres to become the first player in NHL history to reach 100 points in six consecutive seasons. It's the final 100-point season of his career.
1977 — Julius Erving, playing in his first NBA All-Star Game, is voted MVP, despite his East team losing 125-124. Erving scores 30 points and grabs 12 rebounds.
1990 — Bryan Trottier of the New York Islanders becomes the 15th player in NHL history to reach the 500-goal mark, scoring in the second period of a 4-2 loss to the Calgary Flames.
1994 — Tommy Moe wins the men's downhill over local hero Kjetil Andre Aamodt at the Winter Olympics in Lillehammer, Norway. Moe won by .04 seconds, the closest Alpine race in Olympic history. Norwegian speed skater Johann Olav Koss has a world record-setting gold medal performance in the 5,000 meters in 6 minutes, 34.96 seconds.
1995 — Connecticut is voted No. 1 in The Associated Press Top 25 and joins the school's women's team at the top. It is the first time teams from one school were ranked No. 1 in the men's and women's college basketball polls.
1999 — Steve Jaros rolls the 13th televised 300 game in PBA history en route to winning the Chattanooga Open.
2003 — Teresa Phillips becomes the first woman to coach a men's Division I team, but her presence couldn't stop Tennessee State from losing for the 17th straight time, 71-56 at Austin Peay.
2015 — Ted Ligety wins the giant slalom at world championships held at Beaver Creek, Colo. Ligety defeats Austrian rival Marcel Hirscher by 0.45 seconds, to attain his third straight world giant slalom title.
2018 — Chloe Kim saves the best for last in winning women's halfpipe snowboarding event at the Pyeongchang Games. The 17-year-old from Torrance, California, puts up a leading score of 93.75 on the first of her three finals runs, and then betters it with a near-perfect 98.75 on her final run. Kim, with the gold already well in hand, becomes the first woman to land back-to-back 1080s, confirming her dominance in the sport.
Compiled by the Associated Press
And finally
Kadarius Toney showed off some fancy footwork in his Super Bowl-record 65-yard punt return for the Chiefs on Sunday. Check out his moves here.
Until next time...
That concludes today's newsletter. If you have any feedback, ideas for improvement or things you'd like to see, email me at houston.mitchell@latimes.com, and follow me on Twitter at @latimeshouston. To get this newsletter in your inbox, click here.
Get our high school sports newsletter
Prep Rally is devoted to the SoCal high school sports experience, bringing you scores, stories and a behind-the-scenes look at what makes prep sports so popular.
You may occasionally receive promotional content from the Los Angeles Times.