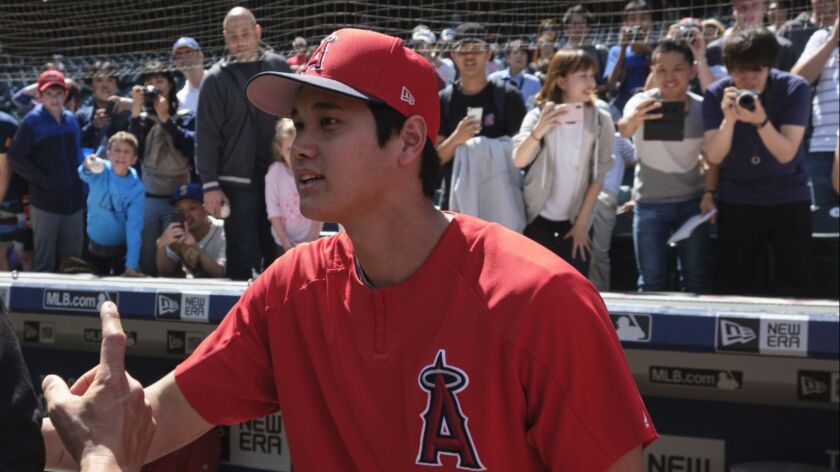 Howdy, my name is Houston Mitchell and I'm hoping that the sudden increase of people running on field to hug players has come to an end.
Angels
How much can one player be worth to a team? A lot. Just ask the Angels. Bill Shaikin did.
"Last season as a rookie, Shohei Ohtani generated at least twice as much money for the Angels as they paid him in salary, and perhaps much more. His salary was the standard rookie wage of $545,000. (The Angels also paid him a signing bonus of $2.3 million and paid Ohtani's Japanese team a release fee of $20 million. In return, they secured his contractual rights for at least six years.)
"The Angels declined to say precisely how much revenue Ohtani generated for them. However, since they signed him, they've reached six new sponsorship agreements with Japanese companies, according to Angels president John Carpino.
"We've had several six-figure sponsorship deals," Carpino said.
"The Angels' attendance also increased by 11% for each of the five home games in which Ohtani was the starting pitcher. If each additional fan paid the average ticket price of $30.26, as calculated by Team Marketing Report, the Angels' ticket revenue would have increased by almost $600,000.
"That figure does not account for incremental gains on the nights Ohtani batted rather than pitched, nor for the additional revenue from sales of food, drink, parking and merchandise. Major League Baseball reported that it sold more Ohtani jerseys than Trout jerseys last season, even though the popular Trout is the best player in baseball and the face of the Angels.
"The Angels were not the only Orange County business to benefit from Ohtani's arrival.
"At South Coast Plaza in Costa Mesa, a luxury mall that attracts about 22 million shoppers each year, more Japanese tour groups have visited since Ohtani joined the Angels, spokeswoman Debra Gunn Downing said. Tour operators featured Ohtani on their brochure covers, she said, and a Japanese television crew tracking Ohtani shot a segment there, targeted to his fans back home."
---
OK, back to your host here. Just imagine how much money the Angels could generate if they would field a team that won more than 80 games a season? That's what Angels fans would like to see, with Ohtani and Mike Trout being part of it.
Clippers
Dan Woike on the Clippers' subtle pursuit of Kevin Durant.
"The Clippers' season-long pursuit was based on a truth — one that wasn't addressed by Kawhi Leonard or the team that wants him so badly. The reason the Clippers were on the chase, the reason they weren't subtle, the reason their hopes were so pronounced, was because of the assumption that Leonard was interested in them too.
"More than how the team was performing, more than the team making a big in-season trade, more than the development of young players such as Shai Gilgeous-Alexander and Landry Shamet, the Clippers and Leonard were what people around the league wanted to talk about.
"But throughout the season, there was a second set of conversations happening — albeit quieter — with top NBA executives, longtime team employees and former players all making the same prediction: Kevin Durant would wind up with the Clippers.
"This kind of thing happens all the time when NBA people get together. Speculation about top players fuels conversations … but this is a little different.
"While the Clippers certainly want Durant, they don't seem to believe it's very possible, no matter who says it is or how often it gets said.
"Durant opted out of the final year of his contract with the Golden State Warriors on Wednesday, a year that would've paid him $31.5 million. And ESPN's Adrian Wojnarowski reported that the Warriors, the Knicks, the Nets and, again, the Clippers are "believed to be considerations."
"It makes a lot of sense for a lot of reasons.
"Durant got a first-hand look at the Clippers' core in the playoffs, with the team's young players and veterans pushing to bring out the best in him.
"The team is in a desirable market — look at the teams Durant is reportedly considering — and if adding to his legacy is important, winning with the Clippers is something literally no one has been able to do."
Women's World Cup
Kevin Baxter is in Paris to cover the World Cup for us. Here's his take on the U.S.-France matchup Friday.
"The entrance to the French soccer federation's training center at Clairefontaine, about 30 miles outside Paris, is fronted by a 12-foot-tall replica of the World Cup trophy and two giant gold stars, reminders that the country has won two men's world championships, the latest coming 11 months ago in Russia.
"They are also reminders that the women's team has never finished better than fourth in a major international tournament, a standing it will have a chance to improve if it gets past the United States in the Women's World Cup quarterfinal Friday in Paris.
"There is some pressure because the men won their World Cup," forward Kadidiatou Diani, who drives past the statues every day on her way to practice, said through an interpreter. "So there will be additional motivation because we want to do the same."
"No country has held the men's and women's World Cup titles at the same time, and the chance to become the first has the nation rallying behind its women. Though attention on the Women's World Cup has been uneven in France, where it can sometimes be difficult to find the games on television, support for the home team has been intense.
"Posters around Paris show members of the women's team sandwiched between the message, "You did a lot of screaming in 2018. Don't stop in 2019. Half the history of French football remains to be written."
"The TV audience for France's four games has averaged more than 10 million viewers, more than double the previous record for a women's match.
"Playing in the World Cup at home is unusual," Diani said. "It's like a dream for me since I was a child."
"The only other World Cup played in France in the modern era was in 1998, when France's men won their first title. But that was a surprise. The host country wasn't a clear favorite and needed extra time, then penalty kicks, to get through the first two knockout rounds.
"When it won the title, tens of thousands of stunned Parisians flooded the streets in celebration.
"The women entered their World Cup no worse than co-favorites with the top-ranked U.S., the defending champion, based in part on France's 3-1 friendly win over the Americans in January, the only loss to U.S. has suffered in 42 matches dating to July 2017. The U.S. hasn't beaten France, ranked fourth in the world, since 2016.
"It gave us confidence," Diani said of the win, in which she scored twice. "I've never been scared of the USA. I'm not scared of any team. There are a lot of very good teams and we're looking forward to playing against them.
"That's why we play football."
Quarterfinal schedule (PDT)
Thursday
Norway vs. England, noon, Fox
Friday
France vs. United States, noon, Fox
Saturday
Italy vs. Netherlands, 6 a.m., FS1
Germany vs. Sweden, 9:30 a.m., FS1
The rest of the schedule (PDT)
Semifinal game, July 2, noon, Fox
Semifinal game, July 3, noon, FS1
Third-place game, July 6, 8 a.m., Fox
Final, July 7, 8 a.m., Fox
What is your favorite sports moment?
Something new to open up this newsletter and make it more reader interactive: What is your favorite all-time L.A. sports moment? Click here to tell me what it is and why, and I'll start running them in future newsletters. And yes, if your favorite moment is about the Angels or Ducks or a team just outside of L.A., I'll count that too. And the moment doesn't have to have happened in L.A., just needs to involve an area team.
Odds and ends
Jeanie Buss is ready to move past the drama and make the Lakers winners again…. Justin Bour's home runs power Angels past Reds for the sweep…. Gold Cup: Jozy Altidore scores in first start in 20 months, U.S. tops Panama…. College World Series: Vanderbilt wins second national title, beating Michigan…. Rough start to Tony Gonsolin's major league debut costs Dodgers…. Vergil Ortiz Jr.'s one-punch power, KO streak put to test against Antonio Orozco…. Olympics, in future, will test local support before awarding Games…. Stricter NCAA guidelines could affect incoming USC transfers…. New California law gives horse racing board the ability to act quickly
Other newsletters
We also have other newsletters you can subscribe to for free. They are emailed to you and we don't sell your name to other companies, so no spam from us. They are:
Our Dodgers newsletter, written by me. Subscribe here.
Lakers newsletter, written by Tania Ganguli. Subscribe here.
Horse racing newsletter, written by John Cherwa. Subscribe here.
Soccer newsletter, written by Kevin Baxter. Subscribe here.
Monday's local sports schedule
Dodgers at Colorado, 5:30 p.m., Sportsnet LA, AM 570
Oakland at Angels, 7 p.m., FSW, KLAA 830
Las Vegas at Sparks, 7:30 p.m., Spectrum Sportsnet
Born on this date
1929: Pro wrestler Dick the Bruiser
1943: Baseball player Rico Petrocelli
1964: NBA player Chuck Person
1970: Former Angel Jim Edmonds
1973: Softball player Jennifer Brundage
Died on this date
1960: Tennis player Lottie Dod, 88
1999: NFL player Marion Motley, 79
And finally
Jim Edmonds makes a spectacular catch with the Angels. Watch it here.
That concludes the newsletter for today. If you have any feedback, ideas for improvement or things you'd like to see, please email us here. If you want to subscribe, click here.
---