Howard Marguleas, who introduced Hawaiian pineapples to the mainland and grew mangoes in the desert, dies at 82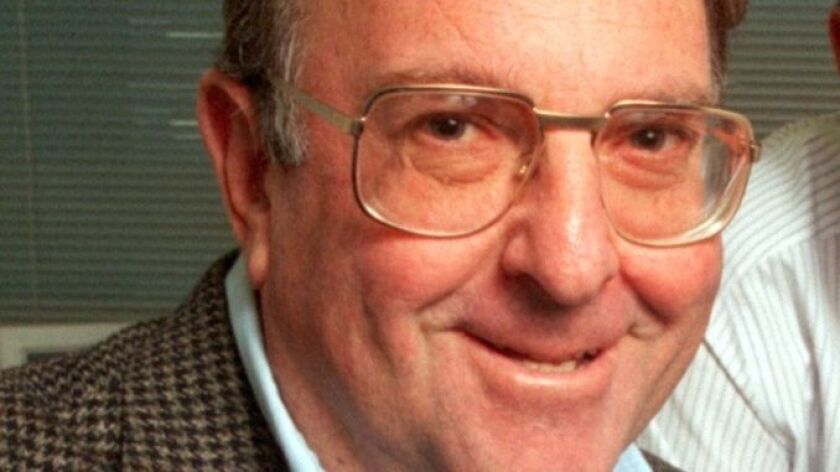 Howard Philip Marguleas, a U.S. produce pioneer responsible for introducing the first Hawaiian pineapples sold on the mainland and the first mangoes grown in California, has died. He was 82.
Marguleas founded Sun World International, a produce wholesaler based in Bakersfield, in the mid-1970s. At Sun World, Marguleas initiated the growing of seedless watermelons, La Rouge Royale sweet red peppers and DiVine Ripe tomatoes in the U.S. He also is credited with introducing seedless grapes and watermelons to the produce bins at grocery stores.
Under his direction, Sun World grew rapidly, with growers in Mexico, Chile and more than 10 states.
Marguleas tasted his first mango in Singapore; when he returned to the U.S. he found that the fruit was difficult to find in stores, especially when it was out of season. In 1983, Marguleas visited Israel, where he found mangoes growing in the Dead Sea, an environment that seemed similar to the California desert. So Marguleas went into the mango business.
The mango trees in the Coachella Valley endured theft and harsh winters but eventually thrived, and Sun World planted an additional 300 acres of the fruit trees.
Born Dec. 5, 1934, in San Francisco, Marguleas began his climb to the top of the produce industry after he graduated from UC Berkeley with a degree in agricultural economy. He went to work for his father at a produce marketing company, Heggblade-Marguleas Co., before founding Sun World.
In addition to agriculture, Marguleas was an investor in the Irvine Co., Orange County's powerful land and real estate corporation, and several Southern California golf course developments. He also was a member of the California State Board of Agriculture under a pair of governors, Pat Brown and Ronald Reagan.
"Howard was a visionary and a pioneer in the produce world," said Kathleen Nave, president of the California Table Grape Commission. "He led the way in many commodities to help expand what is available to consumers in the U.S. He was ever the optimist and a believer that where there was a vision and a will, there is a way."
Marguelas died June 1 in Rancho Mirage following complications from cancer. He is survived by his wife, Ardith; four children, David, Dianna, Anthony and Brian; and nine grandchildren, Gabby, Jack, Anna, Sam, Max, Sydney, Maile, Melia and Oliver. Marguleas is also survived by three sisters, Thelma Colvin, Betty Newman and Arlene Garfinkle.
---
Your guide to our clean energy future
Get our Boiling Point newsletter for the latest on the power sector, water wars and more — and what they mean for California.
You may occasionally receive promotional content from the Los Angeles Times.