Essential Arts: Destination Crenshaw, a bold outdoor museum plan inspired by black L.A.
The Randy's Donut is bright yellow as the Rams head to the Super Bowl. And as the Lunar New Year approaches, I'm Carolina A. Miranda, staff writer at the Los Angeles Times, with the week's most essential non-yellow donut cultural news:
TURNING CRENSHAW INTO A DESTINATION
The Destination Crenshaw project is set to turn a 1.3-mile stretch of Crenshaw Boulevard into an outdoor museum celebrating L.A.'s African American history. The project's design will be overseen by architecture firm Perkins + Will and has been spearheaded by City Councilman Marqueece Harris-Dawson, rapper Nipsey Hussle and California African American Museum deputy director Naima Keith. The Times' Makeda Easter has the story. Los Angeles Times
KCRW's Frances Anderton also speaks to Destination Crenshaw's organizers, one of whom describes the project as a response to "wack" public art proposals by LA Metro. Design and Architecture
PASSAGES
Lyn Kienholz, an arts advocate known for a fierce devotion to raising the profile of California artists, has died at the age of 88. Kienholz came to the arts through her seven-year marriage to artist Ed Kienholz, and afterwards helped steward countless exhibitions — including a survey that inspired the Pacific Standard Time series. "Lyn was a force of nature," said Joan Weinstein, acting director of the Getty Foundation. The Times' Yvonne Villarreal has the obituary. Los Angeles Times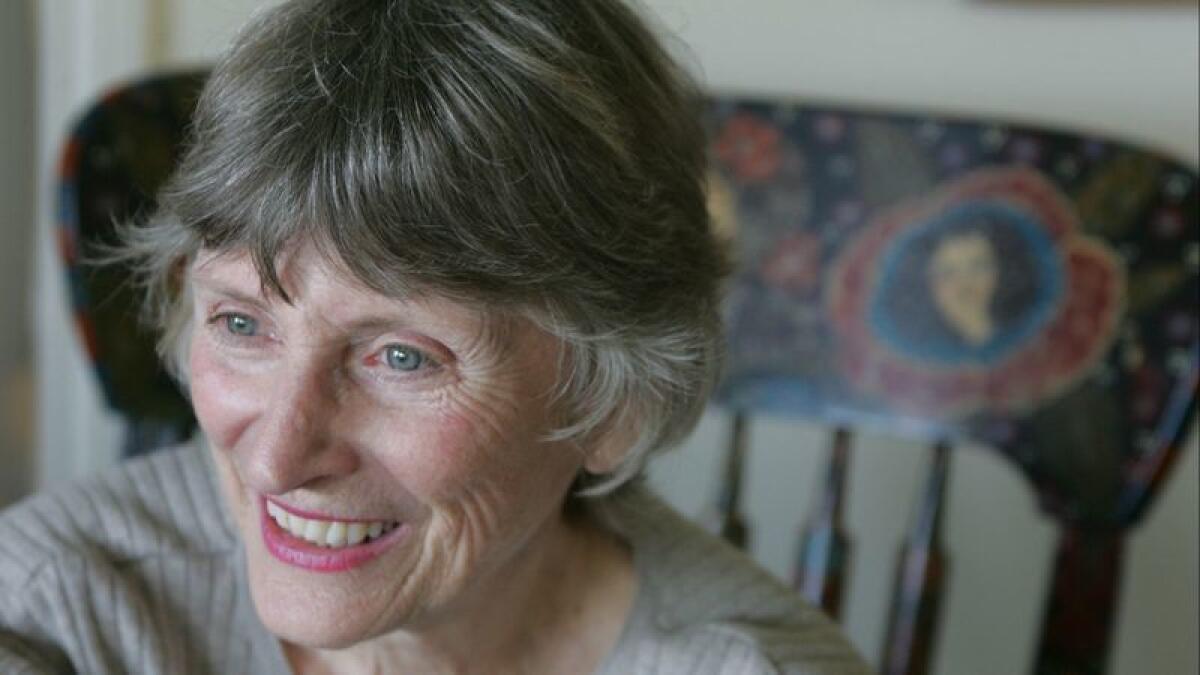 Ignacio "Nacho" Nava Jr., an icon of L.A.'s queer nightlife, died at 42. Nava was renowned for his "Mustache Mondays" party, which brought together a cross-section of artists, drag queens, fashion designers and musicians. "He provided a home for all the weirdos," artist Rigo Maldonado tells Gustavo Arellano. Los Angeles Times
IN THE GALLERIES
Times art critic Christopher Knight has been making the rounds. At REDCAT, he saw the "overly compact but welcome" survey of work by experimental artist Morgan Fisher. "Poignant, celebratory, funny, bleak," he writes, "Fisher's best art manages a range of unexpected effects from minimalist means." Los Angeles Times
Also on the docket were the "raw and brutish" paintings of Zhou Yilun at Nicodim Gallery. "Some bits are physical, as in collage; others are imagistic, as in layered pictures," reports Knight. "He's a bricoleur, puttering about with whatever comes to hand." Los Angeles Times
Plus, as-is gallery currently has a show featuring Robert Wilhite, an artist who has made "eccentric sculptural objects" that often serve multiple purposes since the '70s — including furnishings that function as musical instruments. The work, writes Knight, "assumes a wry position in relation to the explosive art-market boom of the 1980s: Sculptures and paintings are pointedly ... delivered as cathartic commercial product design." Los Angeles Times
GOLDEN STATE
An ongoing exhibition of vintage photographs at the California Historical Society in San Francisco and a recently closed display of early 20th century architectural renderings at the Huntington Library, Art Collections and Botanical Gardens capture the ebullience of California at the turn of the 20th century. "Photography and California grew up together," Historical Society curator Erin Garcia tells me. "Photography arrives here as the state becomes a state." Los Angeles Times
ART IN PUBLIC PLACES
The Times' Deborah Vankin hits the streets with S.C. Mero, an artist who creates sculpture and guerrilla works of public art that touch on urban issues related to gentrification and homelessness — and who recently exhibited a number of works at the L.A. Art Show. "I think a lot of art and creativity is about showing possibilities of how things can be," Mero tells Vankin. Los Angeles Times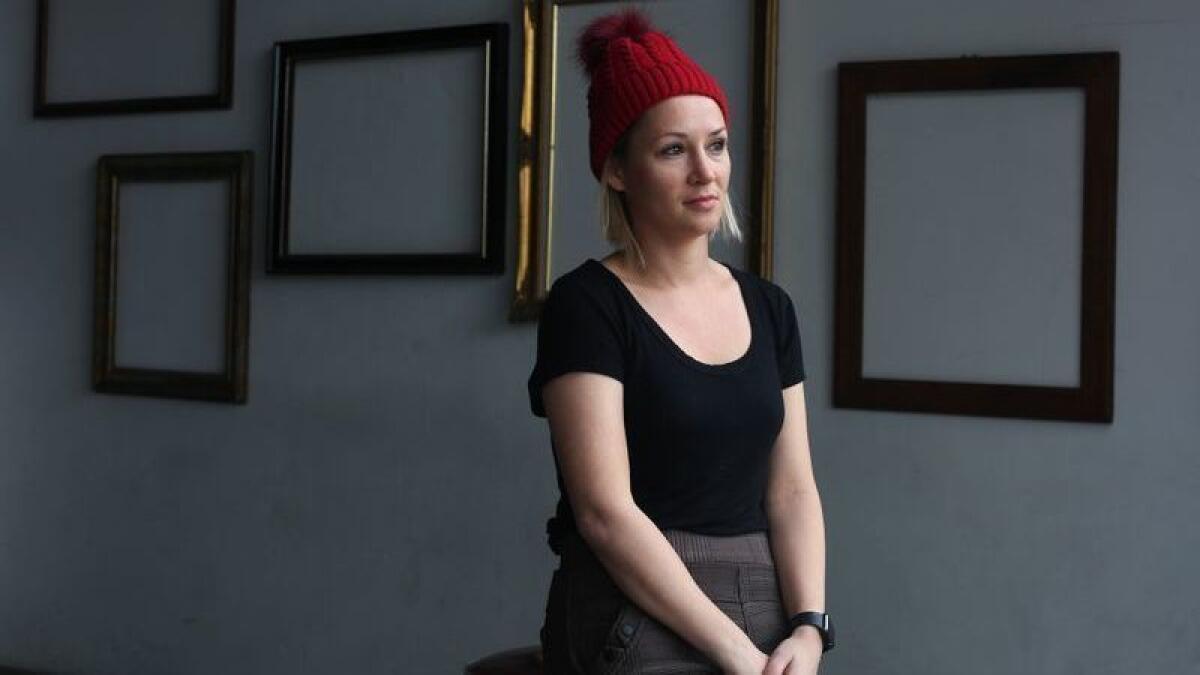 And since we're on the subject of public art, Vankin also has a preview of the latest Desert X biennial in the Coachella Valley, which announced its lineup this week. "This time, the big undertone is this idea of environmental themes," says founding curator Neville Wakefield. Los Angeles Times
STIRRING THEATER
The Wooster Group is in L.A. with a show at REDCAT inspired by folk spirituals recorded at a segregated Texas prison farm in the 1960s. The show features the original music, accompanied by singing, video and the sight of men engaged in the simple act of listening. It is, writes Times theater critic Charles McNulty, a harmonizing with history that is "at once agonizingly harsh and perseveringly soulful." Los Angeles Times
Meanwhile, at South Coast Repertory, McNulty caught a performance of the musical "Sweeney Todd: The Demon Barber of Fleet Street." The show doesn't feature stars or theatrical pyrotechnics, but "the musical storytelling," he writes, "is, nonetheless, clean, crisp and compulsive." Los Angeles Times
ON THE STAGE
Daryl H. Miller reviews "Hir," Taylor Mac's family drama on stage at the Odyssey Theatre. The absurdist goings-on may be "a depiction of patriarchy in decline, but don't expect it to be liberal claptrap," writes Miller. "Everyone behaves abominably." Los Angeles Times
SPIRITUAL ESSENCE OF ARMENIA
Composer Tigran Mansurian has an international following "for his spiritually riveting, exquisitely fabricated scores," writes Times classical music critic Mark Swed. "Once you hear something by Mansurian you are not likely to forget it." Swed attended an 80th birthday tribute to the composer at the Colburn School that featured an array of "commanding performances." Los Angeles Times
NEW STAMP FOR A NEW YEAR
Artist Kam Mak, who was born in Hong Kong and now teaches at the Fashion Institute of Technology in New York, has designed the U.S. Postal Service's new Forever stamp to mark the Lunar New Year. Times contributor Heidi Chang tells the story of how this stamp series, honoring the popular Chinese holiday, came to be. Los Angeles Times
READY FOR THE WEEKEND
Matt Cooper has the week ahead in theater, dance, art and classical music, as well as his weekend picks, which include Jérôme Bel's new dance piece "Gala," which brings together amateurs and professionals.
F. Kathleen Foley comes through with the 99-Seat Beat, including an "Antigone" that has been re-imagined for the era of Black Lives Matter. Los Angeles Times
I've got all the artsy happenings in Datebook, which includes a show of Derek Fourdjour's richly layered paintings. Los Angeles Times
IN OTHER NEWS….
— Months after the murder of Jamal Khashoggi, a number of high-profile art figures remain involved in a cultural development project in Saudi Arabia. Artnet
— Possible use for those giant party houses in the hills: Squatters have taken over an oligarch's home in London and are using it to house the homeless. The Guardian
— Because too much oligarchy is never enough: A Dubai tower will feature Sheikh Mohammed bin Rashid's fingerprint as the design for the building's base. The National
— Architect Mark Alan Hewitt on why architecture needs to focus on adaptive reuse. Common \ Edge
— Speaking of which: L.A.'s Hollywood Citizen-News building will be turned into a flexible event space. Curbed
— The British Museum's director has stirred up controversy by describing the removal of the Elgin Marbles from Greece as "a creative act." The Guardian
— Tyler Green has a worthwhile interview with Robert Pruitt, whose mystical paintings are on view at the California African American Museum. Modern Art Notes Podcast
— Florian Henckel von Donnersmarck fictionalized painter Gerhard Richter's life in his film "Never Look Away," which has two Oscar nominations for cinematography and foreign language film. Richter is not pleased. New Yorker
— The L.A. Opera has announced its 2019-20 season, including Matthew Aucoin's world premiere of "Eurydice." Los Angeles Times
— John Malkovich will play a Harvey Weinstein-like character in a new play by David Mamet. Los Angeles Times
— Not into the Super Bowl? Here's a list of all the SoCal museums that will be free this weekend. Los Angeles Times
AND LAST BUT NOT LEAST…
For Black History Month: portraits of Mississippi's Freedom Riders. New York Times
Sign up for our weekly Essential Arts & Culture newsletter »
carolina.miranda@latimes.com | Twitter: @cmonstah
Get our L.A. Goes Out newsletter, with the week's best events, to help you explore and experience our city.
You may occasionally receive promotional content from the Los Angeles Times.