The dramas of King Lear, the Gay Men's Chorus and LACMA. I'm Carolina A. Miranda, staff writer at the Los Angeles Times, with the week's essential art news:
A brazenly busy 'Lear'
Theater critic Charles McNulty reviews director Sam Gold's bells-and-whistles staging of "King Lear" on Broadway. Playing Lear is the Tony Award-winning Glenda Jackson, who made her return to the stage with the role in 2016, after two decades in politics. Her Lear, he notes, "roars with authority and rebuke." But there's a but: "If this revival represents a step forward for Gold's career, it is a step backward for Shakespeare's play, which has lost much of its excruciating pathos in the directorial hubbub."
While in NYC, McNulty also checked out Heidi Schreck's "What the Constitution Means to Me," a free-form theatrical piece in which she tries to recreate a prize-winning speech on the Constitution she gave as a 15-year-old. The performance poignantly touches on a woman's right to decide what to do with her own body — politics that, for Schreck, is quite personal.
Critical moment for Gay Men's Chorus
For 40 years, the Gay Men's Chorus of Los Angeles has been a safe space for gay performers — surviving the ravages of the AIDS crisis. But as it prepares for its 40th-anniversary shows this weekend, it faces budget deficits so severe it is in danger of dissolving, partly due to sexual misconduct allegations against its former board chair. As current board chair Steve Holzer tells The Times' Jessica Gelt: "We are in a world of hurt, and we are struggling to stay alive."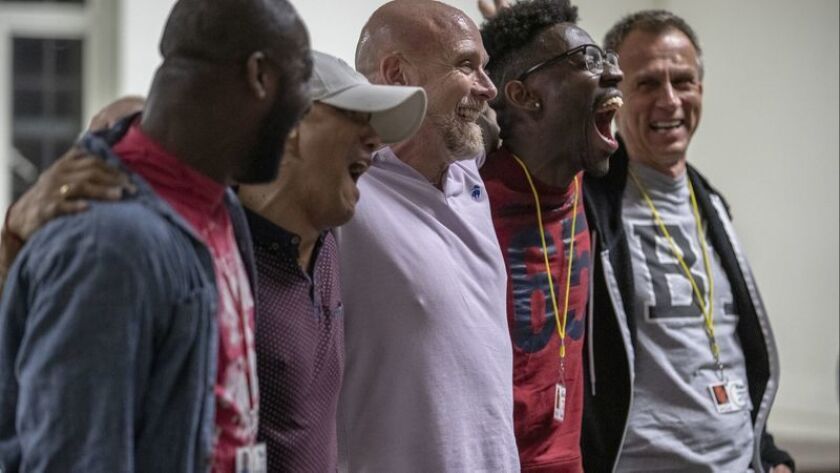 LACMA faces the supes
The Los Angeles County Museum of Art's redesign plan by Peter Zumthor — which has less gallery space than the buildings it is replacing — is headed to the L.A. County Board of Supervisors on Tuesday for approval Deborah Vankin reports. In a column on the subject, Times art critic Christopher Knight describes LACMA as the Incredible Shrinking Museum and questions whether the project is worthy of taxpayer support: "Adding 50,000 square feet might not even have been enough. Subtracting 10,000 is absurd."
William Poundstone, who writes the aptly named Los Angeles County Museum on Fire blog, reports that LACMA director Michael Govan has responded to the criticisms with a letter to museum membership that notes the construction of other pavilions over the years have added square footage to the museum. But as Knight writes in a follow-up Tweet, those expansions were not for the permanent collection — which will still lose space.
Grand dame of dance
In 1965, Judith Jamison joined a young but already world-famous modern dance troupe — the Alvin Ailey American Dance Theater. Today, as artistic director emerita, she is preparing for the troupe's 60th anniversary shows in L.A., and sat down with The Times' Makeda Easter: "It's always very difficult to get our history straight as African Americans, as black dancers. That's part of what's so important about celebrating 60 years of Alvin Ailey, because we're still here to tell the truth about what was in his mind."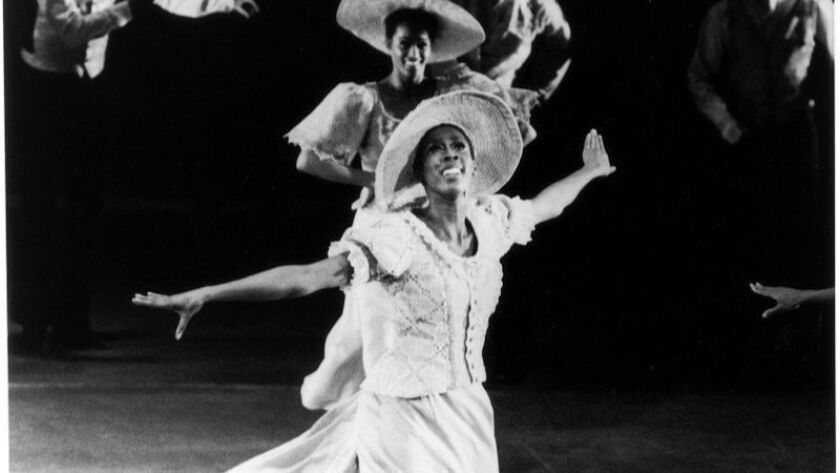 Danke Schoenberg
Times classical music critic Mark Swed reports that the Los Angeles Philharmonic is about to kick off a two-week Stravinsky festival as part of its centenary season. But in a review of a recent Piano Spheres performance at Zipper Concert Hall, Swed notes that we shouldn't forget Schoenberg: "Both composers emigrated to L.A. in the 1930s. But while Stravinksy has always been far and away the more popular and imitate composer, Schoenberg's influence on music and our institutions was greater."
'Butterfly's' metamorphosis
Puccini's "Madama Butterfly" tells the story of a Japanese geisha and American Navy lieutenant who fall in love ... in Italian. But a new version by L.A.'s Pacific Opera Project and Houston's Opera in the Heights have teamed up for an English and Japanese version that also features ethnically accurate casting. The story remains as Puccini wrote it, but the shift in languages, notes Times contributor Catherine Womack, has added new revelations to the story.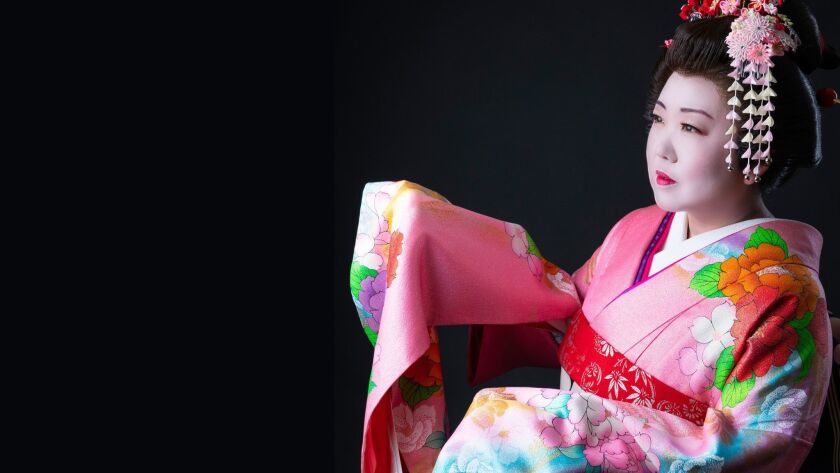 Womack also reports on a project by Cal State Northridge students that turns the bamboo-like plant Arundo donax, which has invaded swathes of the L.A. River, into musical instruments.
In the galleries
At Park View / Paul Soto Gallery, an installation by millennial artist Mark A. Rodriguez takes aim at baby boomers. And "who can blame him," writes Christopher Knight, "as the oceans rise while the powerful diddle?"
Times contributor Sharon Mizota reviews a show by Lisa Solomon that explores the legacy of the internment of Japanese Americans during World War II at Walter Maciel Gallery, and an exhibition of sculptures inspired by the human form at Jeffrey Deitch.
Mizota was quite intrigued by Cayetano Ferrer's architectural installations at Commonwealth and Council, where the artist has brought broken bits of architecture back to life with unusual materials.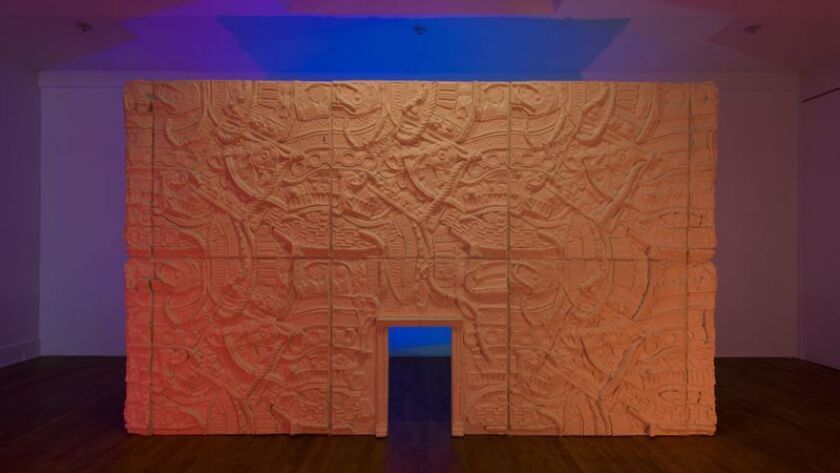 On the stage
F. Kathleen Foley reviews Nicky Silver's family dramedy "Too Much Sun" at the Odyssey Theatre. The subplots are "clunky," she notes, but the actors, in particular, Diane Carey as Audry, are "terrific."
Meanwhile in London: Gillian Anderson has been nominated for an Olivier Award for her turn as Margo Channing in director Ivo Van Hove's adaptation of "All About Eve" at the Noel Coward Theatre. "The fact that it is such a female-led story is important today," Anderson tells contributor Emily Zemler.
What I'm reading
I review critic Mark Lamster's new biography of architect Philip Johnson. His epic book, "Philip Johnson: The Man in the Glass House," weaves a compelling, clear-eyed portrait of an architect who helped set the baseline for Modernism in the U.S. — but who, in his youth, didn't just flirt with Nazi politics, but kissed it full on the mouth.
Essential Image
If you've been tooling along the 10 or the 110 and wondered about the bright blast of color currently fringing the Los Angeles Convention Center, it's a new mural titled "Shaping L.A." by brothers Ed Massey and Bernie Massey and was painted with the assistance of thousands of children and adults.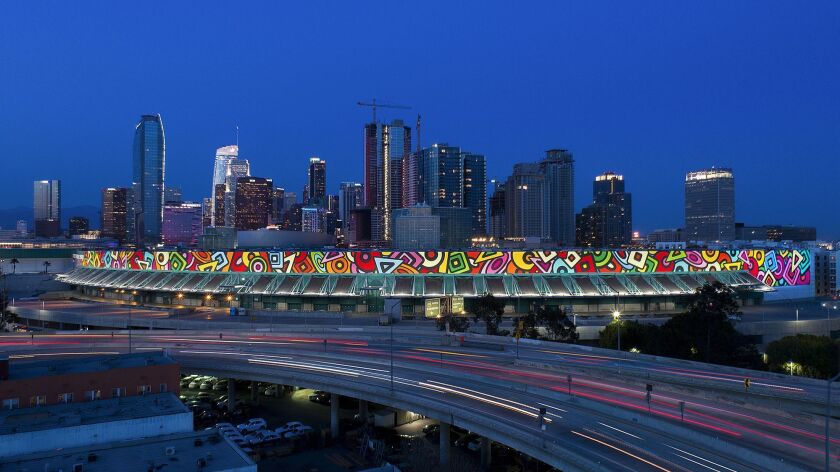 Ready for the Weekend
In our weekly 99-Seat Beat column, Margaret Gray surveys what's happening in small theaters, including a musical inspired by the songs of Los Lobos. I round up the latest art openings in Datebook, including a series of new shows inside the Orange County Museum of Art's temporary space in a Santa Ana strip mall.
Matt Cooper has the week ahead in music, theater, art and dance, and, as always, lines up the weekend's picks, which includes a new production from the Skid Row-based Los Angeles Poverty Department, "I Fly! or How to Keep the Devil Down in the Hole," a "theatrical exploration of policing and public safety in low-income communities of color."
In other news…
— How adult actors pull off playing children on stage.
— Photoville, New York's free photography festival, is coming to L.A.
— Photographer Tomas van Houtryve chronicles the U.S. people and places that were once part of Mexico.
— Shaking my head: How London developer Henley Homes segregates play areas for richer and poorer residents.
— "It was heartbreaking to watch wealthy condo owners jeer a black woman who grew up in public housing for trying to shelter our homeless population." A meeting for a homeless transition center in San Francisco brings out the worst.
— This essay by Feargus O'Sullivan is some of the most thoughtful writing I've come across on Thomas Heatherwick and Hudson Yards.
— Nipsey Hussle, urbanist: The Times' Gerrick Kennedy looks at the way in which the late rapper sought to transform the landscape of L.A.
— Onni Group releases renderings of their proposed development at Times Mirror Square in downtown. It is redolent of pour-over coffee and craft cocktails.
— As everyone talks Walter Gropius, critic Alexandra Lange considers the women of the Bauhaus.
— In other important design news: El Chapo's wife Emma Coronel will launch a clothing line inspired by her husband's style.
And last but not least…
How Attorney General William Barr would summarize famous Broadway musicals, according to McSweeney's.
carolina.miranda@latimes.com | Twitter: @cmonstah
---