L.A. Opera turns to a vintage Spanish form, the Skirball Cultural Center explores the origins of "Black Is Beautiful" and the Craft Contemporary shows Beatriz Cortez's steel-forged art for one last weekend. I'm Carolina A. Miranda, staff writer for the Los Angeles Times, with the week's essential arts news:
Catting around
Plácido Domingo grew up singing zarzuelas, and he has consistently worked to keep these Spanish lyric dramas alive. His latest effort is "El Gato Montés," at L.A. Opera. The production has its shortcomings, writes Times classical music critic Mark Swed. But the form provides something to chew on: "a striking, successful cultural hybrid, foretelling the kinds of things, with, say, East and West, that Chinese composer Tan Dun or the Silkroad Ensemble or director Peter Sellars thrive on a century later."
Swed also attended the Hear Now festival (which happened to hit on a week in which L.A. was swamped with other classical music options). He says the festival's inclusiveness hasn't changed. "What has changed is a new ubiquity and a growing sense of L.A.'s place in music history."
Plus: Feeding a piano hay and water and other scenes from the L.A. Phil's continued investigation of Fluxus.
Classical notes
When the couple arguing in the front row are louder than the cellist's harmonics you have a problem: Contributor Rick Schulz reports on Joshua Bell, Steven Isserlis and Jeremy Denk's performance of Shostakovich's Piano Trio No. 2 at the Soraya.
Plus, The Times' Jessica Gelt pores over the YouTube entries for the L.A. Phil's "Play With Ray" contest. (The winner gets to play with violinist Ray Chen on stage at the Hollywood Bowl.) And she finds puppets and CPR and a cardboard copy of Chen.
Making black beautiful
The Times' Makeda Easter examines the roots of the "Black Is Beautiful" movement in connection with a new show of works by photographer Kwame Brathwaite at the Skirball Cultural Center. It started with a protest related to wigs — but went on to include an entire career devoted to providing "a rare insider's view of black life."
Your support helps us deliver the news on the culture stories that matter most. Subscribe to the Los Angeles Times.
Steely resolve
At the Craft Contemporary museum, L.A. artist Beatriz Cortez has conjured a space station as it might have been imagined by an ancient Mesoamerican culture. This includes a geodesic dome made out of scrap metal and a garden lab bearing seedlings for indigenous crops. "I'm interested in including that," she tells me, "indigenous knowledge that is about how to survive." Her show is on view through Sunday.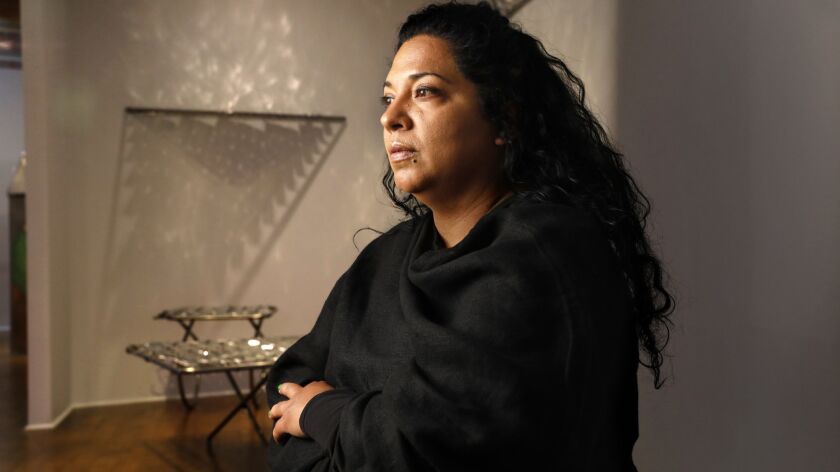 New at MOCA
Mia Locks, who was previously co-curator of the 2017 Whitney Biennial, has joined the Museum of Contemporary Art Los Angeles as senior curator — the museum where she started her career. But the big news here is that the museum currently has no plans to hire a chief curator.
Artifacts of our era
Times art critic Christopher Knight pays a visit to Michael Rakowitz's show in the gallery at REDCAT, which features a couple of dozen artifacts that appear ancient but which are actually recent re-creations by the artist of artifacts lost or looted from the Iraq National Museum in the wake of the U.S. invasion in 2003. "These artifacts embody 'us, today,' " writes Knight, "not 'them, back then.' "
In the galleries
Times contributor Sharon Mizota has been doing the white box thing. This includes a show of sculpture by Joanne Greenbaum at Richard Telles full "energetic whimsy" and paintings by Laura Lancaster at Night Gallery that features a "fluidity and deftness" of brushwork.
Plus, if you don't have time or cash to jet out to Massachusetts to see Mexican photographer Graciela Iturbide's retrospective at the Museum of Fine Arts Boston, Mizota has just the solution: the exhibition devoted to the artist at Rosegallery in Santa Monica, which serves as "a powerful reminder of Iturbide's singular vision, at once macabre and quotidian."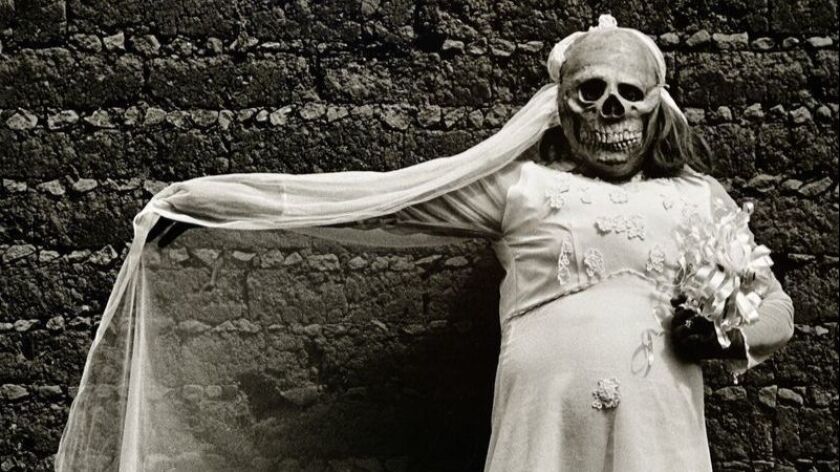 Getting Beckett all the time
Samuel Beckett's "Happy Days" — about a chatty woman trying to connect with a distant husband as she sinks into the earth — is the play that Dianne Wiest says she wants to perform every day. Well, as luck would have it, she is: This week she began previews at the Mark Taper Forum. Last fall, she did excerpts at a park in New York City. "A cop would stop and listen," she tells Times theater critic Charles McNulty. "Kids were running around. I can't remember what horrible thing was going on in the world, but people were affected."
Plus, McNulty reviews Michael McKeever's off-Broadway drama "Daniel's Husband," about a gay couple with opposing views on marriage. "McKeever doesn't break any artistic ground," he writes, "but his carpentry is skillful and intelligent."
'Secret Garden' on stage
A new production of the musical "The Secret Garden" at the Cerritos Center for the Performing Arts spares no effort to bring the story to life, reports The Times' Daryl H. Miller — which includes some skillful singing from cast of 24. Unfortunately, this doesn't entirely make up for the "overcooked" plot.
Ready for the Weekend
Find the week's art listings in my weekly Datebook, which includes a show of paintings of imaginary flags.
Matt Cooper has his weekend picks, which includes a little bit of "Les Miz."
Plus, F. Kathleen Foley rounds up what's doing in L.A.'s 99-seat theaters, including a politically minded reprise at the Actor's Gang.
In other news…
— Why pioneering LACMA trustee Richard Simms left his collection to the Getty Research Institute.
— Poet and activist Cecilia Vicuña and composer Meshell Ndegeocello are among the winners of this year's Herb Alpert Award in the Arts.
— Anna Delvey has been sentenced to four to 12 years in prison after being found guilty on grand larceny and other charges after peddling a fake art club to investors.
— A hidden Cupid has emerged in one of Vermeer's most famous paintings.
— Trevor Paglen's giant space sculpture fails to inflate.
— The Getty has gone shopping for ancient gems.
— Samanta Helou Hernandez chronicles the people of the L.A. River.
— How rapper Nipsey Hussle sought to invest in the neighborhood he grew up in to prevent gentrification.
— From the Department of Is-Anybody-Really-Surprised?: 405 Freeway widening hasn't helped traffic.
— Discussions on the repair of Notre Dame need to get serious, writes Barry Bergdoll.
And last but not least…
Social strategies for art openings.
carolina.miranda@latimes.com | Twitter: @cmonstah
---