Newsletter: Essential Arts: 'Hamilton' in Puerto Rico, a bad-boy play, an incandescent portrait
Aaaaand the arts season is back in full swing! I'm Carolina A. Miranda of the Los Angeles Times, with the week's essential arts news ... and disco cumbia:
'HAMILTON' IN PUERTO RICO
It began with a standing ovation — when Lin-Manuel Miranda returned to the stage as Alexander Hamilton — and ended with Miranda in tears, waving the Puerto Rican flag. "Hamilton" has landed in San Juan, Puerto Rico, and The Times' Jessica Gelt was there to capture the scene as hurricane-weary residents turned out for a splashy opening that attracted U.S. celebs such as Jimmy Fallon and Shonda Rimes. (The show's proceeds will go to aid the recovery.) After the show, Miranda said, "Puerto Ricans are the most resilient people on the face of the Earth." Los Angeles Times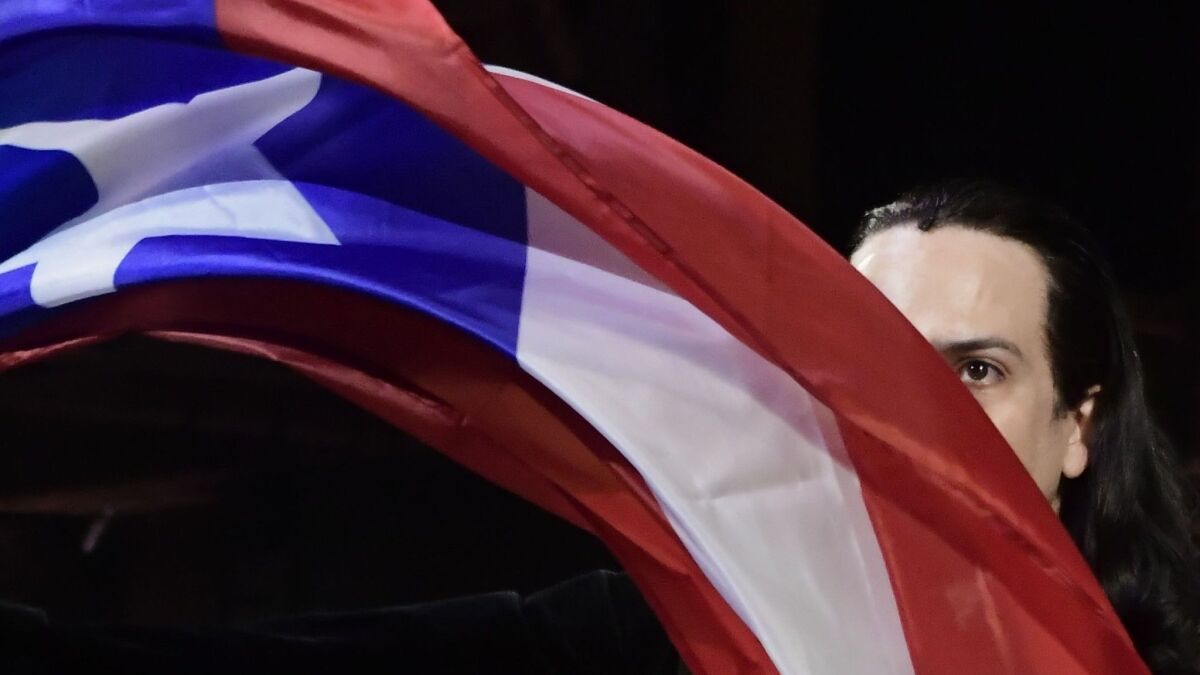 "Hamilton" was supposed to be staged at the historic Teatro de la Universidad de Puerto Rico, which Miranda's Flamboyan Arts Fund helped restore after the hurricane. But concerns over unrest at the university over labor issues led the show's organizers to move the show to the Centro de Bellas Artes Luis A. Ferré five miles away. This left the university reeling: "Some people cried," says the university's communications director, Mario Alegre Barrios. Los Angeles Times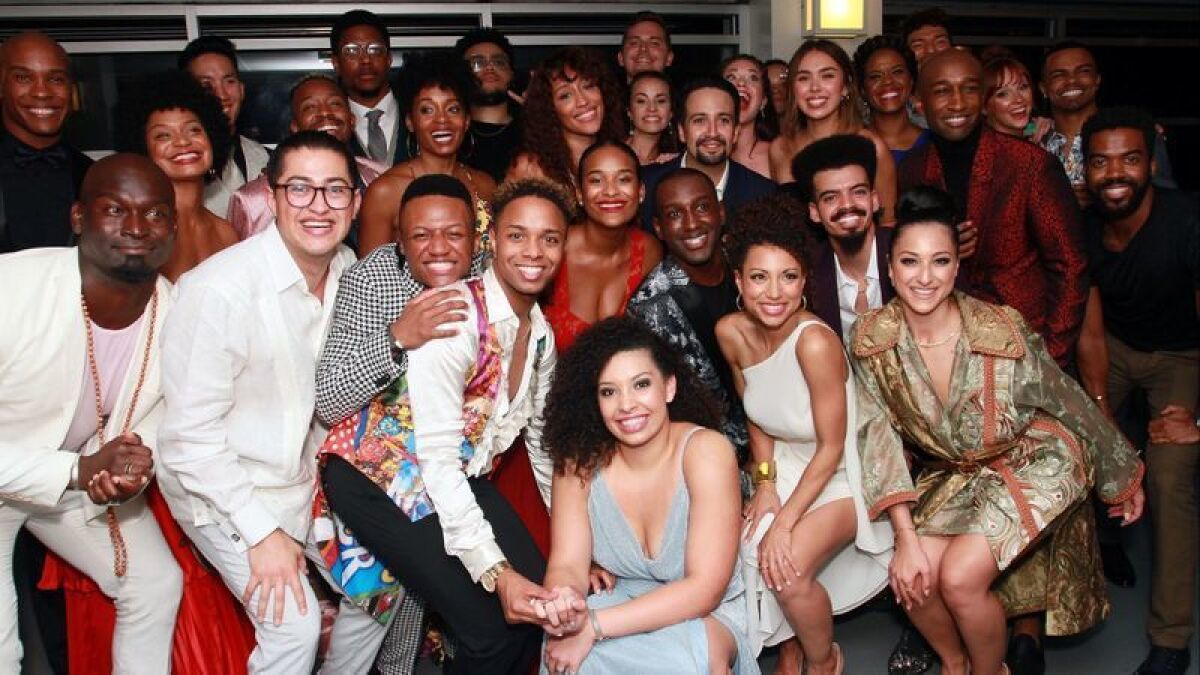 Gelt also speaks to two of the show's stars: Donald Webber Jr., who is playing Aaron Burr, and Julia K. Harriman, who took on the role of Eliza Hamilton, about what it's like to play opposite Miranda, the show's creator. Prior to meeting him, "I was terrified," Harriman recalls. Things changed after everyone got on stage. Los Angeles Times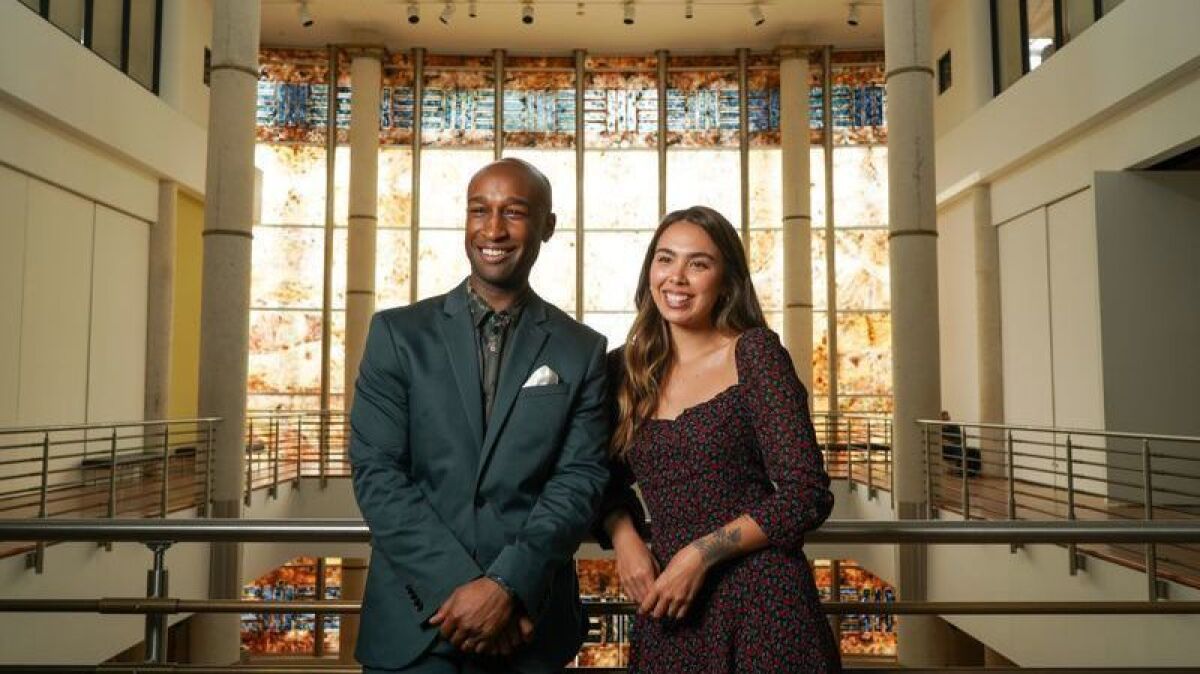 Plus, what "Hamilton" has signified politically to Puerto Rico. New Yorker
A LEGENDARY 'DOLLY' DIES
Carol Channing, the Broadway star best known for her portrayal of the titular matchmaker in "Hello, Dolly!" — she appeared in the play at least 5,000 times — died this week at the age of 97. "She created the character of Dolly and she made the show," says Jerry Herman, who wrote the music and lyrics. Mary Rourke reports on a legendary career. Los Angeles Times
Times theater critic Charles McNulty has a tribute: "One of a kind, Channing was a like a cross between Marilyn Monroe and Gracie Allen, with a personality voice that could make a tune completely her own. When she sang, pixie dust shot into the air. She was an Al Hirschfeld cartoon sprung into swooning life." Los Angeles Times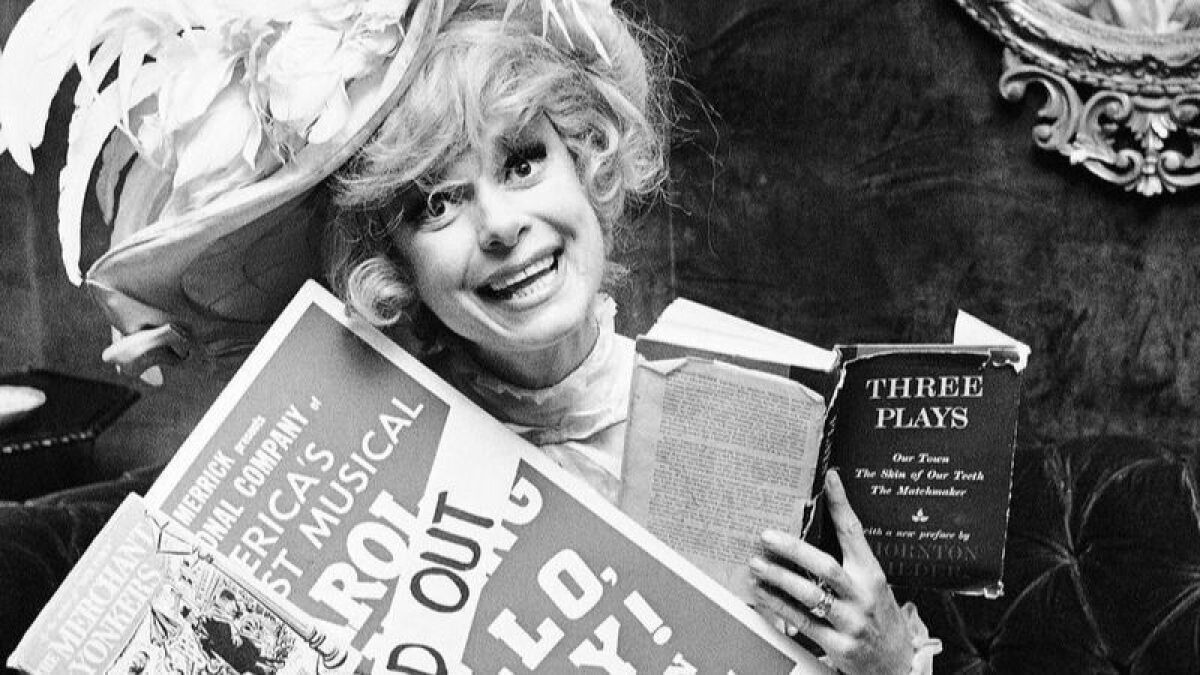 Interesting fact: Channing was on Richard Nixon's enemies list. New York Times
Plus, former Times theater critic Sylvie Drake recalls a very special lunch with Channing. Los Angeles Times
MAN TROUBLE
Charles McNulty also reviews actor and playwright Tracy Letts' latest work, "Linda Vista," now at the Mark Taper Forum. About a "masculine magnet" who is also an emotional "black hole," the episodic, nearly three-hour work has the feel of binge-watching. "The dramatic writing has a kinetic kick," McNulty writes. "Letts' dialogue is potently funny and the psychological dynamics are often riveting in their accuracy. But the overall structure is saggy." Los Angeles Times
BROADWAY BABIES
A play about a man-child is a perfect segue to a story about babies on Broadway: Contributor Stuart Miller looks at the infants appearing in Jez Butterworth's "The Ferryman" on Broadway. These little thespians are known for their enthusiastic toy chewing and for spitting up during interviews. Los Angeles Times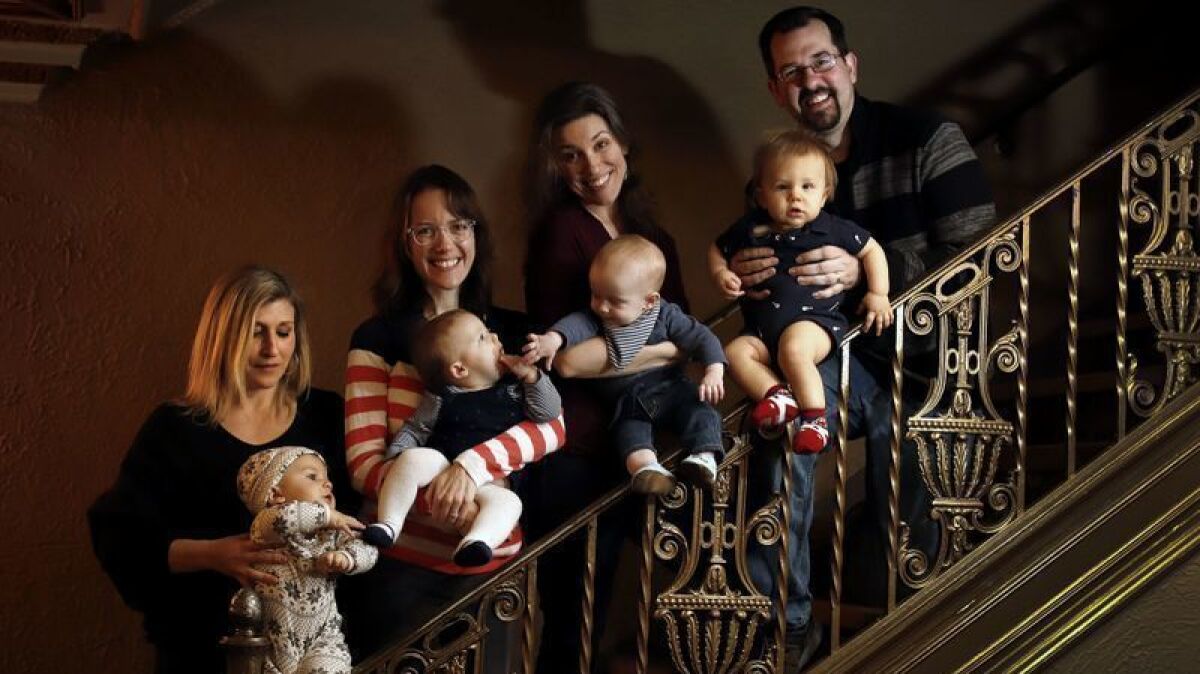 CLASSICAL NOTES
Times classical music critic Mark Swed reports that while the Los Angeles Philharmonic and the San Francisco Symphony have been dominating headlines, the San Diego Symphony has a somewhat more checkered history. But a new director — the "electrifying" Rafael Payare, a former L.A. Phil assistant — has turned things up a notch. "San Diego has had capable music directors," he notes, "but only recently has the symphony begun to show Californian cultural farsightedness." Los Angeles Times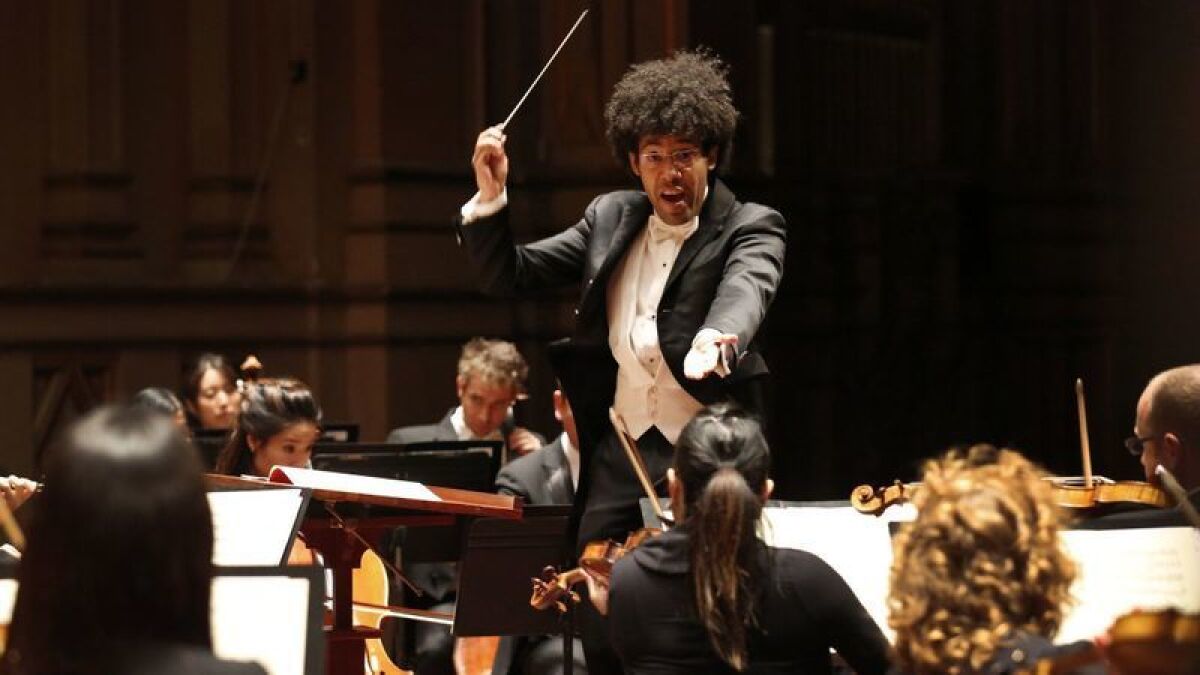 The L.A. Phil's New Music Group this week debuted six works commissioned from jazz musicians — part of a Green Umbrella program at Walt Disney Concert Hall curated by Herbie Hancock. The performance felt "a little off," reports Swed. "It was a nervous conservatism that characterized much of the music." Los Angeles Times
Plus, contributor Rick Schultz checked out the "invigorating" solo debut of Mexican pianist Jorge Federico Osorio. Los Angeles Times
LADY IN WHITE
Titian's "Portrait of a Lady in White" is on view at Pasadena's Norton Simon on loan from Dresden's State Art Collection in Germany. It's "among Titian's greatest portraits," says Times art critic Christopher Knight. "The three-quarter-length, roughly life-size figure of a winsome but chaste young woman dressed in luxurious satin and dripping pearls is more accurately described as 'Portrait of a Lady in Every Shade of White You Can Imagine — Plus, for Good Measure, a Bunch of Shimmering Golds.' " Los Angeles Times
Knight also reviews Cameron Rowland's "D37" at the Museum of Contemporary Art. The exhibition of seemingly unrelated objects might seem "visually chilly." But the objects — a baby stroller, used bicycles, a leaf blower and a grandfather clock — come together to tell the story about the legacies of slavery in the United States. "It's the first solo exhibition in an American museum for the 30-year-old artist," writes Knight. "Expect it not to be the last." Los Angeles Times
ON DANCE
American Ballet Theatre has never had two African American performers dancing lead roles opposite each other. That changed this week when Misty Copeland and Calvin Royal III appeared in "Harlequinade" at Segerstrom Hall. "I see it as such a huge step forward in terms of visibility," Royal tells Times contributor Laura Bleiberg. Los Angeles Times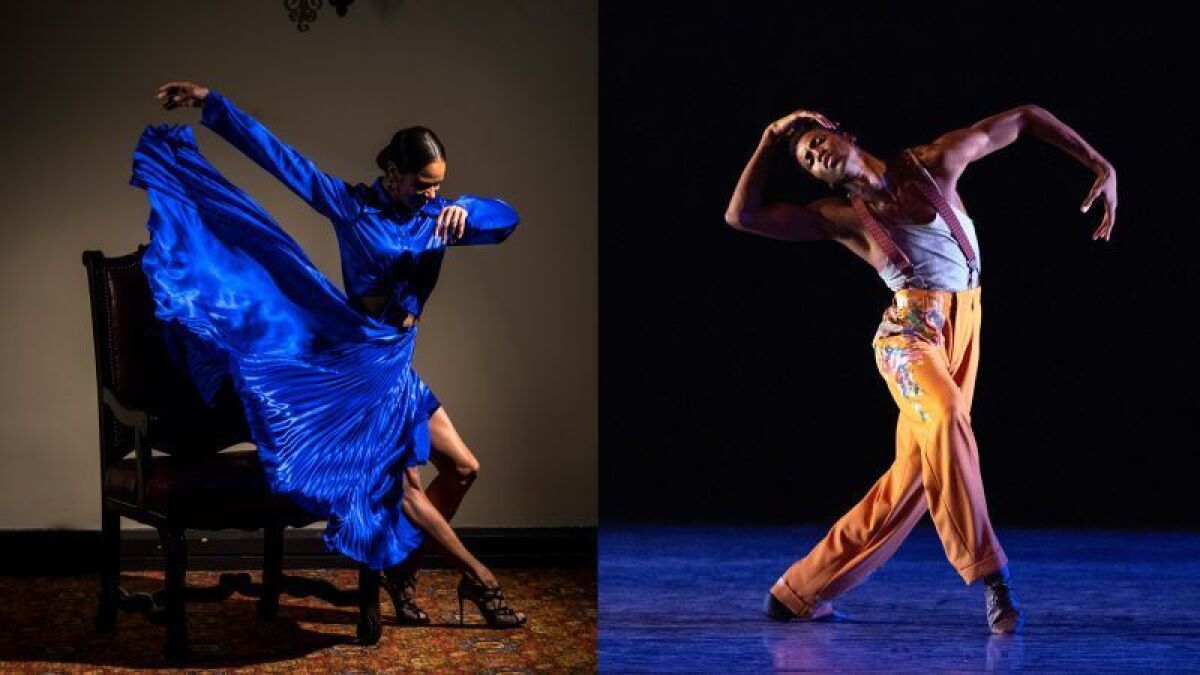 Plus, Benjamin Millepied's L.A. Dance Project presented its first project in its new home on East Washington Boulevard. "There's no backstage, no curtain, no wings, nor much theatrical lighting," writes Bleiberg. "Millepied treats the deficits as advantages." Los Angeles Times
I'LL HAVE FRIES WITH THAT
The now-famous pic of Donald Trump standing before a feast of fast food for the Clemson Tigers? The Times' Jessica Roy deconstructs it. Los Angeles Times
READY FOR THE WEEKEND
As always, Matt Cooper has the week ahead in art, music, dance and theater, and he's got his best weekend picks, including an opera that re-imagines a terror tale by Edgar Allan Poe.
F. Kathleen Foley has the 99-Seat Beat, including "Hir," written by Taylor Mac, which is "trip down the rabbit hole." Los Angeles Times
Plus, I've got recommendations of my own in my weekly Datebook, including an experimental dance performance by Sebastian Hernandez. Los Angeles Times
IN OTHER NEWS…
— Second Lady Karen Pence has returned to teaching art at a controversial school in Virginia that bans gay students. Washington Post
— Ballet dancer Sergei Polunin has been embroiled in controversy after posting homophobic comments on social media. New York Times
— The Craft & Folk Art Museum is changing its name to the Craft Contemporary. Los Angeles Times
— The Museum of Contemporary Art will close its Pacific Design Center location next month. Los Angeles Times
— And the Main Museum in downtown L.A. is closing. Los Angeles Downtown News
— Patti Smith's photos from Frida Kahlo and Diego Rivera's house. New Yorker
— A good prequel: Mexican photographer Graciela Iturbide's photos from Kahlo's Casa Azul. gracielaiturbide.org
— The Simpsons took a trip to Prada Marfa. Hyperallergic
AND LAST BUT NOT LEAST…
The Bee Gees as cumbia-lite. YouTube
Sign up for our weekly Essential Arts & Culture newsletter »
carolina.miranda@latimes.com | Twitter: @cmonstah
---
Get our L.A. Goes Out newsletter, with the week's best events, to help you explore and experience our city.
You may occasionally receive promotional content from the Los Angeles Times.