Newsletter: Today: 'How Many Children Have to Get Shot?'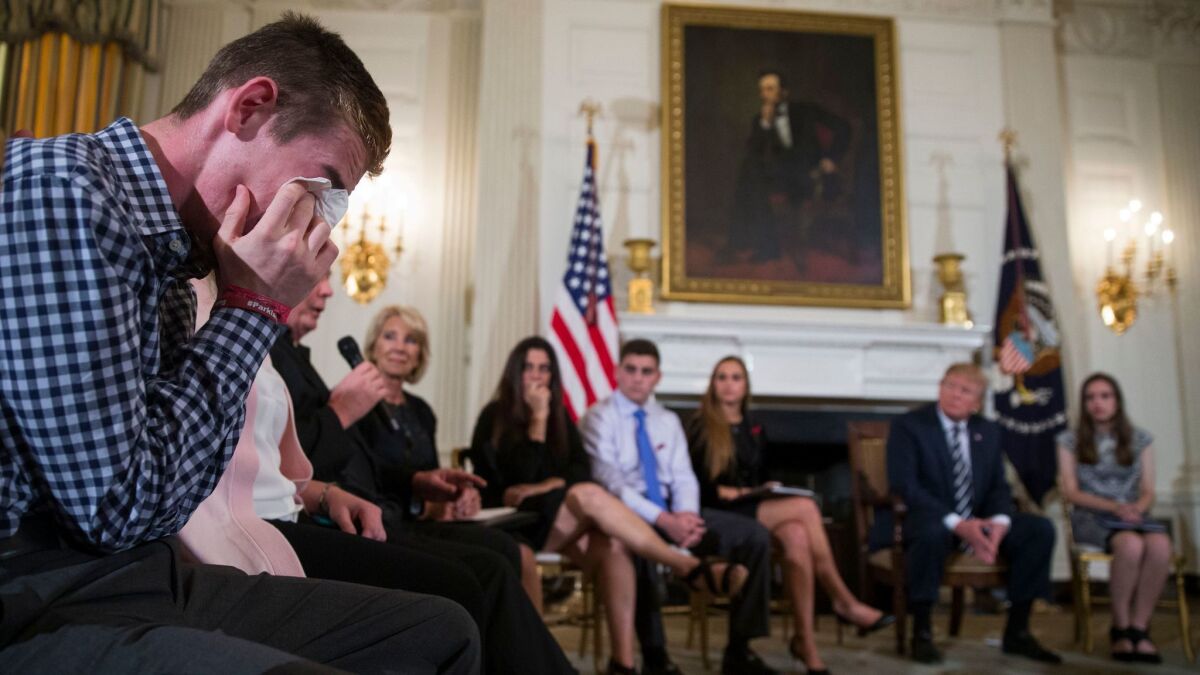 After last week's Florida school shooting, students, parents and teachers want answers on gun violence and campus safety.
TOP STORIES
'How Many Children Have to Get Shot?'
"I'm here because my daughter has no voice," said Andrew Pollack, the father of a student who was among the 17 people killed at a Florida high school on Valentine's Day. "We need our children safe." Pollack's comments were among the most visceral during an extraordinarily emotional "listening session" over guns and schools hosted by President Trump at the White House. The attendees, who included shooting survivors and parents, took turns making points on school safety that were often at odds with each other. Trump offered proposals of his own, including possibly arming teachers, stronger background checks for gun buyers and perhaps reviving "mental institutions." On social media, his notes became a big talking point.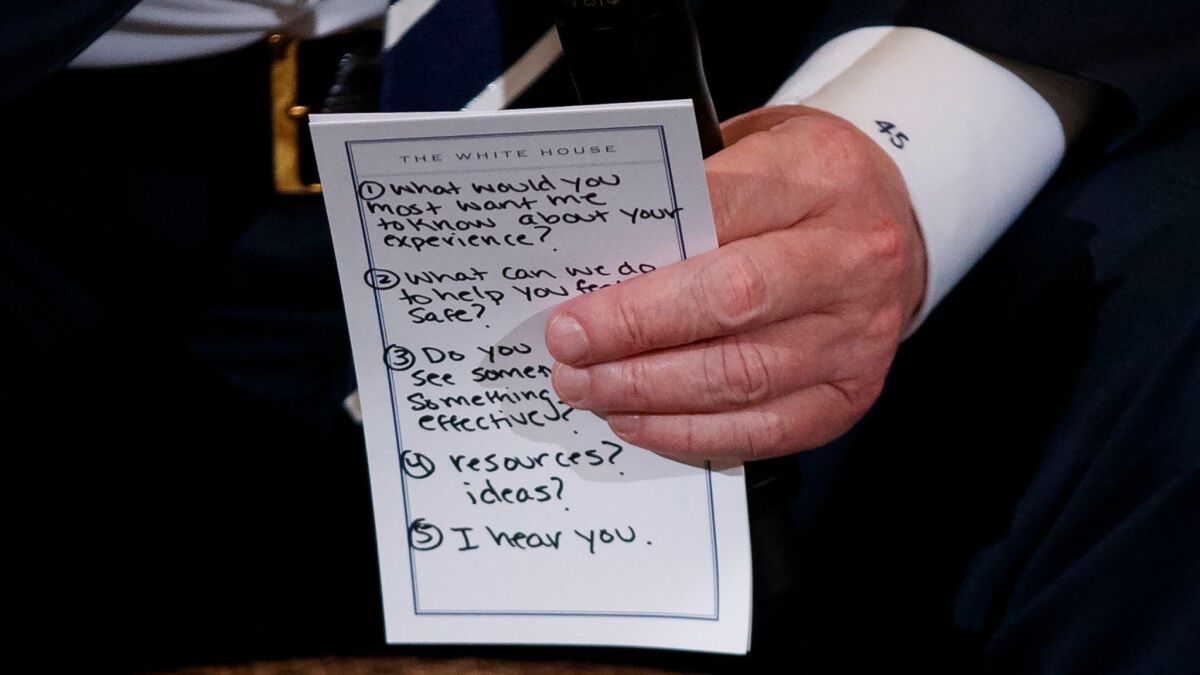 Echoes of Parkland
As the Parkland school shooting continues to reverberate nationally — with more rallies by students, conspiracy theories aimed at discrediting them, and Sen. Marco Rubio facing angry town hall attendees in Florida — authorities in Southern California say they have dealt with several potential threats of school violence in recent days. In Whittier, a school resource deputy overheard a 17-year-old tell a classmate, "I guarantee you the school will be shot up in three weeks." That led L.A. County sheriff's investigators to his house, where they say they recovered two semiautomatic AR-15 rifles, two handguns and 90 high-capacity magazines.
From Russia, With No Love Lost
Russian trolls are nothing new. Rumors about President Kennedy's assassination, planted articles arguing the Rev. Martin Luther King Jr. was not radical enough, and a conspiracy theory that the U.S. manufactured the AIDS virus were among the Soviet Union's handiwork. But the Soviets didn't have social media, a tool often fed by algorithms that are designed to capitalize on people's outrage. "They're using the same playbook; it's just a new medium," one former FBI agent says of current Russian meddling.
Marsh Madness: They Could All Disappear
A new study by a team of scientists led by the U.S. Geological Survey has come to a stark conclusion: All of California's salt marshes, which are home to many endangered species and help guard against flooding, could be gone within 100 years. The cause: Rising ocean levels, combined with buildings and roads along the coast, will squeeze them out of existence if no action is taken. Authors hope their study will fuel discussion of what needs to be done.
A Preacher to the Presidents and the Masses
For decades, Billy Graham counseled presidents, filled stadiums and called upon millions around the world to "accept Jesus Christ as your personal savior." But in many ways, he got his start in L.A., the "city of wickedness and sin" where he held a 1949 tent revival that would become his first major crusade. When Graham died this week at age 99, Republican and Democratic leaders alike offered words of praise. But when asked in 2011 what he would do differently if he could, Graham replied: "I would have steered clear of politics."
Fear Factor: Olympics Edition
Take ski jumping and combine it with the halfpipe and you more or less have the sport known as big air, which is making its Olympic debut in Pyeongchang this week. Sound scary? It is, even for the extreme athletes involved. "Every time I get up there and I know I have to go upside down three times, my heart's always racing," says Chris Corning of the U.S. team. "It's terrifying to go upside down that many times."
More From the Olympics
-- The U.S. women's hockey team took the gold medal for the first time in 20 years by defeating archrival Canada.
-- The members of the hockey team weren't alone: American women have led a remarkable medal resurgence at the Games.
-- David Wise of Reno defended his gold medal in the ski halfpipe after enduring adversity on and off the slopes.
MUST-WATCH VIDEO
-- Trump "gets what you're saying": Agriculture Secretary Sonny Perdue talks immigration, water and food stamps on a California tour.
-- Film critic Justin Chang says "Annihilation," starring Natalie Portman, is a hypnotically beautiful and unsettling adaptation of the first novel in Jeff VanderMeer's "Southern Reach" trilogy.
CALIFORNIA
-- A Los Angeles County sheriff's deputy has been charged with sexually assaulting six female inmates at a Lynwood jail facility.
-- Officials say that a Temple City man accumulated an arsenal of 28 guns, despite being on the state's list of people barred from owning firearms.
-- The federal government has begun work to replace a section of border wall in downtown Calexico, the first wall contract awarded in the Trump administration besides prototypes.
-- Some drivers outrun police pursuits, despite the long odds, but they do so at great peril.
HOLLYWOOD AND THE ARTS
-- The superhero movie "Black Panther" has grossed $427 million in global ticket sales and shown strength in Africa, the continent where the film mostly takes place.
-- Go inside the dress rehearsal for "Frozen," the Broadway musical adaptation of the hit Disney film.
-- Finalists for the 2017 Los Angeles Times Book Prizes include Joyce Carol Oates, Ron Chernow, Ta-Nehisi Coates and Jesmyn Ward.
-- Pretending to be sisters for several hours a day can build a quick friendship. For proof, just listen to Sharon Lawrence and Meredith Baxter, who star in a stage production of "The City of Conversation."
CLASSIC HOLLYWOOD
On the TV show "Father Knows Best," Robert Young was the ideal father for a generation. He said he merely played the dad he yearned to have himself. Young, who was born on this date in 1907, would later star in "Marcus Welby, M.D." Despite those self-assured characters, Young struggled with a number of problems before he died at age 91 in 1998.
NATION-WORLD
-- U.S. officials are offering a $1.5-million reward to solve the 2001 slaying of federal prosecutor and gun control activist Thomas C. Wales.
-- Right-wing politicians in Italy are vowing to eject immigrants as election campaigning heats up.
-- Mexican environmental inspectors say they found about 7½ acres of illegal avocado plantations in the monarch butterfly's wintering grounds west of Mexico City.
-- An amateur astronomer testing a new camera happened to catch a supernova as it was being born.
BUSINESS
-- The parent company of the Applebee's and IHOP chains wants to turn around the company by emphasizing technology and takeout orders.
-- Ford Motor Co.'s head of North American operations is leaving the automaker immediately after an investigation into reports of "inappropriate behavior."
SPORTS
-- De'Anthony Melton says he'll withdraw from USC and focus on playing professional basketball. Though he hasn't been publicly accused of any wrongdoing, he has not played this season because a close family friend was linked to the college basketball bribery scandal.
-- The Clippers are returning from the NBA All-Star break with a playoff spot in their sights.
OPINION
-- "An armed society is a polite society" and other quotes from America's 2nd Amendment warriors, illustrated.
-- The California Senate's opaque sexual harassment rules make cleaning up Sacramento more difficult.
WHAT OUR EDITORS ARE READING
-- Newsweek examines its own ties to a Christian university, and the story behind the story is dramatic. (Newsweek)
-- More than a dozen current and former employees say the NBA's Dallas Mavericks organization is a hostile work environment and that it's an "open secret." (Sports Illustrated)
-- A 62-part propaganda film has long introduced North Koreans to life in Canada, or at least a version of it. (CBC)
ONLY IN L.A.
Herb Alpert is known for making jazz with his band, the Tijuana Brass, but his latest show is in bronze. The trumpeter was inspired by totem poles he saw in Vancouver to create sculptures that average 17 feet tall. "I started riffing on the idea," Alpert said at his Malibu home, "and began making what I would call improv jazz poles."
If you like this newsletter, please share it with friends. Comments or ideas? Email us at headlines@latimes.com.
---