Newsletter: Today: McMaster and Commander in Chief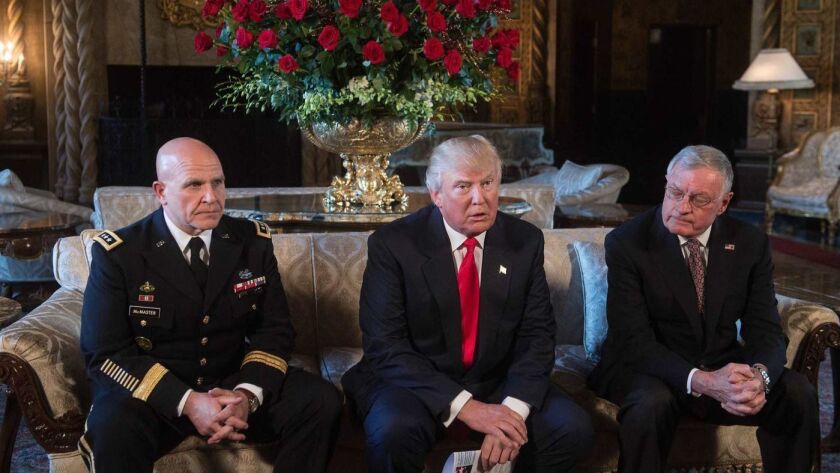 Uncertainty reigns in the White House.
TOP STORIES
McMaster and Commander in Chief
After firing his secretary of State this week, President Trump is preparing another White House shake-up, this time moving toward replacing national security advisor H.R. McMaster. The timing remains unclear, and two White House officials said Trump might want to keep McMaster until after a meeting with North Korean leader Kim Jong Un. The three-star Army general is seen as a calming force, but he's also been said to have bored and irritated Trump by meticulously laying out the pros and cons on major policy questions. On Twitter, Press Secretary Sarah Huckabee Sanders said the two have a "good working relationship" but conspicuously didn't rule out the possibility that change could come soon.
A Bigger Iran Hawk Than Trump
When Trump picked Mike Pompeo to be his next secretary of State, the president said, "We're always on the same wavelength." The Iran nuclear deal would appear to be a prime example. Both detest the 2015 accord to block the Islamic Republic from building nuclear weapons, and Pompeo's rise probably means the U.S. will back out of it over the objections of allies. Some diplomats say an exit would make North Korea even less likely to negotiate a nuclear deal with Trump.
Three Things About Russia, Russia, Russia
First: The Trump administration announced sanctions against 19 Russian individuals and five organizations for meddling in the 2016 election and for cyberattacks still targeting the U.S. electrical grid and water systems. Yet on Thursday, Trump was mum on the issue. Second: Special counsel Robert S. Mueller III has reportedly issued a subpoena to the Trump Organization in recent weeks seeking an array of documents, including some related to Russia. Third: Former Trump campaign manager Paul Manafort asked a federal judge to dismiss some of the criminal charges he faces in the Russia inquiry, claiming prosecutorial overreach. Mueller's office: no comment.
Dust-Up in the Desert
To the untrained eye, the vast California desert outside Indio doesn't look like a battlefield, but among conservationists, energy companies and motor sports enthusiasts it is. Until last year, all parties had reached something of a truce. Not anymore. An order by Trump to revisit how the land is used has been like poking a hornet's nest with a stick.
Bullet Train on the Slow Track
Rising costs, to nearly $80 billion. An opening pushed back five years, to 2029. The California bullet train project has had some rough going this month. The latest: As part of a cost-savings measure, a 30-mile stretch in Northern California would no longer have dedicated high-speed tracks, adding several minutes to a trip that has been promised to link San Francisco and L.A. in less than three hours.
The Most Awful Kind of Grief
"We lost our oldest son to a car accident early March 4," writes columnist Chris Erskine in a tribute to his son Christopher that revisits some of their most beautiful memories together. "There are no words when your son won't ever come home again, grumble about the Lakers, tease his poor mom."
FLASHBACK FRIDAY
This week in 1925, the major league Chicago Cubs played a series of exhibition games against the minor league Los Angeles Angels, both of which were owned by William Wrigley Jr. The games were played at Washington Park, a ballpark that once stood at the corner of Hill Street and Washington Boulevard. Soon, Wrigley would build the appropriately named Wrigley Field at 42nd Street and Avalon Boulevard, and the Angels would move there.
MUST-WATCH VIDEO
-- Surveillance video released by Florida authorities appears to show a Broward County deputy waiting outside Marjory Stoneman Douglas High School for several minutes, speaking on his radio, as a mass shooting unfolded.
-- George Lucas explains why he is building the Lucas Museum of Narrative Art.
CALIFORNIA
-- Los Angeles has been barred from enforcing nearly all its remaining gang injunctions, the latest blow to one of the city's oldest and most controversial law enforcement initiatives.
-- A group of lawmakers has proposed reducing state taxes for three years on growing and selling cannabis to allow licensed sellers to get on their feet and compete with the black market.
-- Senate leader Kevin de León has appointed a lawyer in the U.S. illegally to a statewide post.
-- Southern California's soggy week will continue today with another rainstorm that is expected to stretch into the weekend.
YOUR WEEKEND
-- It's garden tour season: Dozens of gorgeous Southern California landscapes are on display.
-- Twenty-six beer-infused recipes to celebrate St. Patrick's Day.
-- For Nowruz, the Persian New Year, a Westwood bookstore owner is creating artwork from poetry.
-- Plan ahead: a shaded hike in La Cañada Flintridge that's perfect on a hot, sunny L.A. day.
HOLLYWOOD AND THE ARTS
-- Alicia Vikander makes a persuasive Lara Croft in the new and somewhat improved "Tomb Raider," writes film critic Justin Chang.
-- An "American Idol" contestant clarifies that Katy Perry didn't sexually harass him when she gave him his first kiss on air.
-- The L.A. Times Festival of Books, coming in April, will feature Diana Gabaldon, Junot Diaz, Patton Oswalt, Joyce Carol Oates and hundreds more.
NATION-WORLD
-- In a first, the FDA is proposing its intention to reduce the amount of nicotine in cigarettes. Commissioner Scott Gottlieb described "one possible policy scenario" that would set a limit that's about 97% lower than the nicotine levels in typical cigarettes.
-- Just days after it was installed, a pedestrian bridge across a busy highway collapsed near Florida International University in Miami, crushing eight vehicles under massive slabs and killing at least four people, authorities say.
-- A French judge has issued an arrest warrant for a Saudi princess accused of ordering her bodyguard to beat up a workman who had taken photographs of her Paris home.
-- Taiwan is no stranger to panic-buying. This time, it's toilet paper.
BUSINESS
-- Toymakers big and small are bracing for severe disruption after bankrupt retailer Toys R Us confirmed that it plans to liquidate its U.S. business.
-- The death of a French bulldog on a United Airlines flight this week has prompted a policy change by the carrier and motivated two U.S. senators to propose legislation protecting pets traveling by air.
-- GPS guidance can be attacked, so researchers are scrambling to find backup technologies.
SPORTS
-- Former Cal State Fullerton basketball player Tom Corvin remembers the time 40 years ago that "Cal State Who?" surprised everyone, just as Fullerton gets set to take on Purdue in the NCAA men's basketball tournament.
-- Augie Garrido, who built Cal State Fullerton into a college baseball power, has died at age 79.
OPINION
-- California's battle with Weedmaps shows the growing pains of pot legalization.
-- A forgotten hero stopped the My Lai massacre 50 years ago today.
WHAT OUR EDITORS ARE READING
-- Emails reveal conservatives' alarm over "Obama holdovers" in the Trump administration, including one career diplomat who joined the civil service during George W. Bush's second term and was the target of misleading information. (Politico)
-- "Reddit and the struggle to detoxify the internet." (The New Yorker)
-- A clue to spotting depression? According to a study, it may be the words people use. (The Conversation)
ONLY IN L.A.
Supermodel Fabio loves to drive supercars. His choice? "Lamborghini outperforms Ferrari, every time," he said, while piloting a Huracan through a canyon in Malibu. But as Times reporter Charles Fleming found out, riding in the passenger seat and taking notes on Fabio's recipe for enjoying life can be a dizzying experience.
If you like this newsletter, please share it with friends. Comments or ideas? Email us at headlines@latimes.com.
---