Newsletter: Today: A 'He Said, Xi Said' Trade Deal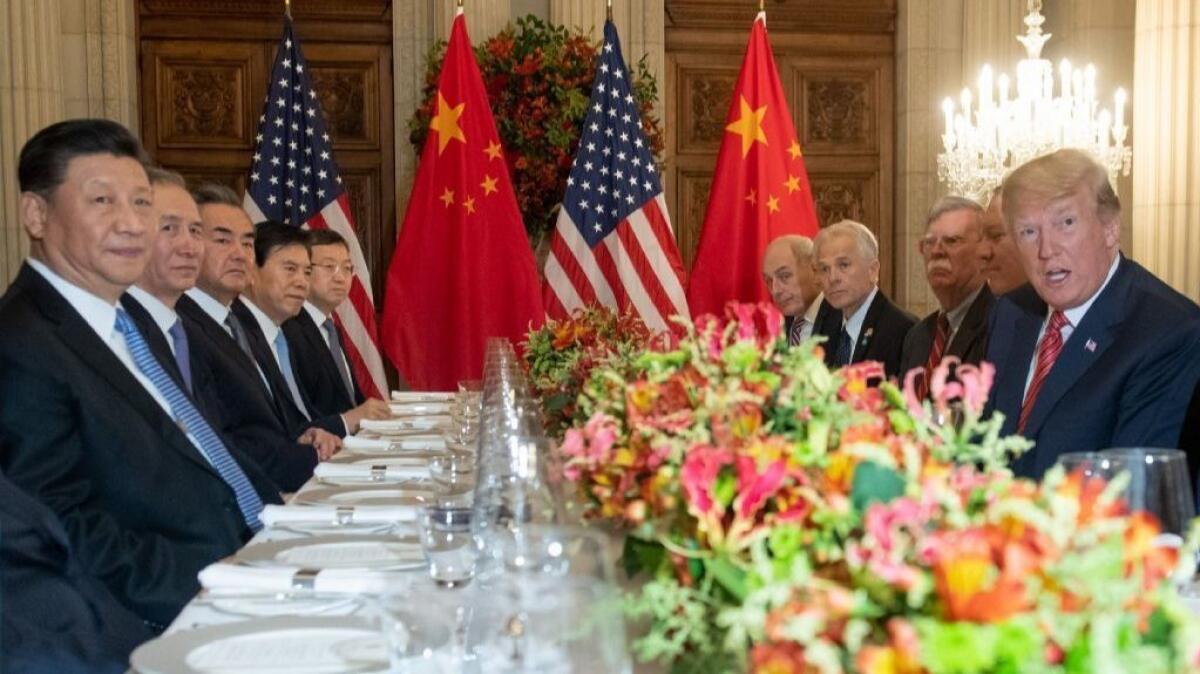 An ambiguous agreement between President Trump and China's Xi Jinping represents a truce — before negotiators try to tackle the difficult underlying issues.
TOP STORIES
A 'He Said, Xi Said' Trade Deal
President Trump and his Chinese counterpart, Xi Jinping, have agreed to a tenuous cease-fire in the trade war, but the terms of their handshake deal are not exactly clear. Officials in Washington and Beijing gave sharply different takes on what Trump and Xi had agreed to during their two-hour steak dinner in Buenos Aires, and there was no joint statement afterward in English and Chinese. Trump called the meeting "amazing and productive," but the upshot is that negotiators will have their work cut out for them as they try to resolve deep-seated disputes.
More Politics
-- In Argentina, Trump and the leaders of Mexico and Canada signed the USMCA, a new trade pact to revise the North American Free Trade Agreement, but much uncertainty surrounding it remains.
-- Trump's closest former aides and associates have been following a familiar playbook in the wide-ranging investigation led by special counsel Robert S. Mueller III: They've told brazen, audacious and criminal lies.
-- Former FBI Director James Comey will testify behind closed doors on Friday before the House Judiciary Committee at the request of GOP lawmakers, his lawyers said, after ending a legal fight to quash their subpoena. Comey had wanted to testify in public.
A Man Called Poppy
In Washington, D.C., elaborate preparations are underway for the state funeral this week of George H.W. Bush, the nation's 41st president, who died Friday at age 94 and left a complicated legacy. Bush's remains will be flown today from his home in Houston to Washington, and he will lie in state in the U.S. Capitol until Wednesday morning, with burial back in Texas on Thursday. Trump has declared Wednesday a national day of mourning, putting aside a long-running feud with the Bush family.
'Shell-Shocked' in Malibu
Malibu has seen more than its share of wildfires over the years, but the Woolsey fire, which killed three people and destroyed 1,500 structures in L.A. and Ventura counties, may prove to be the costliest. Though officials have not released a damage assessment, an analysis of aerial imagery and property records conducted by The Times and real estate website Zillow found that the fire destroyed at least 670 structures within Malibu's city limits, including more than 400 single-family homes, with an estimated market value of at least $1.6 billion. The emotional damage, though, cannot be calculated.
More About the Fires
-- A story of survival from the Camp fire: One hundred fifty people, trapped in a parking lot and surrounded by a propane yard, gas station and ammunition store.
-- The latest tally of people missing in the Camp fire has dropped to 24.
-- Rural school districts in the fire-ravaged towns of Paradise, Magalia and Concow have been scrambling to start classes today.
-- These dogs and cats survived the fire in Butte County. Will they ever reunite with their owners?
On Compassion and Criticism
When columnist Steve Lopez and photographer Francine Orr documented childhood poverty in a series last week, readers had a lot to say. Some wondered how they could help a poor Latina mother living in a northeast San Fernando Valley motel with four kids and no car. Others passed judgment or were curious how someone could get in such a fix. The answers aren't easy. As Lopez puts it: "Poverty is personal, complicated, defiant, irrational."
The Long Fight Over Looted Art
Nearly 80 years ago, a Nazi official forced a Jewish woman to surrender a painting by the Impressionist master Camille Pissarro in exchange for an exit visa out of Germany. For 25 years, the artwork has hung in a Spanish museum. And for close to two decades, the woman's descendants have been trying to get it back. Now, the battle over "Rue Saint-Honoré in the Afternoon. Effect of Rain" is heading to a Los Angeles courtroom.
Sign up to get Today's Headlines delivered to your inbox. »
OUR MUST-READS FROM THE WEEKEND
-- L.A. City Councilman Jose Huizar personally asked companies that do business at City Hall to donate to a private school where his wife was working as a professional fundraiser and also assigned his staff to help with the effort, according to interviews and documents reviewed by The Times.
-- Iowa attorney Matthew Whitaker had an audacious plan to land a plum federal job in 2017: appearing as a TV pundit. Now he's acting attorney general.
-- Herbs, incense and a wooden staff: Mexico's indigenous cultures took to the inaugural stage to purify the new president, Andres Manuel Lopez Obrador.
-- New York has been charmed by a stunning Mandarin duck that mysteriously ended up in Central Park.
-- Sports announcer Vic "the Brick" Jacobs is in pain from his battle with cancer, but as the voice of a city, he stays strong.
FROM THE ARCHIVES
On this date in 1964, the steps in front of UC Berkeley's Sproul Hall were jammed with protesters speaking out over free speech restrictions — and police moved in to arrest them. As The Times reported on the front page the next day, "New heights of rebellion, vocal warfare and chaos were reached on the embattled University of California campus here Thursday with the arrest and jailing of 801 sit-ins."
CALIFORNIA
-- L.A. could learn some lessons from the Anchorage earthquake, which was a big one but could have been much worse.
-- Charles Johnson, one of the owners of the San Francisco Giants, backed Mississippi Sen. Cindy Hyde-Smith. To some fans, that's more than an error.
-- Al Lowe, a Pasadena businessman who helped implement a court order to integrate that city's schools in the 1970s, has died at 92.
-- "Latino" is out and "Latinx" is in at UC San Diego, in a nod to evolving gender and sexuality terms.
HOLLYWOOD AND THE ARTS
-- "Say Her Name: The Life and Death of Sandra Bland," a new HBO documentary, retraces how a woman pulled over for failing to signal a lane change ended up dead in a jail cell.
-- Japanese anime director Mamoru Hosoda's latest film, "Mirai," aims to show children not as heroes, but how they are in everyday life.
-- Actor Ken Berry, who died Saturday at age 85, may be best known for "F Troop," but he brought effortlessness to a variety of roles on TV.
-- Ellen Reid is the first composer to have been commissioned by L.A.'s four major classical music institutions. Her first opera, called "prism," is stunning.
NATION-WORLD
-- Residents in central Illinois are assessing damage after rare December tornadoes, including one that was half a mile wide.
-- Three years after the Paris accord, global climate talks have begun in Poland amid a disconnect between science and politics.
-- French President Emmanuel Macron asked for an evaluation of protest security measures after a Paris demonstration against taxes left 133 people injured, including 23 police officers.
-- Israeli police have recommended Prime Minister Benjamin Netanyahu be indicted on bribery and fraud charges. He has denied the accusations.
-- Despite a #MeToo wave in India, laws have done little to curb workplace harassment and abuse for women in low-paying jobs.
BUSINESS
-- Microsoft Corp.'s president, Brad Smith, is throwing his company's support behind the Pentagon, saying it will "provide the U.S. military with access to the best technology … all the technology we create."
-- Rebuilding crumbling infrastructure has bipartisan support and would give a boost to business. But who gets to pay for it?
SPORTS
-- The Chargers proved they belong among the NFL's top teams by overcoming a 16-point deficit in their 33-30 victory over the Pittsburgh Steelers.
-- It wasn't much in doubt, but the Rams have clinched the NFC West title with a 30-16 victory over the Detroit Lions.
OPINION
-- The L.A. Unified School District should look for ways to house homeless families, even if it's complicated.
-- Trump's rogues are all well-educated family men. What made them do moronic, dangerous and treacherous things?
WHAT OUR EDITORS ARE READING
-- A shocking story of police and lethal force that's not one you might expect. (ProPublica)
-- The search for sacred texts is filled with scientists, collectors and schemers. (National Geographic)
-- How did restaurants get so loud? (The Atlantic)
ONLY IN CALIFORNIA
Scenario: A Tesla Model 3 is traveling 70 mph down a highway with an unresponsive driver. You're in the California Highway Patrol. What do you do? In one recent incident on Highway 101 in Redwood City, the officers deduced the car was in Autopilot mode. While one CHP unit blocked traffic from behind, another got in front of the Tesla and braked, forcing the car to a gradual stop. Final score: Humans, 1. Robot overlords, 0.
If you like this newsletter, please share it with friends. Comments or ideas? Email us at headlines@latimes.com.
Sign up for Essential California for news, features and recommendations from the L.A. Times and beyond in your inbox six days a week.
You may occasionally receive promotional content from the Los Angeles Times.