Newsletter: Today: How Russia Tried to Suppress Black Voters
A Senate report says Russians focused intensely on African Americans as they sought to deliver a victory for Trump.
TOP STORIES
How Russia Tried to Suppress Black Voters
Russian agents have worked for decades to fan the flames of racial discord in America. Before the 2016 election, they found a particularly potent medium to do so in their efforts to help Donald Trump become president: Facebook and Instagram. More than 30 million users on those platforms shared propaganda messages generated as part of a campaign by Russia's Internet Research Agency to polarize and misinform voters, according to reports by the Senate Intelligence Committee. Among the messages: calling on African Americans to boycott the election or to vote for Jill Stein, attacking Hillary Clinton as a fraud and accusing the mainstream media of lies.
More Politics
-- Months after President Trump took office, Russia's disinformation teams trained their sights on a new target: special counsel Robert S. Mueller III. The Russian operatives unloaded on Mueller through fake accounts on Facebook, Twitter and beyond, falsely claiming that the former FBI director is corrupt.
-- Former FBI Director James Comey accused Trump of trying to "burn down the entire FBI" and charged that congressional Republicans were willing accomplices for failing to challenge the president.
-- Michael Flynn, who briefly served as Trump's first national security advisor, faces sentencing today for lying to the FBI about his conversations with a Russian diplomat during the presidential transition about sanctions on Moscow.
This Time, Jared Apparently Handled It
Republicans and Democrats have been working together (!) on a long-sought overhaul of the criminal justice system, which is expected to be approved by Congress this week and signed into law by Trump. How did the "tough on crime" types in the GOP get on board? Much of the credit is going to Jared Kushner. The president's son-in-law has come under criticism for a wide range of issues, including his friendship with Saudi Arabia's crown prince, handling of the Mideast peace process and potential conflicts of interest, but on this issue, he's won high marks.
Building That Wall in Their Backyards?
Trump has threatened a partial shutdown of the federal government if Congress doesn't allocate $5 billion for his border wall by Friday. In Roma, a Texas town where our journalists rented a house half a block from the Rio Grande, the wall debate is deeply personal. People live right next to the border, with migrants darting through their backyards. Some are in favor of the wall, some against, but everyone wants to know exactly where it would be built. So far, answers have been slow in coming.
Bored With Anticipation
Fifteen hundred miles west of Roma, in the humble city of Hawthorne, residents are also wondering what's going on in — or rather, practically underneath — their backyards. Today, they should get a better look, as Elon Musk's Boring Co. plans to unveil its first tunnel. In addition to generating publicity, the mile-long stretch will be used for research and development of what Musk envisions as a network of high-speed tunnels whisking cars across Southern California on "skates."
CBS Pulls the Plug on Moonves' Money
Just a few months ago, Leslie Moonves was one of the most powerful executives in Hollywood as the chief executive of CBS. Now, after having been forced to resign over sexual misconduct allegations, he's being stripped of his $120-million severance. The CBS board says it had grounds to fire Moonves for cause after he committed "willful and material misfeasance" and failed to cooperate fully with the company's investigation. Moonves, who has denied wrongdoing, is expected to fight the findings.
Sign up to get Today's Headlines delivered to your inbox. »
FROM THE ARCHIVES
On this date in 1976, authorities were surveying the damage from the explosion of the oil tanker Sansinena, which had blown up the night before in Los Angeles Harbor. The blast killed six crewmen, injured more than 50 others, shattered glass throughout San Pedro and was felt as far away as Dana Point, 45 miles to the south.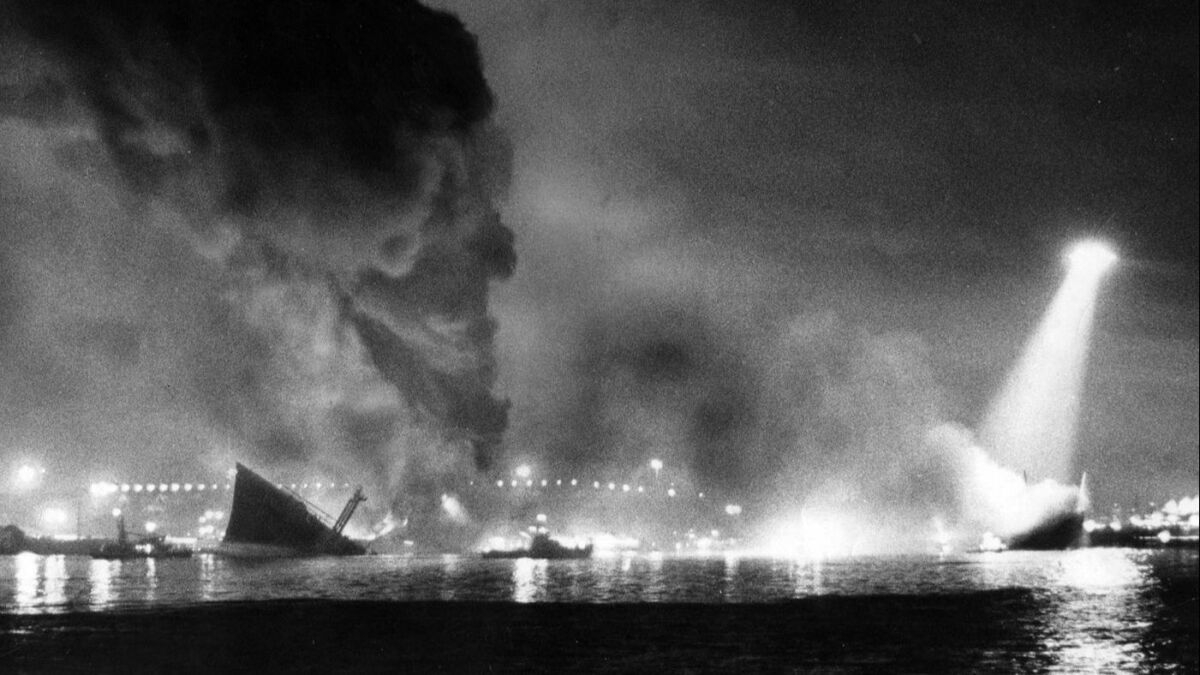 CALIFORNIA
-- In Paradise, police are investigating after a cleanup company employee posted offensive photos from the aftermath of the Camp fire.
-- The mother of a 2-year-old boy on life support in an Oakland hospital may not receive a travel ban waiver in time to say goodbye to her son, the Council on American-Islamic Relations says. She is a Yemeni national living in Egypt.
-- L.A. school district officials have backed off plans to immediately paint over a mural of Ava Gardner at a Koreatown campus amid a growing outcry.
-- At the Emerald Cup, an annual celebration of marijuana, the good times are not rolling for many of Northern California's cannabis farmers.
HOLLYWOOD AND THE ARTS
-- "Black Panther," "A Star Is Born" and "Roma" were included on Oscar nominations shortlists in nine categories, including foreign-language film, song and documentary.
-- To Constance Wu, the film "Crazy Rich Asians" is more than a pop culture hit, it's a movement.
-- Donald Glover is retiring his musical alter ego, Childish Gambino. For the farewell tour, he hit the Forum for not just a concert but "church," as he called it.
-- This year, female artists finally outnumbered men in solo shows at L.A. museums.
NATION-WORLD
-- A federal judge has ruled a 1974 New York state ban on nunchucks is unconstitutional under the 2nd Amendment.
-- British Prime Minister Theresa May says the postponed vote in Parliament on the Brexit agreement with the European Union will be held the week of Jan. 14. That's only 10 weeks before Britain leaves the EU.
-- In Germany, Annegret Kramp-Karrenbauer is succeeding Angela Merkel as head of the Christian Democratic Union. The selection of another woman has upset some of the political party's "grumpy old men."
-- In its "fake news" crackdown over the last year, Egypt has jailed more journalists than any other country in the world.
BUSINESS
-- A judge has determined that media mogul Sumner Redstone is incapacitated and needs a guardian ad litem to protect his interests in a legal case.
-- Steven Spielberg's Amblin Partners is making a bigger bet on TV.
-- Another day of big losses Monday knocked U.S. stocks to their lowest levels in more than a year.
SPORTS
-- Chargers receiver Mike Williams is finally healthy, and he is beginning to emerge into the player the team pictured when it drafted him.
-- How some Lakers, including LeBron James, are using meditation to elevate their game.
OPINION
-- Seven-year-old Jakelin Caal Maquin died at the border. What happened to her is not an aberration.
-- There's no shortage of real outrages these days. L.A. Unified doesn't need to overreact to a perceived one.
WHAT OUR EDITORS ARE READING
-- In China's internment camps for Muslims, men and women are sewing sportswear that can end up on U.S. college campuses and sports teams. (Associated Press)
-- Several advertisers have dropped Tucker Carlson's Fox News show after he suggested that immigrants are making the United States "dirtier." (Daily Beast)
-- What happens to mismanaged plastic waste? A powerful interactive shows its journey around the globe. (National Geographic)
ONLY IN CALIFORNIA
UC Berkeley is mourning the demise of one of the food delivery robots that have been rolling around the campus and surrounding areas for nearly two years. On Friday, a battery inside a Kiwibot spontaneously combusted, resulting in quite the show during finals week. On Facebook, students hailed it as a "hero" and a "legend."
If you like this newsletter, please share it with friends. Comments or ideas? Email us at headlines@latimes.com.
Must-read stories from the L.A. Times
Get the day's top news with our Today's Headlines newsletter, sent every weekday morning.
You may occasionally receive promotional content from the Los Angeles Times.