Newsletter: Today: The Toxic Defender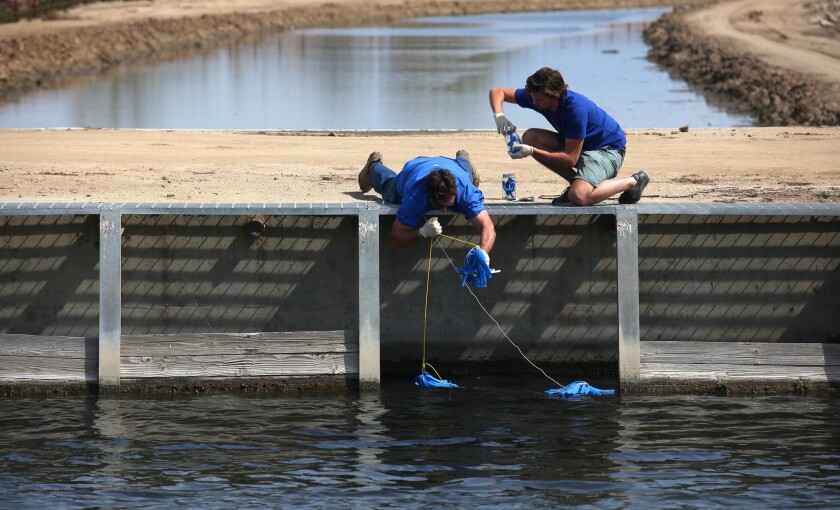 A scientist's disputed theory that low doses of toxic chemicals are good for people could become U.S. policy.
TOP STORIES
The Toxic Defender
Are low levels of pollution and radiation good for you? For decades, Massachusetts toxicologist Ed Calabrese has agitated for a public health standard suggesting that that is the case. He was shunned by mainstream scientists and government regulatory agencies. Then Donald Trump was elected president. Before long, Calabrese's suggestions on how the Environmental Protection Agency should assess toxic chemicals and radiation were introduced, nearly word for word, in the U.S. government's official journal for comment. It's a view that various industries have advocated for a long time, but if it becomes EPA policy, many experts worry it could have a profound effect on public and environmental health.
Would-Be Presidents Day Weekend
The hopefuls for the White House in 2020 were out in force on Presidents Day weekend. Though the first primary, in New Hampshire, is still a year away, seven Democratic candidates and one Republican showed up in the tiny New England state over four days to meet and greet voters. Three thousand miles away, Sen. Elizabeth Warren brought her message of "big structural change" to California, where she told an audience in Glendale her proposal for universal child care. Meanwhile, with a dizzying number of Democrats already on the campaign trail and perhaps more on the way, an intriguing contest has developed: Who is the clearest heir to former President Barack Obama's political legacy?
More Politics
-- On Tuesday, Vermont Sen. Bernie Sanders announced he's running for president.
-- California and 15 other states have filed a lawsuit against the Trump administration, decrying the declaration of a national emergency along the U.S.-Mexico border as unnecessary and unconstitutional.
-- Trump has received the findings of a inquiry into whether imported vehicles pose a national security threat. The European Union has threatened retaliation for any tariffs the Trump administration might impose.
-- Trump, speaking in vote-rich south Florida, called on Venezuelan President Nicolas Maduro's supporters to abandon him or face ruin and denounced what he termed socialism at home and abroad.
-- Days after a federal judge imposed a limited gag order on him, Trump confidant Roger Stone posted a photo of that judge to his Instagram page and included her name, a close-up of her face and what appeared to be the crosshairs of a gun sight near her head. A court filing later said Stone meant no disrespect.
The 'Other Big One'
After years of drought, California has received a lot of precipitation in the first two months of 2019. But that doesn't compare at all to the amount of water that could be dumped during a mega-storm similar to one that hit in 1861 and 1862. The U.S. Geological Survey has found that such a storm could force more than 1.5 million people to flee as floodwaters inundate cities and form lakes in the Central Valley and Mojave Desert, while the U.S. Army Corps of Engineers says runoff from the San Gabriel Mountains could overwhelm the Whittier Narrows Dam and unleash flooding from Pico Rivera to Long Beach. The damage could be much worse than from a major earthquake along the San Andreas Fault.
How Do You Like Them Apples?
James Riley had a pretty good deal going. For years, school districts sent students to Riley's Farm in the San Bernardino Mountains for apples and reenactments of the Colonial period. Then, in September, someone uncovered his tweets. Among them: "White supremacy?" he wrote on Feb. 18 last year. "If there's a problem in America today, it's BLACK supremacy. Farrakhan, Obama, LeBron James, etc." Now he's suing the Claremont Unified School District after it decided to no longer send students his way.
Sign up to get Today's Headlines delivered to your inbox. »
OUR MUST-READS FROM THE WEEKEND
-- Los Angeles has great weather, yet more homeless die of causes that include or were complicated by the cold here than in New York.
-- California Assembly Bill 626, a new law decriminalizing the sale of home-cooked food, is supposed to protect immigrant home cooks. It may help tech giants instead, as columnist Frank Shyong explains.
-- With each generation, the people of Taiwan feel more Taiwanese and less Chinese.
-- After the NBA changed its sneaker rules, players are taking high fashion to the court.
CALIFORNIA
-- The black market for pot is stifling legal sales. Now Gov. Gavin Newsom wants to step up enforcement.
-- Mitchell Englander promoted a charity while he was a Los Angeles city councilman. Should he have disclosed the donors?
-- Under pressure, the Los Angeles Unified School District has released confidential contracts for outside reform consultants.
-- You think the rats at L.A. City Hall are bad? Officials have a $1.9-million plan to rid state marshlands of giant rodents called nutria, which could cause significant damage to the wetlands and water infrastructure.
HOLLYWOOD AND THE ARTS
-- The Oscars will be handed out Sunday. In our countdown to the big night, columnist Mary McNamara makes the case that the awards are more important even as the TV ratings tank, while TV critic Lorraine Ali says the Academy Awards should not go without a host and that Alicia Keys showed why at the Grammys.
-- Chinese dissident artist Ai Weiwei's contribution to the film anthology "Berlin, I Love You" was cut from the final version released in the U.S. Ai and two producers say it's because his participation was seen as a liability for securing funding and access to China.
-- "Proven Innocent," which premieres Friday on Fox, focuses on a Chicago attorney and her law firm solely dedicated to the issue of wrongful convictions.
--Photos: The art lovers at the inaugural Frieze Los Angeles fair over the weekend proved to be as colorful as canvases on the walls.
NATION-WORLD
-- North Carolina election officials say a political operative for Republican Mark Harris orchestrated a complex scheme to illegally collect and falsify absentee ballots in last year's midterm election, hiding evidence of the plot as it unfolded and obstructing the state's investigation afterward.
-- Not normal: It snowed in Las Vegas over the weekend and probably will again on Thursday.
-- A summit on Jerusalem has collapsed after Israeli Prime Minister Benjamin Netanyahu and his acting foreign minister made comments about Holocaust history that enraged Poland.
-- The Philippines' cyber-libel law, used against journalist Maria Ressa, carries far more serious penalties than ordinary libel and provides President Rodrigo Duterte a powerful tool to go after perceived enemies.
BUSINESS
-- Amazon Studios head Jennifer Salke is trying to turn the e-commerce giant into a formidable force in the movie business after years of struggles.
-- Google has expanded its geographic footprint over the last decade, building more than 15 data centers on three continents and 70 offices worldwide. It's secretly reaped huge tax breaks along the way.
SPORTS
-- Is Lakers star LeBron James still the king of the NBA?
-- The Dodgers' Clayton Kershaw has a plan for dealing with the prospect of a 20-second pitch clock during spring training games and possibly during the regular season: Ignore it.
OPINION
-- Cleaning up L.A. City Hall (and we're not talking about rats and typhus here) requires turning off the spigot of cash from developers.
-- Set against the backdrop of L.A.'s housing crisis, tidying up like Marie Kondo is a bleak privilege.
WHAT OUR EDITORS ARE READING
-- Former Trump officials are supposed to avoid lobbying for five years. Guess what? At least 33 have not. (ProPublica)
-- It was a joke: The last words of NASA's Opportunity rover on Mars were not "My battery is low and it's getting dark." (Newsweek)
-- Should you embrace the "joy of no" if you feel burned out and overwhelmed? (The Guardian)
ONLY IN L.A.
Ken Concepcion spent two decades as a cook and was chef de cuisine at Wolfgang Puck's Beverly Hills steakhouse Cut before he hung up his monogrammed jacket in 2016. The next year, he and his wife, Michelle Mungcal, opened Now Serving — the only cookbook shop in Los Angeles. In addition to new titles, the couple get vintage books at estate sales and flea markets, from Craigslist, and from people wanting to unload their collections. Says Mungcal: "One time we got them from a very scary farm."
If you like this newsletter, please share it with friends. Comments or ideas? Email us at headlines@latimes.com.
---