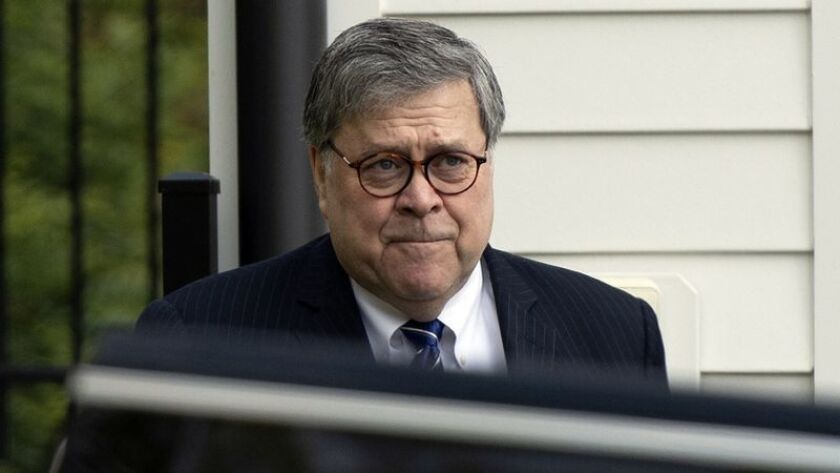 The stage is set for a redacted version of the Mueller report to come out today.
TOP STORIES
Ready for Redactions and Reactions
The Justice Department plans to release a redacted version of special counsel Robert S. Mueller III's confidential report today, a step that will shed new light on the hotly contested Russia investigation — and could be one of the pivotal moments of Donald Trump's presidency. But before the report is released, Atty. Gen. William Barr is scheduled to hold a news conference at 6:30 a.m. Pacific time, along with Deputy Atty. Gen. Rod Rosenstein. More than an hour after that, the Justice Department plans to send copies of the report to Capitol Hill. The timing has sparked criticism from House Democrats who fear Barr is trying to put his own spin on the investigation before the report is public. Meanwhile, Trump's legal team is also preparing to release its own counter-report, and Trump said he may hold a news conference himself. Check latimes.com for the latest developments.
More Politics
-- In its first public display of military might since nuclear talks with the United States collapsed in February, North Korea has test-fired a new "tactical guided weapon," state media reported.
-- The Trump administration has intensified its campaign to oust the governments of Cuba, Venezuela and Nicaragua, slapping a fresh set of economic sanctions on the three leftist-ruled countries.
-- Joe Biden's handling of Anita Hill's harassment allegations in 1991 is clouding his presidential prospects.
All Churches Great and Small
After flames damaged Notre Dame and millions of dollars were pledged to rebuild it, calls rang out to support fundraising for three black churches destroyed by fire in Louisiana that authorities say were deliberately set ablaze. The good news: In just a few days, pledges on a crowdfunding site for the three humble churches have gone from just under $50,000 to nearly $1.8 million.
Newsom's Rx
Gov. Gavin Newsom wants to rein in prescription drug costs through a statewide purchasing system that pools the power of California's largest public and private buyers. Now he has a new ally: Los Angeles County. His administration and county officials plan to sit at the same bargaining table when negotiating prescription drug prices with manufacturers, according to a tentative deal announced Wednesday, Newsom's 100th day in office. So what are the details? So far, Newsom's administration hasn't released any — but in a meeting with The Times' Editorial Board, he disputed that his plan was short on specifics.
A Place of Healing
In the city of Agra, India, home to the Taj Mahal, a cafe called Sheroes' Hangout is run by women who have survived acid attacks. It's where they not only earn money and find acceptance but also comfortably discuss the scariest moments of their lives. Times reporter Soumya Karlamangla found that visitors from around the world come "to admire the strength and beauty of these women, who were confronted with the worst parts of humanity yet still remain standing."
Sign up to get Today's Headlines delivered to your inbox. »
FROM THE ARCHIVES
On this date in 1946, The Times reported on Western Air Lines celebrating its 20th birthday on April 17 as the oldest air carrier in the nation. The company gathered several aircraft at Lockheed Air Terminal, which is now Hollywood Burbank Airport, and held a cake-cutting ceremony. Years later, the airline ran ads with a slogan calling it "the oooooonly way to fly." But in 1987, it merged with Delta Air Lines.
CALIFORNIA
-- Of the 33 parents charged in the college admissions scandal, Bruce and Davina Isackson are the only ones to have signed cooperation deals with prosecutors. Meanwhile, for actress Lori Loughlin, "parenting on steroids" could be a defense.
-- Los Angeles Mayor Eric Garcetti used his annual State of the City address to make an extended sales pitch for Measure EE, a new tax to benefit public schools that faces sharp opposition from business groups.
-- The city of L.A. is suing an unlicensed South L.A. cannabis dispensary, alleging that it was selling products sprayed with a dangerous pesticide.
-- The Laguna Beach City Council has voted to keep an American flag design on city police cars.
HOLLYWOOD AND THE ARTS
-- The Writers Guild of America says it is suing the four main Hollywood talent agencies over a practice the union says is harmful to the interests of its members.
-- In the Netflix documentary "Homecoming," Beyoncé lifts the veil on the grueling planning and rehearsals that went into mounting her ambitious Coachella performance last year.
-- At this year's music and arts festival in Indio, dance has been integral to the experience.
-- "Night of 100 Solos: A Centennial Event" celebrated the work of the late choreographer Merce Cunningham. "I cannot find a metaphor for what it is like to witness what this was," writes critic Mark Swed.
NATION-WORLD
-- Police in Colorado say a young woman — described as armed, obsessed with the Columbine shootings and a threat to the Denver area — is dead.
-- Authorities in Peru say former President Alan Garcia has died after shooting himself as police waited to arrest him over corruption allegations.
-- Scientists have restored some activity within the brains of pigs that had been slaughtered hours before, raising hopes for some medical advances and questions about the definition of death.
-- Belief in the supernatural runs deep in Thailand, where spirit houses — miniature shrines, resembling elaborate dollhouses — are built to shelter and feed friendly spirits.
BUSINESS
-- In the largest wage-theft case ever brought by the state of California against a car wash company, Beverly Hills auto dealership mogul Hooman Nissani has been ordered to pay $2.4 million in back pay and penalties.
-- Pinterest is going public today. Its message to investors: Don't compare us to social media or a search engine.
SPORTS
-- The Clippers' NBA playoff series with the Golden State Warriors is tied, but the team knows playing better in tonight's Game 3 is critical.
-- The Dodgers have hit home runs in their last 32 home games, tying a major league record set by the Colorado Rockies in 1999.
OPINION
-- Barr's order to detain thousands more asylum seekers is inhumane.
-- Jim Newton, a former editorial page editor of The Times, says L.A. County supervisors need to get creative to rein in Sheriff Alex Villanueva.
WHAT OUR EDITORS ARE READING
-- The international president of the Assn. of Flight Attendants writes that climate change is the real job killer, not the Green New Deal. (Vox)
-- "The smart gun doesn't exist for the dumbest reasons." (Bloomberg)
ONLY IN L.A.
There aren't many places where, in the space of a few blocks, "you can demolish your demons, discover incredible fried chicken, browse a one-of-a-kind bohemian bookstore, prowl clothing's version of Bourbon Street, and end up at a trendy rooftop bar." But Chris Erskine has found that place in downtown L.A., starting with Rage Ground, a warehouse where you pay to take out your aggression on a computer (or any other object you'd like) with a pipe or an ax.
If you like this newsletter, please share it with friends. Comments or ideas? Email us at headlines@latimes.com.
---