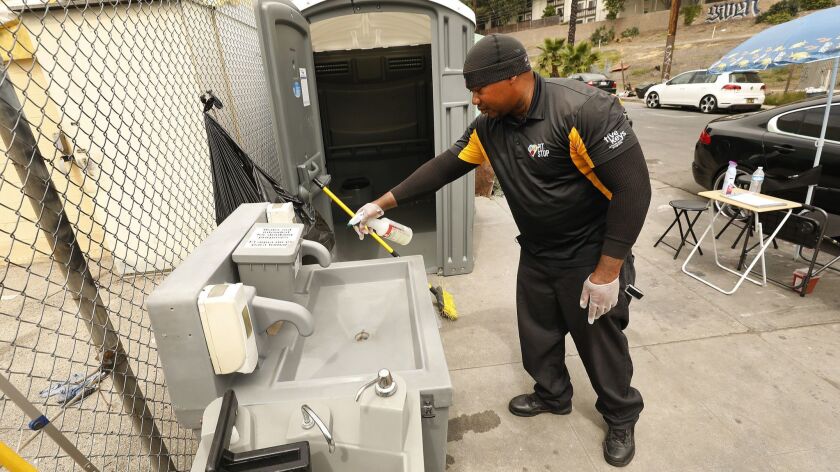 Providing toilets and showers for L.A.'s homeless population has politicians debating the cost of such an effort and advocates talking about the benefits.
TOP STORIES
$300,000 Restrooms for the Homeless
More public restrooms seems like an obvious fix to the squalor and stench as homelessness surges on Los Angeles streets. But L.A. has estimated that staffing and operating each mobile bathroom can cost more than $300,000 annually — a price tag that has galled some politicians. During budget talks this spring, city officials estimated that providing toilets and showers for every homeless encampment in need would cost more than $57 million a year. But many advocates argue that the costs of staffing bathrooms are worth it.
Campaigning at Top Speed
On a stage in Iowa on Sunday, 19 Democratic candidates got five minutes each to pitch to early voters. "It's been a pleasure speed-dating tonight," Rep. Tim Ryan of Ohio joked about the parade of politicians, which didn't include front-runner Joe Biden. The fundraiser for Iowa's Democratic Party was the largest gathering of the 2020 candidates to date, in the state that will kick off the nominating process next year.
More Politics
-- Homelessness is a crisis in California. Why are 2020 candidates mostly ignoring it?
-- Columnist Doyle McManus and his wife fled the country for a week to try to escape President Trump and the Democratic presidential race. They failed.
-- Watergate figure John Dean is testifying to Congress today — yet again — about possible presidential obstruction of justice.
Bullet Blow-out
California ammo buyers are making a run on gun shops ahead of a new voter-approved state law that on July 1 will require buyers of bullets to show identification and undergo a background check. "People are starting to stock up. We stocked up on ammunition," one gun-shop owner said. "Most people know about the deadline. They are running scared. They are pissed off."
Lights Out for Safety
With temperatures soaring and strong winds blowing through forests across Northern California over the weekend, rural areas in the Sierra Nevada foothills were plunged into darkness after Pacific Gas & Electric Co. shut off high-voltage transmission lines. It was the first formal deployment of new Public Safety and Power Shutoff rules for the state's three big power companies, aimed at stopping catastrophic wildfires.
Sign up to get Today's Headlines delivered to your inbox. »
OUR MUST-READS FROM THE WEEKEND
-- Welcome to Garcetti's L.A., columnist Steve Lopez writes: heaps of trash, hordes of rats and very little leadership.
-- These tortoise-killing ravens are so smart — and so good at procreating — scientists are using egg-oiling drones to stop them.
-- Online degrees made USC the world's biggest social work school. Then things went terribly wrong.
-- If you want to understand why the number of female directors, cinematographers, studio heads and screenwriters remains so maddeningly low, columnist Mary McNamara says, all you have to do is ask "Late Night" star Emma Thompson.
Your support helps us deliver the news that matters most. Subscribe to the Los Angeles Times.
FROM THE ARCHIVES
On this date in 1943, The Times published an article about Dolores Gunn, owner of an escort service who had had several run-ins with the L.A. Police Department's vice squad and showed up the day before at City Hall in her car to protest treatment by officials. Police say she exceeded parking time restrictions and wrote her a ticket. Gunn ran more than once for Los Angeles City Council and mayor in the 1940s.
CALIFORNIA
-- Thousands turn out for L.A. Pride in West Hollywood: "This is the direction we're headed, and there's no stopping it."
-- For Californians, the golden dream depends on where you live and how much you earn, columnist John Myers says.
-- The state's high-speed rail route took land from farmers. The money they're owed still hasn't arrived.
-- Six Flags Magic Mountain in Valencia was evacuated as about 100 firefighters battled a fast-moving brush fire nearby.
HOLLYWOOD AND THE ARTS
-- Ali Stroker of Broadway's edgy "Oklahoma!" revival made history with her wheelchair trip to the podium to collect her Tony Award. There were other big winners too.
-- "Dark Phoenix" hit theaters and promptly scored the lowest opening weekend gross in "X-Men" franchise history. Here's why a lone movie could never do a beloved comics story line justice.
NATION-WORLD
-- They were born in Colombia. Their parents fled Venezuela. They are citizens of nowhere.
-- Why a ban on Chinese telecommunications giant Huawei is being ignored by some of the oldest U.S. allies in Asia.
BUSINESS
-- Jeffrey Katzenberg and Meg Whitman say video venture Quibi is in a category of its own, bringing Silicon Valley and Hollywood together.
-- In Trump's trade war with China, the twin ports of Los Angeles and Long Beach are ground zero.
SPORTS
-- Max Muncy, the Dodgers' seemingly mild-mannered infielder, morphed into Mad Max for a lengthy and heated verbal exchange with San Francisco Giants ace Madison Bumgarner.
-- Santa Anita Park, where 29 horses have died since Dec. 26, has denied a request from a horse racing regulatory agency to close before the scheduled June 23 end of its meet.
-- What's next for the home run ball the Angels' Shohei Ohtani hit off of Mariners pitcher Yusei Kikuchi? (It's kind of perfect that both players hail from the same high school in Japan.)
OPINION
-- We should call immigrant detention centers what they really are: concentration camps.
-- A new strategy is saving endangered California sea turtles from deadly fishing nets.
ONLY IN L.A.
"The Brady Bunch" house is beyond famous, but because the series filmed on a sound stage, the inside never matched the outside. Now, with a little help from HGTV and the six remaining members of the cast, those retro rooms have been replicated within the actual home, turning the 1959 Studio City property into a groovy gallery of 1970s Americana.
If you like this newsletter, please share it with friends. Comments or ideas? Email us at headlines@latimes.com.
---