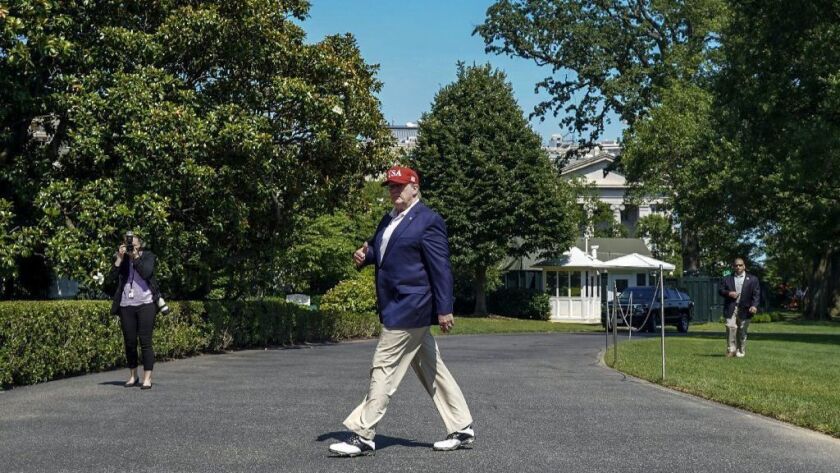 After coming to the brink of launching a retaliatory strike on Iran last week, President Trump says he's open to holding talks with Iranian leaders with no preconditions.
TOP STORIES
Trump Is Open to Iran Talks
President Trump, who says he made an eleventh-hour decision last week to call off a retaliatory military strike against Iran, declared in an interview on NBC's "Meet the Press" that he's not looking for war, but that "if there is, it'll be obliteration like you've never seen before." At the same time, Trump said he was open to talks with Tehran without preconditions in an effort to keep Iran from having nuclear weapons. "I think they want to make a deal. And my deal is nuclear," he said. To some, including columnist Doyle McManus, that sounds much like Trump's threats of "fire and fury" against North Korea that eventually segued to two summits with Kim Jong Un and "beautiful letters," as Trump called them, from Kim. Just this weekend, North Korea's state-run news agency said the president sent leader Kim an "excellent" letter; the White House did not confirm the statement.
More From Washington
-- Trump says his administration is delaying a series of immigration raids in Los Angeles and other U.S. cities for two weeks to see if Congress acts to make the changes he is seeking in asylum laws.
-- When Trump and Chinese President Xi Jinping meet in Japan this week to discuss their nations' worsening conflict over trade and commercial relations, the course of the global economy may depend on which Donald Trump shows up.
-- Trump's long-awaited Middle East peace plan will be shared during a gathering in Bahrain, with no Palestinian or Israeli representatives in attendance.
Crunch Time for Democrats
The first Democratic presidential debates are coming up Wednesday and Thursday, and with so many candidates on stage, each will have only a few minutes to make an impression, avoid gaffes, draw contrasts and send a message. That could make for a stilted affair — or it could erupt into battle, with some of former Vice President Joe Biden's recent comments providing likely fodder. Meanwhile, Pete Buttigieg's candidacy is facing its first major challenge, after a town hall broke into near chaos as the South Bend, Ind., mayor tried to respond to community anger over a white police officer's killing of a black man.
A Life Cut Short
In Russia, Dmitry Kolstov was a famous snowboarding daredevil. In Southern California, the 31-year-old was a hero at skate parks and something of an ambassador to other well-known Russian skaters and snowboarders visiting the area. Two weeks ago, prosecutors say, he was killed without provocation by the same man who fatally shot a veteran L.A. County sheriff's deputy at a Jack in the Box.
Mars, by Way of the Beehive State
Wondering what life on Mars might look like? You can find out in the Utah desert, where the Mars Desert Research Station has acted as a stand-in for a would-be base on Mars since 2001. With NASA's plan to land humans on the red planet by 2033 and the promise of commercial space travel, interest in the station has soared. Engineers, physicians, geologists and others come to the station to test ideas related to living on Mars.
Sign up to get Today's Headlines delivered to your inbox. »
OUR MUST-READS FROM THE WEEKEND
-- Rapper, activist and entrepreneur Nipsey Hussle's death unified Crips and Bloods in grief. Now, peace talks between the two gangs carry on his call for an end to violence.
-- Evictions loom for Chinatown residents who can't find affordable housing. Columnist Steve Lopez investigates.
-- How a trip on magic mushrooms helped decriminalize psychedelic plants in Oakland.
-- Is this 70-year-old marathon runner from East L.A. a record setter or a cheater?
Your support helps us deliver the news that matters most. Subscribe to the Los Angeles Times.
CALIFORNIA
-- Health officials say two people with measles who visited Toscana restaurant in Brentwood and the Geffen Playhouse in Westwood this month may have exposed others to the contagious disease.
-- Three women were sexually abused while in a Ventura County psychiatric hospital. Now, they want their day in court.
-- Officials say they seized about 20 tons of cannabis and 350,000 plants on a plot of land outside Buellton in the Santa Ynez Valley after a two-month investigation into a fraudulent growing operation.
HOLLYWOOD AND THE ARTS
-- Georgia's new antiabortion law is forcing a political reckoning among TV and film workers living there.
-- Judith Krantz, the romance novelist with more than 80 million copies in print, has died at 91. Krantz published her first novel, "Scruples," at 50.
-- Dolls ruled the weekend as "Toy Story 4" and "Child's Play" revived the box office after a three-week-long slump, but overall numbers continue to lag behind last year.
-- Cardi B, who was indicted in connection with a 2018 brawl at a strip club, performed at Staples Center. During the concert, she said: "I ain't going to jail."
NATION-WORLD
-- Oregon has too much cannabis. Two laws — one aimed at curbing excess production and the other seeking to establish new markets to funnel excess weed into — may help.
-- Utah isn't exactly a heavy-drinking state, but the scramble for Pappy Van Winkle 23-year reserve bourbon is on. On Tuesday, the state alcohol agency is holding a drawing to sell it. Just don't call it a lottery.
-- In a blow to Turkish President Recep Tayyip Erdogan, an opposition candidate has declared victory in the Istanbul mayor's race yet again in a high-stakes repeat election.
--- The dramatic courtroom collapse and death of Mohamed Morsi, Egypt's first democratically elected president, has provided a stark reminder of how much his now-outlawed Muslim Brotherhood movement has been reduced since 2013.
BUSINESS
-- Uber, Lyft, DoorDash, Postmates and other companies have been in discussions with officials at two labor unions in an effort to stave off a California bill that could force them to treat their freelance workers in the state as employees.
-- Nearly 16 years ago, the largest and longest supermarket strike in U.S. history reshaped the Southern California grocery industry. Now, it might happen again.
SPORTS
-- Three straight games, three straight walk-off home runs hit by rookies: The Dodgers completed the improbable feat when Will Smith lifted the team to a 6-3 victory over the Colorado Rockies.
-- At Santa Anita, the most tumultuous meeting in the 85-year history of the racetrack has ended after 30 horses lost their lives either racing or training during the last six months. The deaths may have implications for the entire sport.
OPINION
-- San Francisco's e-cigarette ban isn't just bad policy, it's bad for public health.
-- Don't call Ser Anzoategui an actress. In fact, let's get rid of that category altogether.
WHAT OUR EDITORS ARE READING
-- A lawyer describes poor conditions at Border Patrol facilities in Texas where immigrant children are being held. (The New Yorker)
-- Nearly 100 internal Trump transition vetting documents show the "red flags" about officials who went on to get some of the most powerful jobs in the U.S. government. (Axios)
ONLY IN L.A.
After 20 years as a Dodgers player, coach and minor league manager and 19 years as Angels manager, Mike Sciosia left the major league baseball limelight last year. Since then, he hasn't been to Angel Stadium or Dodger Stadium. Instead, you can find him working the occasional clinic for kids.
If you like this newsletter, please share it with friends. Comments or ideas? Email us at headlines@latimes.com.
---