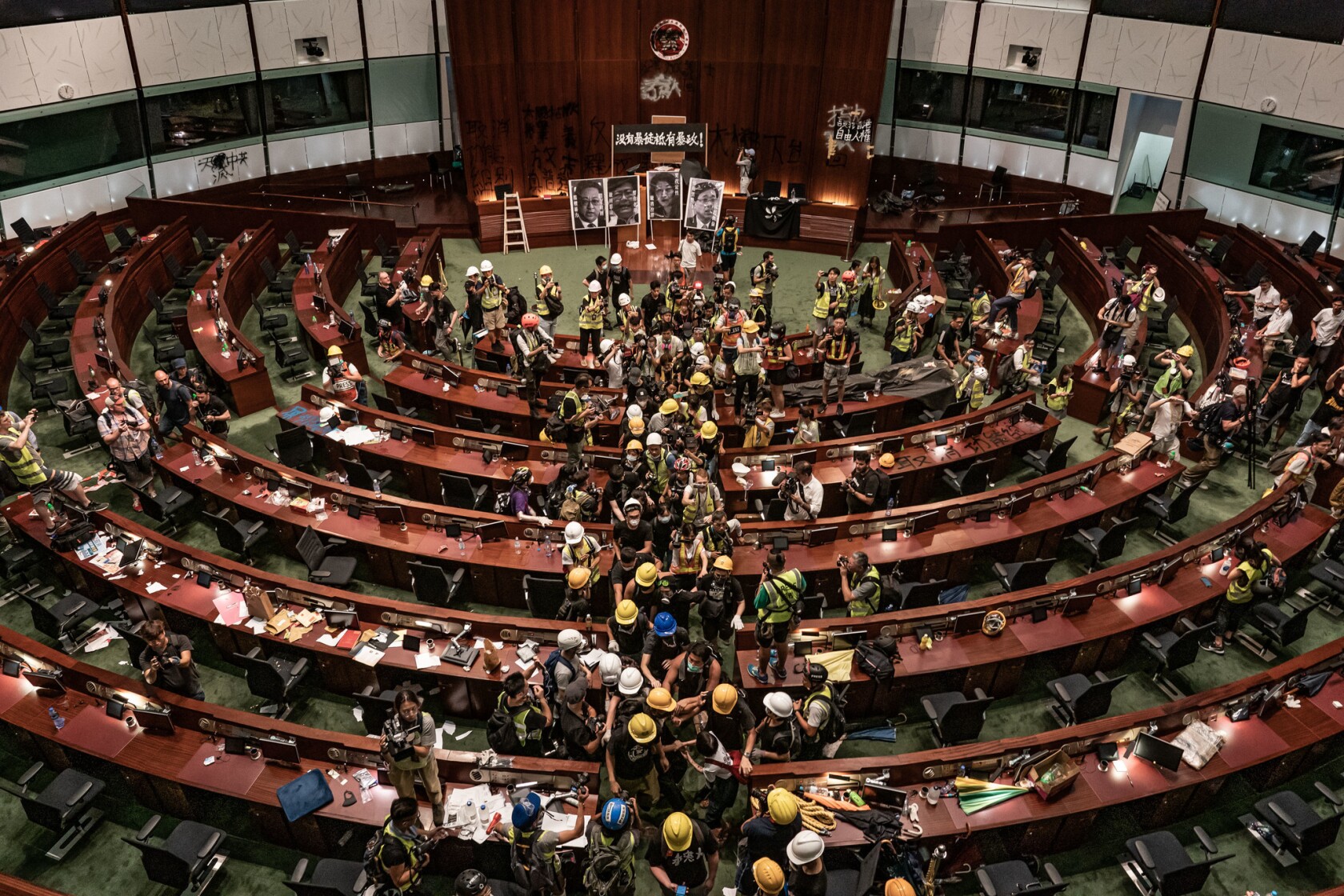 Protesters leave the parliament chamber of the government headquarters on July 1, 2019, in Hong Kong. Thousands of pro-democracy protesters faced off with riot police on July 1, during the 22nd anniversary of Hong Kong's return to Chinese rule.
(Anthony Kwan / Getty Images)
Protesters deface the Hong Kong logo at the Legislative Council on July 1, 2019, in protest of a bill that would allow extraditions to China.
(Billy H.C. Kwok / Getty Images)
Police officers with protective gear retake the meeting hall of the Legislative Council in Hong Kong during the early hours of July 2, 2019. Hundreds of protesters in Hong Kong swarmed into the legislature's main building the previous night, tearing down portraits of legislative leaders and spray-painting pro-democracy slogans on the walls of the main chamber as frustration over a lack of response from the administration to opposition demands boiled over.
(Kin Cheung / Associated Press)
Protesters hold up umbrellas as they try to break into the Legislative Council building during the annual pro-democracy march in Hong Kong.
(RITCHIE B TONGO / EPA / REX / Shutterstock)
Protesters use metal rods to smash glass doors and windows of the government headquarters in Hong Kong.
(PHILIP FONG / AFP/Getty Images)
Protesters break a fence as they attempt to storm into the government headquarters in Hong Kong.
(VIVEK PRAKASH / AFP/Getty Images)
Protesters gather at the government headquarters in Hong Kong on the 22nd anniversary of the city's handover from Britain to China.
(VIVEK PRAKASH / AFP/Getty Images)
Protesters attend the annual pro-democracy rally in Hong Kong on the 22nd anniversary of the city's handover from Britain to China.
(DALE DE LA REY / AFP/Getty Images)
Protesters smash glass doors and windows of the Legislative Council Complex in Hong Kong.
(Anthony Kwan / Getty Images)
Protesters smash glass doors and windows of the government headquarters in Hong Kong.
(PHILIP FONG / AFP/Getty Images)
Protesters hold placards and banners as they march in a rally in Hong Kong.
(Vincent Yu / Associated Press)
Protesters gather outside the Legislative Council in Hong Kong.
(Vincent Yu / Associated Press)
Protesters face off with police on a blocked road next to the Legislative Council in Hong Kong.
(JEROME FAVRE / EPA / REX / Shutterstock)
After weeks of peaceful protests in Hong Kong, a group of demonstrators turned violent on a key anniversary.
TOP STORIES
'Hong Kong People Are Desperate'
In Hong Kong, July 1 is an official holiday meant for celebrating the territory's handover in 1997 from British to Chinese rule that usually draws protests from civil society and pro-democracy groups. This time, some demonstrators turned violent. Though hundreds of thousands marched in peace, a throng stormed a legislative building, smashing its glass walls, dismantling fences and gates and vandalizing the inner chamber. Even some who did not participate in the violence didn't condemn it either. "Hong Kong people are desperate. My generation is desperate," said one. "We don't know what to do. We just try our best." The latest developments raise questions about how much further dissent the mainland Chinese government will tolerate.
The Latest From Washington
-- The impromptu nature of President Trump's forays into foreign policy led to another display of showmanship with North Korean leader Kim Jong Un, but it also exposed divisions within the administration and uncertainty about its goals.
-- The head of the Border Patrol says sexually explicit posts about U.S. Rep. Alexandria Ocasio-Cortez and comments mocking migrant deaths in a secret Facebook group for agents and employees are "completely inappropriate."
-- Who won the Democratic debates? We're getting answers now through polling data.
No Time to Breathe Easy
The war on smog has been called one of America's greatest environmental successes. Now, air quality is slipping once again. The situation is particularly acute in Southern California, where researchers have found a 10% increase in deaths attributable to ozone pollution from 2010 to 2017, and inland areas suffer more than those closer to the coast. By the end of this year, California regulators must present the federal government with a plan demonstrating they are on track to slash ozone pollution. Officials say that will take billions of dollars they don't have.
More Scrutiny on 'Cherokee' Claims
Federal and state lawmakers and regulators have called for inquiries and tighter minority-certification rules after a Times investigation found more than $300 million in government contracts went to businesses that made unsubstantiated claims of Native American ownership. In at least a dozen cases, business owners claimed membership in one of three Cherokee groups that have no federal recognition and are considered illegitimate by recognized tribes and Native American experts.
Manila's Roll of the Dice
Gambling is illegal in China, but that hasn't prevented Chinese from visiting virtual casinos in the Philippines. A massive surge in online gambling is transforming the Southeast Asian nation, where companies cater to players in China. The demand is expected to drive gambling revenue in the Philippines to $4.1 billion this year, up from just over $1 billion in 2016, according to the government. But both the Philippines and China have neglected their own laws to allow the industry to thrive.
Your support helps us deliver the news that matters most. Subscribe to the Los Angeles Times.
Sign up to get Today's Headlines delivered to your inbox. »
FROM THE ARCHIVES
On this date in 1952, Malibu Canyon Road marked its grand opening. "The two-lane, gently curving road cuts through a 535-foot solid-rock mountain to enable motorists to travel the 9.4 mile road safely in 18 minutes," The Times reported the next day. "The same trip previously took upward of an hour, according to officials." On hand for the ceremonies were county officials, stock car drivers and "Gloria Maxwell, Miss California, who was renamed as Miss 18-Minutes-to-Malibu for the occasion."
CALIFORNIA
-- A dozen investigators have amassed a trove of evidence against former USC gynecologist George Tyndall over the last year. But legal experts say the criminal case is by no means a slam dunk. On Monday, he pleaded not guilty to charges of sexually abusing 16 patients.
-- Officials say this year's fire season will be dangerous. They are encouraging residents to be vigilant and proactive.
-- L.A. Mayor Eric Garcetti created controversy when he said he backed moving the U.S. Embassy from Tel Aviv to Jerusalem, then backpedaled. Questions remain about his comments.
-- The L.A. Police Department has opened an internal affairs investigation to determine why a desk officer turned away the woman who drove the getaway car linked to the shooting of rapper Nipsey Hussle.
HOLLYWOOD AND THE ARTS
-- In its latest step toward diversifying its historically white-male-dominated ranks, the Academy of Motion Picture Arts and Sciences has invited the second-largest class of new members in its history: 842.
-- SiriusXM has unveiled its new L.A. headquarters, as competition with streaming services heats up.
-- Bowing to pressure, Kim Kardashian West says she will change the name of her Kimono Solutionwear line, presumably to something less controversial.
-- Sleater-Kinney drummer Janet Weiss announced that, after 24 years, she has left the indie-rock band.
NATION-WORLD
-- In Salt Lake City, the man who police say killed Mackenzie Lueck and then burned her body in his backyard appeared to live a life of contradictions and unfinished business.
-- The bodies of a migrant father and daughter who drowned in each other's arms last week in an attempt to swim across the Rio Grande to the U.S. have been returned to El Salvador.
-- Iran exceeded the limit on how much enriched uranium it can possess under the 2015 nuclear deal, the semiofficial Iranian Students News Agency reported. It marks the first step in Tehran's response to Trump's withdrawal from the pact last year.
-- To meet the targets of the Paris climate accord, some power plants may need to take an early retirement, according to a new analysis.
BUSINESS
-- CalSavers, an ambitious state-sponsored retirement program for the private sector, has launched. It's aimed at those who don't have access to a 401(k) or pension at work.
-- DNA-testing firms are lobbying to limit your right to genetic privacy, writes consumer columnist David Lazarus.
SPORTS
-- Twenty-seven-year-old Angels pitcher Tyler Skaggs was found dead in his hotel room hours before the scheduled opener of a four-game series with the Texas Rangers. Monday's game was postponed.
-- The Los Angeles Marathon has disqualified 70-year-old runner Frank Meza, saying that video cameras show he left the course for a portion of his record-setting performance in March and that his time during one stretch was so fast as to be "impossible."
OPINION
-- Reassuring: The Supreme Court tried to stay above the political fray.
-- The U.S. isn't prepared to fend off foreign meddling in the 2020 election. We need a national strategy.
WHAT OUR EDITORS ARE READING
-- Trump has asked for tanks and much more for an Independence Day celebration in Washington, D.C., this week. (Washington Post)
-- China calls its internment camps in Xinjiang "training centers," but a researcher says the government's own documents show those being held referred to as "persons detained in re-education." (South China Morning Post)
-- "A meditation on exclamation marks in contemporary poetry (!)" (The Millions)
ONLY IN L.A.
The numbers make the mind (and possibly the stomach) reel: 547,000 hot dogs, 152,880 pounds of French fries, 65,520 pounds of chili and 10,092 pounds of sauerkraut. Every year. And with Pink's 80th birthday coming up in November, that's also a lot of years.
If you like this newsletter, please share it with friends. Comments or ideas? Email us at headlines@latimes.com.
---