Amtrak's braised lamb shanks with portobello mushroom, tomatoes and oregano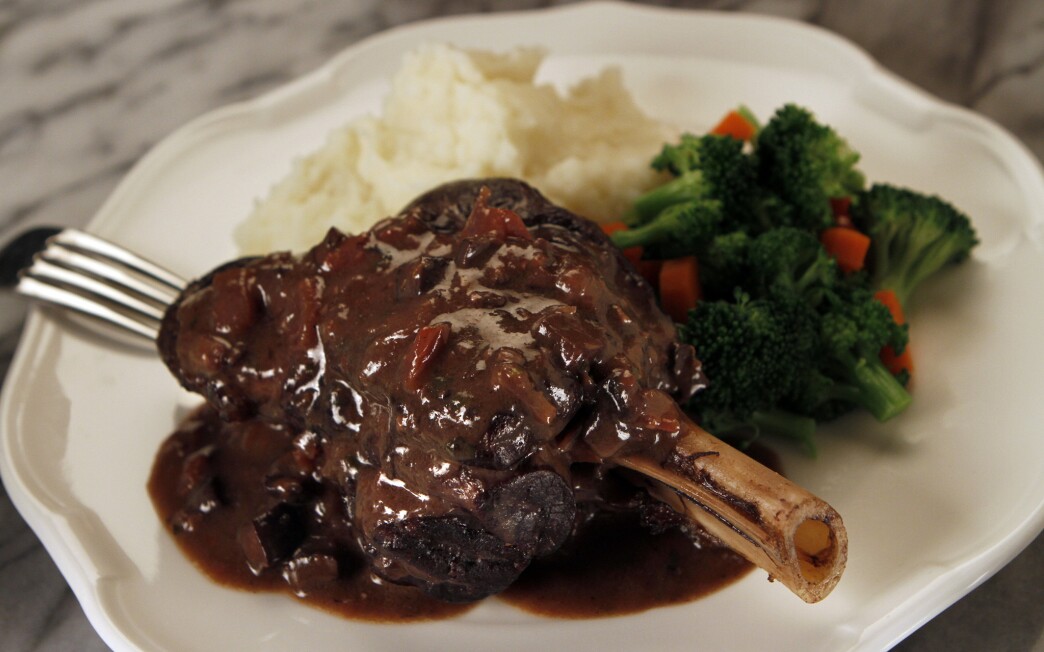 Print Recipe

Print Recipe
Dear SOS: We recently traveled Amtrak's Southwest Chief from L.A. to Chicago. The dining car served the most delicious lamb shanks with mushroom sauce. Could you see if you can get the recipe? Thanks.
Kathy McCarthy
Redondo Beach
--
Dear Kathy: Amtrak was happy to share its recipe with us, telling us that the lamb shanks are the creation of Seattle chef and cookbook author Tom Douglas, who is part of their culinary advisory team. Amtrak's executive chef, Daniel Malzhan, developed the recipe, using sous-vide cooking ("20 hours at a precise 160 degrees"). Amtrak has converted the original recipe here for home use so that cooks can braise it in the traditional manner and still get terrific results in far less time.
1
Heat the oven to 350 degrees. In a large mixing bowl, toss the lamb shanks with 1 tablespoon oil, one-half teaspoon salt and one-fourth teaspoon pepper.
2
Heat a large, heavy-bottomed saute pan over medium heat until hot. Add the oil, and when the oil is hot add the lamb shanks in a single layer (do this in batches, if necessary). Brown the shanks uniformly on all sides, then remove the shanks to an appropriate casserole or braising pan with a tight-fitting lid.
3
Pour off and discard any excess fat, leaving only 1 to 2 tablespoons in the pan. Add the onion and mushroom and cook over medium heat, stirring occasionally, for 4 to 5 minutes, then stir in the garlic. Cook another minute, stirring, so that the garlic does not burn. Add the red wine, bring to a near boil, and reduce the liquid by two-thirds. Stir in the oregano, tomatoes with juice and the demi-glace. Bring the mixture to a boil, remove from the heat and pour over the lamb shanks. Add the bay leaves and cover the lamb tightly with the lid.
4
Transfer the lamb to the oven and cook for 1 hour, then reduce the heat to 300 degrees and continue to cook the lamb until it is fork tender but not falling off the bone, about 1 additional hour.
5
Remove the casserole and allow the lamb to cool , uncovered, for 15 minutes. Remove each shank to a serving dish and cover with foil. Remove the bay leaves from the casserole and discard.
6
Skim any fat from the top of the sauce. Check the consistency of the sauce (it should be the consistency of heavy cream). If the sauce is too thin, reduce it on the stove-top until it is the proper consistency. This makes about 2 1/2 cups sauce. Taste the sauce, adjusting the seasoning as desired, then pour over the lamb shanks and serve.
Amtrak serves the lamb shanks with garlic mashed potatoes and an array of vegetables.
---
Get our new Cooking newsletter.
You may occasionally receive promotional content from the Los Angeles Times.