Artichokes With Sizzling Shallot Vinaigrette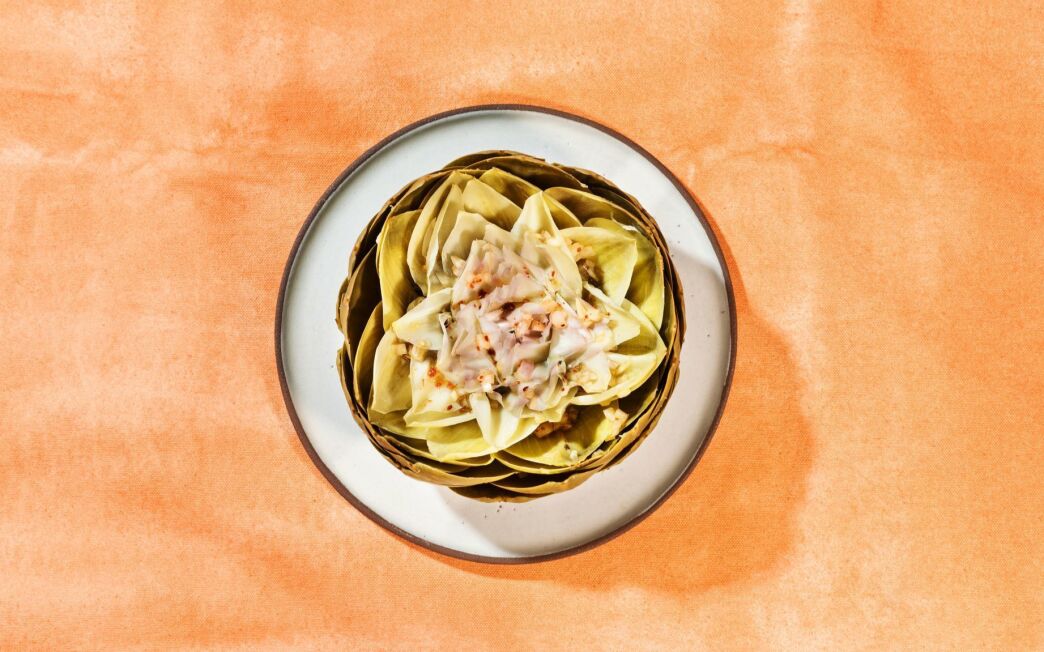 Print Recipe

Print Recipe
Simply boiling artichokes whole in very salty water makes them soft enough to open like a blooming flower and accentuates their delicate grassy taste. Dousing the still-warm petals with a simple shallot vinaigrette infuses each bite with a tangy-sweet richness. Raw shallot has a bite that can overpower artichokes' delicate flavor, so here it's flashed with hot oil to mellow out before mixing with sherry vinegar. Serve extra sauce on the side for dipping as you would mayo.
1
Snap the stem off an artichoke by holding one on its side against a cutting board and pressing down on the stem with your other hand. The stem should come off with fibers clinging to it. Repeat with the remaining artichokes.
2
Put the artichokes in a wide pot large enough to hold them in a single layer. Add cold water to cover by 1 inch (about 4 quarts), then add the salt. Cover and bring the water to a boil over high heat.
3
Reduce the heat to medium and boil, covered, until a paring knife pierces through the base easily, 45 to 55 minutes.
4
Meanwhile, put the shallot in a medium bowl and sprinkle with a pinch of salt. Heat the oil in a small saucepan over medium heat until shimmering but not smoking, about 2 minutes. Immediately pour the hot oil over the shallot. Once the sizzling dies down, stir in the vinegar and a pinch of piment d'espelette.
5
Use a slotted spoon to transfer the artichokes to a colander set over a bowl to catch dripping hot water. Let stand until cool enough to handle, about 10 minutes.
6
Put the artichokes upright on serving dishes. Gently press down on the top of each with your palm to open the petals like a blooming flower. Stir the vinaigrette again and season to taste with salt and pepper. Spoon half the vinaigrette over the artichokes and transfer the remaining to serving dishes.
7
Serve warm, plucking off the petals and dipping the bottoms into the vinaigrette to eat the meat by scraping it off with your teeth. Discard the tops of the petals. When you get to the center, cut the artichoke hearts in half and cut out and discard the fuzzy chokes if you'd like. Dip the hearts in the vinaigrette and eat.
Make Ahead:
The vinaigrette can be refrigerated in an airtight container for up to 3 days. Bring to room temperature and stir well before serving.
---
Get our new Cooking newsletter.
You may occasionally receive promotional content from the Los Angeles Times.