Buckwheat pasta with kale, potatoes and cabbage (pizzoccheri)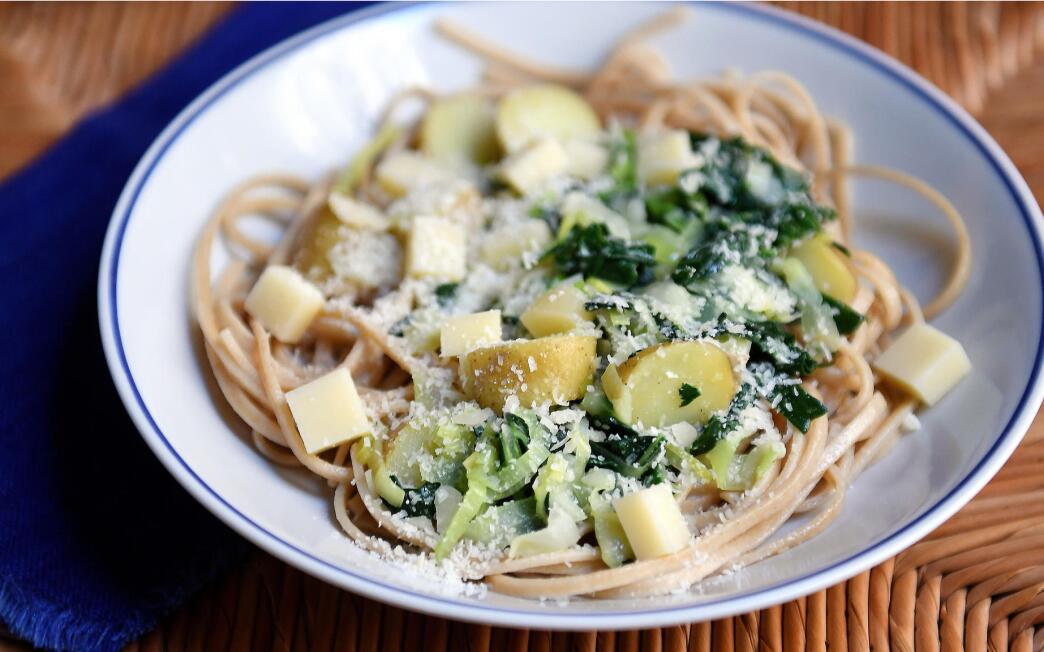 Print Recipe

Print Recipe
In Lombardy, this rich peasant dish is made with buckwheat pasta called pizzoccheri, cabbage, greens, potatoes, leeks and abundant butter and cheese. Italians tend to cook all the vegetables, and the pasta, in the same pot, then toss everything with a great deal of Fontina and butter. I cook the vegetables separate; I boil the potatoes and blanch the greens and cabbage in a large pot of salted water that I will also use for the pasta. Then I soften leeks with garlic and sage in a mixture of olive oil and butter in a wide skillet, add the kale, cabbage and potatoes to the pan, and let the vegetables cook together for a few minutes. I cook my pasta and use some of the starchy cooking water as a sauce for the vegetables.
Authentic pizzoccheri is not easy to come by, so you can substitute with Japanese soba noodles or whole wheat pasta made with local California wheat.
From the story: A few great recipes for potatoes, maybe where you'd least expect them
1
In a steaming basket set over 1 inch of boiling water, steam the potatoes until tender, about 10 minutes. Set aside.
2
Meanwhile, bring a large pot of water to a boil, salt generously and add the kale. Blanch just until tender, about 2 to 3 minutes. Fill a bowl with cold water and strain the kale from the boiling water to the cold water, then drain, taking the kale up by the handful and squeezing out any excess water. Cut the blanched kale crosswise into strips and set aside.
3
Bring the water back to a boil and add the cabbage. Blanch 3 to 4 minutes, until tender. Strain into the bowl of cold water, then drain and squeeze out excess water. Set aside with the kale.
4
In a large, heavy skillet heated over medium-low heat, add 1 tablespoon butter and the oil. Add the leeks and sage and cook, stirring often, until the leeks begin to soften, about 3 minutes. Add a generous pinch of salt and continue to cook, stirring often, until the leeks are tender, an additional 3 to 5 minutes. Add the garlic and cook, stirring, until the garlic smells fragrant, about 1 minute. Add the remaining butter, the blanched kale, cabbage and steamed potatoes, and stir together over medium heat until the mixture is tender and fragrant, about 3 minutes. Season with salt and pepper to taste. Remove from the heat.
5
Bring the water back to a boil, add the pasta and cook to al dente. When the pasta is done, add 1/2 cup of the cooking water to the pan with the vegetables, then drain the pasta and add it to the pan or to a warm pasta bowl with the vegetables and the cheeses. Toss together and serve at once.
---
Get our new Cooking newsletter.
You may occasionally receive promotional content from the Los Angeles Times.