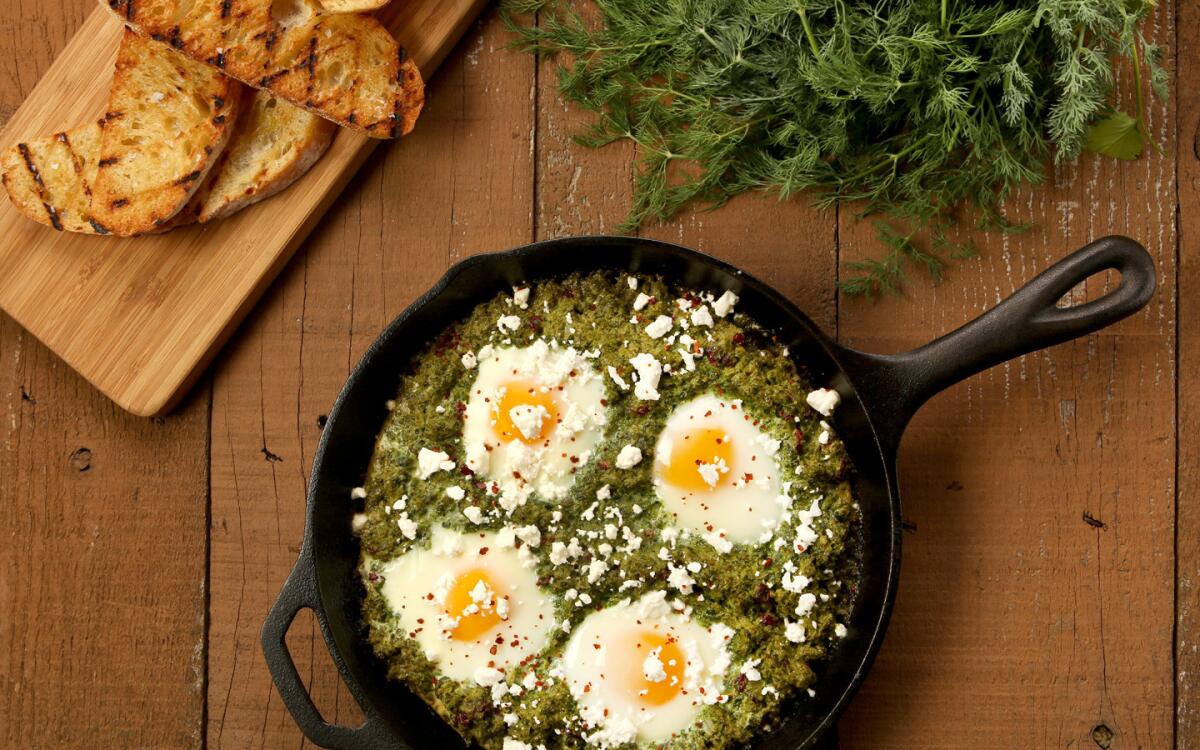 Print Recipe

Print Recipe
There are many reasons why this is a fantastic addition to your brunch table, not least being the name, which is a lot more fun to say than, well, pretty much any other dish that comes to mind.
Kuku sabzi is a traditional dish served at Nowruz, the Persian New Year, as well as Easter. It's also often served as part of picnics or casual feasts, as it can be made ahead of time and is best at room temperature. Unlike most frittatas, the proportion of greens to eggs vastly favors the greenery, which makes the dish not only more healthful but also vastly prettier.
This kuku is kind of a green version of shakshuka, with the eggs cooked on top of the vegetables rather than bound with them. This makes it even prettier than the more traditional versions, and particularly wonderful when paired with grilled bread — and as much Aleppo pepper as makes you happy.
From the story: Say 'kuku' three times fast, then make the terrific Persian herb and egg dish for Easter brunch
1
Heat a skillet over medium-high heat until hot. Add 2 tablespoons olive oil, then the onion and cook, stirring frequently, until the onion is softened, 5 to 7 minutes. Remove from heat and set aside to cool.
2
Place the romaine, fenugreek, green onions, dill sprigs and spinach and kale leaves in the bowl of a food processor. Pulse to finely chop.
3
Heat a large skillet over low heat. Add 2 tablespoons oil, along with the finely chopped greens, ½ teaspoon salt and several grinds of pepper, or to taste. Cook, stirring frequently, until the greens are nice and soft (the greens will have released their liquid and reduced by about half), about 15 minutes. Remove from heat, stir in the cooked onions along with a pinch of Aleppo pepper, and set aside to cool completely. Stir in the yogurt and barberries. (The mixture can be made ahead to this point and refrigerated up to 1 day in advance before continuing.)
4
Heat the oven to 350 degrees. Remove the kuku mixture from the refrigerator and spread it out in an oiled, oven-proof skillet, making four indentations for the eggs. Crack the eggs on top of the kuku mixture and place in the oven.
5
Bake the kuku until the eggs are sunny-side up, 15 to 20 minutes. Remove, sprinkle with feta cheese and another pinch of Aleppo pepper, and garnish with the four dill sprigs.
6
Serve immediately alongside grilled ciabatta or flatbread.
Adapted from a recipe from Momed.
---
Get our Cooking newsletter.
Your roundup of inspiring recipes and kitchen tricks.
You may occasionally receive promotional content from the Los Angeles Times.