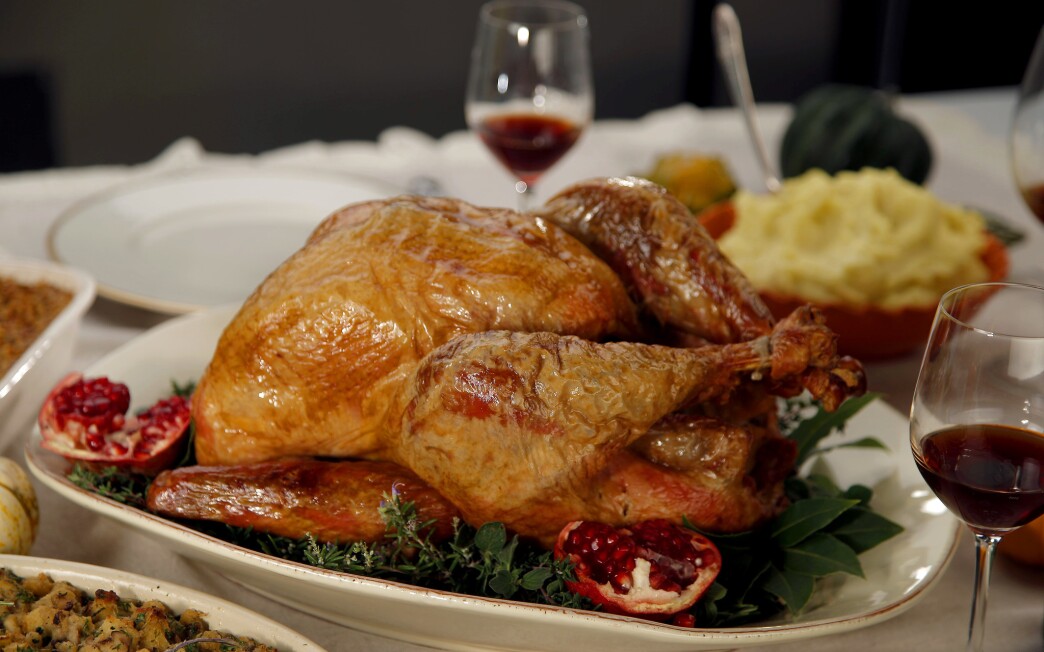 Print Recipe

Print Recipe
Thanksgiving is the food holiday of the year, which means that not only is the table loaded but so are the expectations. Even though you know it's coming — in theory, you can plan for days, weeks, months for the event — it always seems to come too fast, to somehow catch you with too little time, too much to do, too little space in the refrigerator. The turkey, of course, is the locus of much of this. It is the centerpiece (figuratively, literally), the sine qua non of the holiday meal. Ignore it at your peril. (I once made an oxtail daube instead of a turkey and my children boycotted dinner, ordering a pizza that they cut into the shape of a turkey. Do not do this.)
Cooking a Thanksgiving turkey can be a massive undertaking, with some recipes calling for days of brining or salting, then all the stuffing and trussing, basting and generally fussing over the bird. But is all that really necessary? This year — it's been a very long year — I thought I'd do as little as possible to a turkey and find out.
So here's what you do: Get a fresh turkey and on Thanksgiving morning put it in a roasting pan. Heat your oven to 450 degrees, then put the bird inside. When your turkey reaches 165 degrees, about two hours later, take it out. Ta-da.
This is hardly a new idea. In the November 2005 issue of Gourmet (a publication I miss this time of year as much as some late, lamented relatives), Ruth Reichl and her crew published a recipe for "the simplest roast turkey," a method "so simple," wrote Reichl, "that we literally couldn't believe it." The recipe, which was pretty much the method above, albeit with a little seasoning and minor tweaking, was itself a riff on Barbara Kafka's extraordinarily simple high-heat method, from her 1995 cookbook "Roasting: A Simple Art."
A note about the temperature. Kafka famously roasted her bird at 500 degrees, which works very nicely but can produce smoke, especially if your oven is not very clean. Despite my best intentions, my oven is not spotless and never will be, so I prefer Reichl's method, which lowers the heat by 50 degrees. The bird cooks almost as quickly and with the same results, but you don't run the risk of upsetting your holiday equilibrium with blaring smoke alarms.
The folks at Gourmet sprinkled some salt and pepper over their bird, which you can do too; salt helps most things. They also put their turkey on a rack; if you have one and don't hate cleaning it as much as I do, by all means use it. You don't need to truss your bird (that convention is for stuffing), but tying up your bird with string is pretty, as is clipping or folding under the wings, though it's not necessary. Putting some herbs inside the bird is also nice if you have some handy. A head of garlic, a lemon.
But the beauty of the no-fuss bird is that you do nothing at all to it, unless you count removing the neck and giblets and putting them into a pan, which is pretty much the bare minimum.
Is this holiday bird better than turkeys that have been brined for days in herb baths, buried in fancy salt-like medieval relics or doused with pounds of spice-infused butter? No. But it's a pretty nice bird, with juicy meat and burnished skin and enough stuff in the pan to make a good gravy. It's a bird that, in my mind, tastes better because you did not spend three days resenting it, either because of all the things it required or all the space it took up in your refrigerator.
I didn't find the no-fuss turkey to be quite the miracle that Gourmet did ("attempts to improve on it were pointless"), but it was stunningly easy, which at this time of year is itself a miracle. And the resulting turkey, bronzed and quite beautiful, a study of simplicity resting in its pan, was also responsible for a Thanksgiving cooking epiphany: All that bird-specific anxiety was pointless. And for that, I am truly thankful.
1
Remove the turkey from the refrigerator 1 hour before cooking. Heat the oven to 450 degrees.
2
Place the turkey, breast-side up, in a roasting pan (you do not need a rack). If desired, tuck the wings under the back and tie the legs together.
3
Place the turkey in the oven and roast until a thermometer inserted in the thickest part of the thigh meat reaches 165 degrees, 1 hour and 45 minutes to 2 hours (timing will vary depending on the size and beginning temperature of the turkey).
4
Set the turkey aside to rest for 20 to 30 minutes before carving.
---
Get our new Cooking newsletter.
You may occasionally receive promotional content from the Los Angeles Times.