Green pancakes with lime butter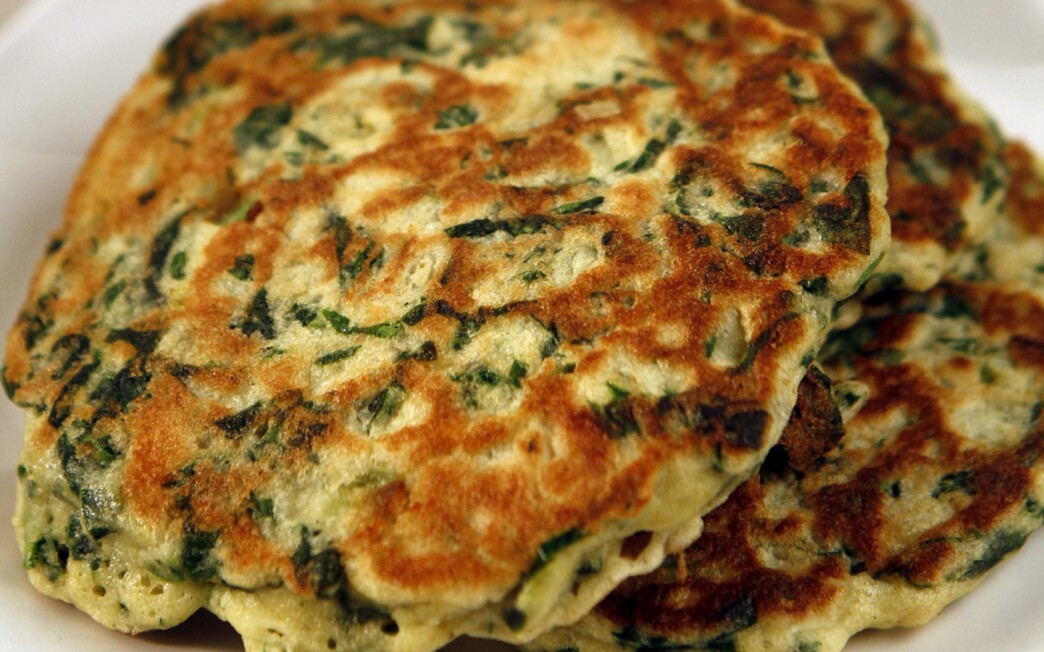 Print Recipe

Print Recipe
It occurred to me as I was pulling a pan of roasted potatoes out of the oven for what was probably the third time in as many weeks -- I was getting in a rut.
And with the markets flooded with the first spring produce, I was feeling an urgent need to step outside my little roasted potato box and cook something different.
Don't get me wrong, there's nothing wrong with roasted potatoes, particularly not when they're those firm little Ozettes from Weiser Family Farms. Cut them in half lengthwise, slick them with olive oil, roast at 400 degrees for a half-hour, then give them a good stir and add seasonings (garlic, of course, salt and pepper, rosemary, onions, in the summertime even slivered red bell peppers) and continue roasting for 30 more minutes or so.
They're perfect: well-browned, crunchy on the outside, fluffy on the inside.
But three times in three weeks? That's getting a little much.
So I spent a couple of weekends cooking from a half-dozen recent books -- but only ones by authors I'd never read. I found two that I really loved -- and they couldn't be more different.
Well, actually, the food couldn't be more different. Whereas Skye Gyngell's food is quiet and (dare I say it?) feminine, Yotam Ottolenghi's food is so vibrant it practically jumps off the page, with big flavors from what seems like a world atlas of cuisines.
What they have in common is that they're both popular British chefs, though they are still largely unknown in the United States. That shouldn't last long.
Two approaches
I first learned of Gyngell from our restaurant critic, S. Irene Virbila, who pronounced dinner at Gyngell's Petersham Nurseries Cafe outside London one of her most memorable meals of last year.
The name stuck in my head, for obvious reasons (wasn't that one of the good elves in "The Lord of the Rings"?). But the food sounded so good too. "Each dish was a perfect expression of the ingredients and the season," Virbila wrote, adding that Gyngell made even old favorites seem new and exciting.
At the other end of the flavor spectrum is Ottolenghi, who runs four food shops and restaurants in the London area and is a columnist for the Guardian newspaper.
He repeatedly refers to "Levantine" influences in his food, but besides the Middle East, there are also strong traces of Indian, Italian and French cooking. I guess in the end it could best be described as "Modern London." Oh, and by the way, it's all vegetarian.
In fact, so different are these two books that cooking from them at the same time could give you whiplash. If I had to choose between the two, I'd say I probably had more fun cooking from Ottolenghi -- talk about a rut-buster, it's totally different from my normal food -- but I'll probably wind up going back to Gyngell more often.
To make the tests more fun, I went to the market specifically looking not for my favorite ingredients but for vegetables that have fallen off my playlist -- either ones I've largely forgotten about or ones I mostly use in background roles.
I mean, really, who looks forward to cooking carrots and spinach?
The first dish I tried was a carrot salad from Ottolenghi's book "Plenty." He says the salad is Moroccan -- and it's somewhat familiar in that way, with carrots cooked until tender but crisp and dressed with a complex spice mixture -- but the finishing touch of yogurt and a couple of handfuls of cilantro (literally! 2 1/2 cups!) seems to take it someplace else entirely. Maybe Turkey? Who knows, but the flavors really pop.
Gyngell's book is "A Year in My Kitchen." Compared to Ottolenghi's, her recipe for carrots with honey, lemon zest and thyme looked downright placid. Ho-hum. Simmer carrots in water and honey until they're tender; increase the heat to reduce the glaze. Been there, done that. Cooking 101.
That is, until you taste it. The combination of astringent fresh thyme, aromatic lemon zest and slightly bitter honey (she recommends chestnut, Californians could also try avocado) coax a depth of flavor out of the carrots that is unexpected in such a simple preparation. These are glazed carrots like you've always wanted them to taste.
Spinach challenge
For spinach, I tried Ottolenghi's pancakes topped with lime butter. Again, what knockout flavors: The pancakes were moist and tender and scented with cumin to complement the spinach. The lime butter was fresh and pointed and slightly spicy.
And again, I couldn't tell exactly which cuisine it was from, but I am dead certain that wherever it is, I want to go back.
Still perhaps the most eye-opening dish of all was the spinach soup from Gyngell.
At the risk of sounding like a broken record, the procedure couldn't be more basic: spinach coarsely pureed in chicken broth -- though it does include a surprising amount of nutmeg (a full 1/2 teaspoon).
So simple, right? But it had such amazing clarity and depth of flavor that the first spoonful had me wondering why spinach had fallen from my favor.
Though there is probably at least three times as much nutmeg as I've ever used in a soup, it was barely discernable, serving only to make the spinach taste more like itself. I've cooked this dish twice more since that test.
Is that the start of a new rut? Maybe, but I'm going to enjoy it while it lasts.
Lime butter
1
Put the butter in a medium bowl and beat it with a wooden spoon until it turns soft and creamy. Stir in the lime zest, lime juice, salt, white pepper, chopped cilantro, garlic and chile flakes.
2
Spoon onto a sheet of plastic wrap and roll into a sausage shape. Twist the ends of the wrap to seal the flavored butter. Chill until firm.
3
This makes a generous one-half cup butter, more than is needed for the remainder of the recipe; the butter will keep, covered and refrigerated, for up to 3 days.
Green pancakes and assembly
1
Wilt the spinach in a pan with a splash of water. Drain in a sieve and, when cool, squeeze hard with your hands to remove as much moisture as possible. Roughly chop and put aside.
2
Combine the flour, baking powder, whole egg, melted butter, salt, cumin and milk in a large mixing bowl and whisk until smooth. Add the green onions, chile and spinach, and mix with a fork. Beat the egg white to soft peaks and gently fold it into the batter.
3
Pour a small amount of olive oil into a heavy frying pan and place on medium-high heat. For each pancake, ladle 2 tablespoons of batter into the pan and press down gently. You should get smallish pancakes, about 3 inches in diameter and three-eighths-inch thick. Cook until you get a good golden-green color, about 2 minutes to a side. Transfer to paper towels and keep warm. Continue making pancakes, adding oil to the pan as needed, until the batter is used up.
4
To serve, pile up 3 warm pancakes per person and place a pat of flavored butter on top to melt.
Adapted from "Plenty" by Yotam Ottolenghi.
---
Get our new Cooking newsletter.
You may occasionally receive promotional content from the Los Angeles Times.