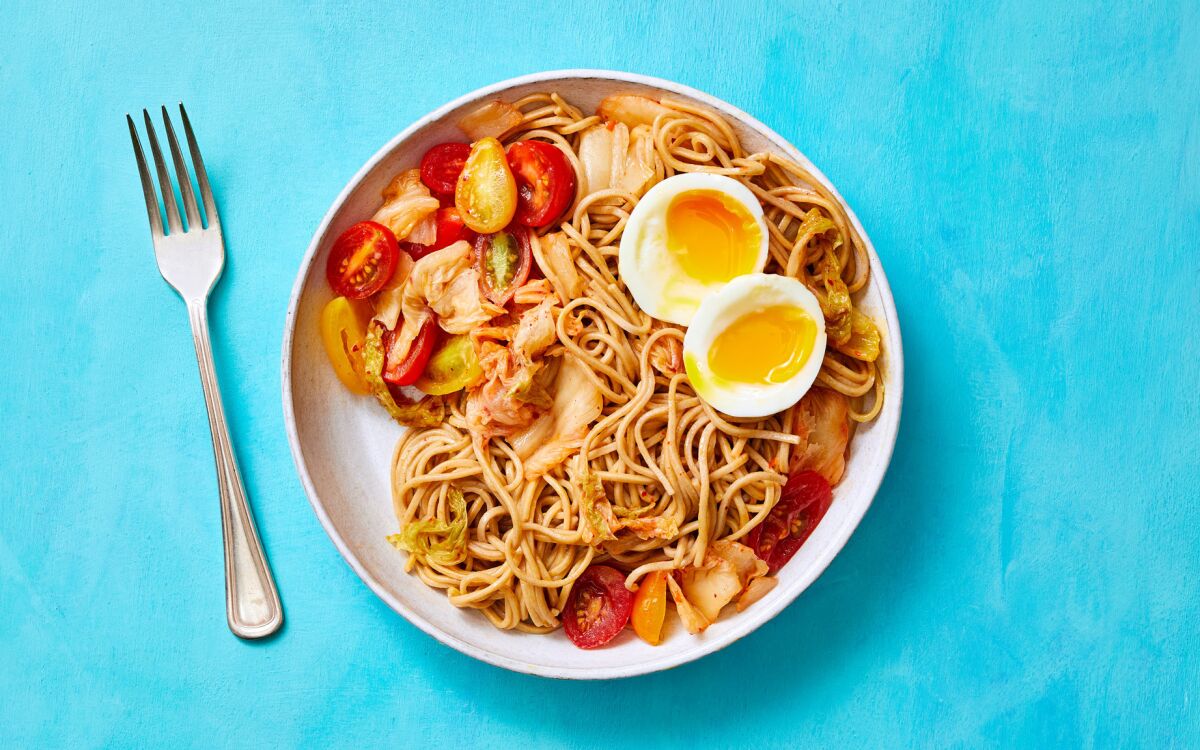 Print Recipe

Print Recipe
This chilled dish plays richness against brightness. Salting tomatoes releases their sweet juices, which mingle with the sour brine of kimchi juice and the nutty depth of sesame oil in the dressing; swirling in runny egg yolks thickens the mixture.
1
Bring a large pot of water to a boil. While waiting, put the tomatoes in a large bowl, generously season with salt, toss, and let stand.
2
Once the water boils, boil the eggs: Add as many eggs in their shells as you plan to serve. Boil for 4 minutes. Use a slotted spoon to transfer to a small bowl and cover with ice and water.
3
Generously salt the boiling water and add the noodles. Cook according to the package directions. Drain in a colander and rinse under cold water until room temperature. Shake the colander to remove excess water and dump the noodles into the bowl with the tomatoes.
4
Cut the kimchi into bite-size pieces if needed. Add the sesame oil and the kimchi with 2 tablespoons of its juices. Toss until well-mixed. Taste and add more oil, juices and salt to taste. Divide among serving dishes. Carefully peel the eggs and add to the bowls, along with more kimchi if you'd like. Cut the eggs in half, roughly hacking at them with your fork or chopsticks, and mixing them with the noodles to coat them with the yolk. Eat immediately.
---
Get our new Cooking newsletter.
Your roundup of inspiring recipes and kitchen tricks.
You may occasionally receive promotional content from the Los Angeles Times.